Back in Feb, 2009, after arriving for the first part of my summer holidays, I was wondering for the birthday gift for my 3rd. son, Francisco.
All of them are very keen of chess, we have a lot of plastic, Chinese made sets. So I decided it was time to purchase a heirloom chessboard set.
I goggled in Buenos Aires city for chessboards, but didn't find any that drew my attention up.
So I goggled worldwide. A lot of Stauton house, fancy sets, etc. But it cropped out an occurence in Youtube : Build a Chess Board. Pt.1
http://www.youtube.com/watch?v=f_MlMjwBLPM
Guess who posted that:
yes, Steve in Marin. I started to watch the 7 series video, while thinking. Its a piece of cake !!. And seems to be fun also.
I love process of moving, the journeys. Usually is what I do most enjoy. A sail a lot, as well as motorcycling. And the journey of sailing or motorcycling is enjoyable by itself, no matter where you go. Indeed you also love the arrival. And Steve seemed to have fun during the process, and he was able to transmit it to me. I have watched Steve´s video more than 20 times. It is a perfect foolproof, idiot guide to wood working. It was really a challenge. Not only learnig to milling, but also ripping, gluing, pressing, drawer making, finishing, etc etc.
It's a fact that when you see an expert doing his job, meaning someone who has experience in doing what he is doing, everything seems easy. Because those guys seem to be doing what they do effortlessly.
However after watching Steve's video on chessboard, I decided to make a try: Went to a warehouse and bought a cheap Chinese made table saw together with a thickness planner. I already had some tools, and a lot of them mainly dedicated to the maintenance of the sailboat and motorcycles. (More on this later: finding out that cheap tools are quite expensive)
I ordered to a local supplier some brown and white wood. Didn´t even know not the name neither the quantity I needed, nor the way to calculate board feet or whatever. It ended being Guatambú (white yellowish) and Viraró (reddish) and the guy managed to sell me something.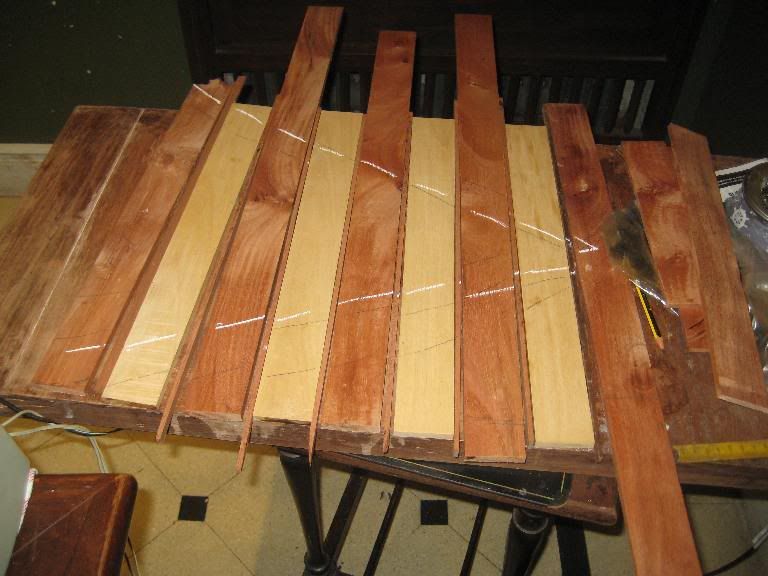 Viraró and Guatambú

Kitchen porch
Other problem I had to deal with was the shop. I didn´t have any. Just a place in the kitchen porch were I hide motorcycles from the rain. Imagine the amounts of sawdust and chips coming from the machines landing on the car and motorcycles !!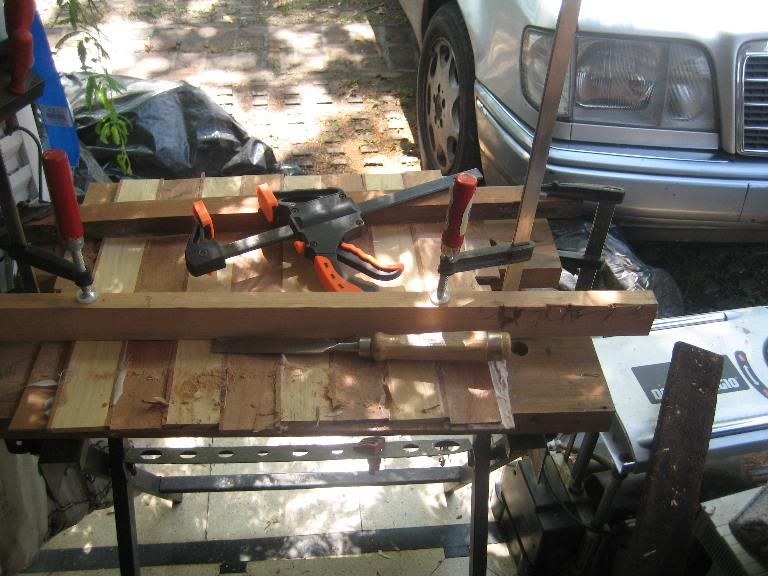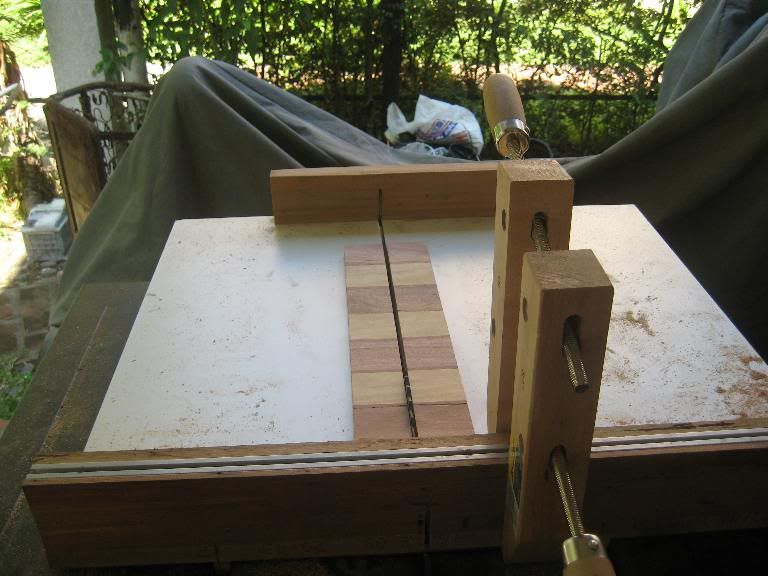 But as I was so enthusiastic, my wife Ines managed to cope the situation, and encouraged me a lot to continue with sawdust making.
Francisco´s birthday was on March 3. On February 12, I still had 20 days to finish the cheesbord. But at a time I realized that what Steve has done effortlessly, was due to his knowledge and experience. So before even considering continuing with thew cheesboard I would need to update myself with some others people knowledge. There is when Goggle, Shopsmith, Woodwhisperer, Lumberjoks, Finewoodworking, etc, provided me with a lot of challenges.
For almost 10 days I disappeared from everyplace. Didn´t even went to the second part of my sailing summer holidays in Mar del Plata. Which is a two week international boat racing programme, where my two eldest sons participate. I was submerged in the internet swallowing woodworking articles and how to´s.
So I decided to continue with Steve´s videos, only because they seem to be friendly and easy to make.
Next step: A cube in a Cube.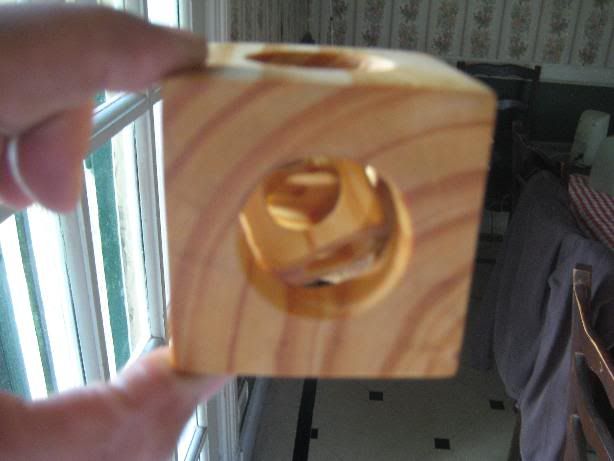 The problem I did not have a drill press. Well, I did have a Black and Decker supplement for a hand drill that converts to a drill press. Absolute inaccurate. But did manage to finish the first tiny cube in a cube.
I took Steve´s challenge to make a cube in a cube in a cube. But before doing that I purchase a drill press, unknown made probably mean chinesse made.
At some point I continued with the chessboard, and make some other tiny works in the gluing times. Such as some Tangrams. They provided with some fine adjustment experience with the cutting and box making process, and of course on learning the use of offcuts.
On March 3, Francisco´s birthday I managed to finish the top of the chessboard, and gave him a voucher for a complete chessboard to be given at some point of time.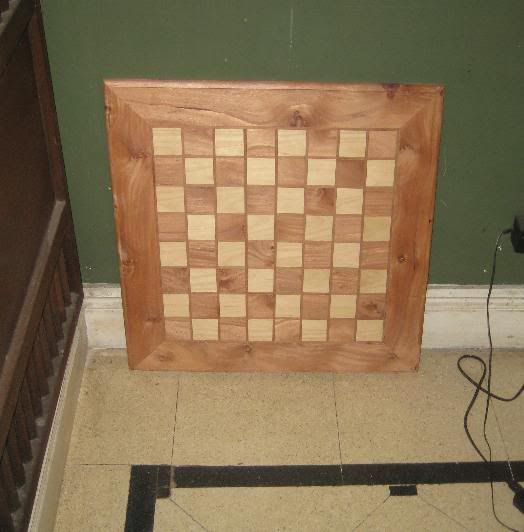 By mid april 2009, I finished the chessboard. I tried to keep up with Steve´s design. The main difference is that I include only one single drawer, that can be pulled out from both sides. Only because I ran out of lumber, and cannot finish two drawer backs !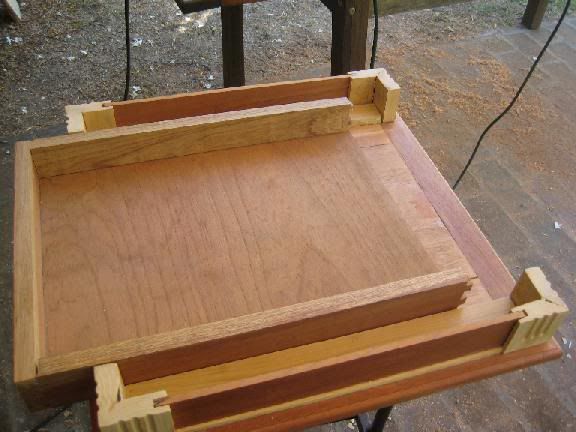 Still missing, a table for the chessboard. Which was a project I started for the next birthday, and finished by July 2010 !!
In addition to my thanks to Steve I appreciate the efforts of a lot of members by explaining, teaching, and recording your projects which resulted in invaluable help.
It cost me a lot to write this message, and was something I feel I was owing.
Thak you LJ, keep going!!
-- Back home. Fernando
---