In the process of building my Torque cabinet, I decided to try some dovetail drawers for the first time.
I figure even if I screw them up…they are for me, so no cares about messing them up.
Back up the story, last February my husband bought me the Woodline Ultimate Joinery Deluxe Combo System when we were at the Woodworking show in Springfield MA.
This is the set here
They had a show special and the system came with nine template sets, six were a bonus, and the show price was I think $240.00. I have been looking at the box ever since waiting to be able to get to it.
The Torque cabinet
is a good practice piece for me to try out some new techniques, since I didn't have a lot of shop time this weekend, I played with the route a joint system. My husband was pleased since he was wondering if I was ever going to use it. Like I said good things are worth the wait.
Here is the jig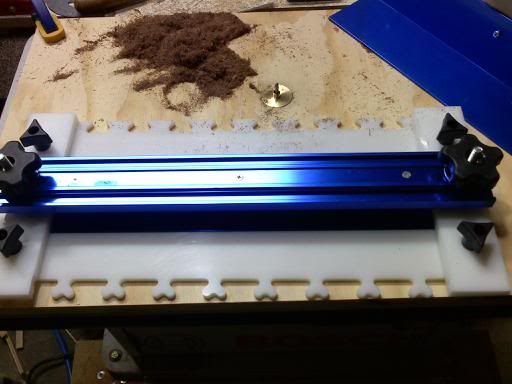 I set it up with Heart joints template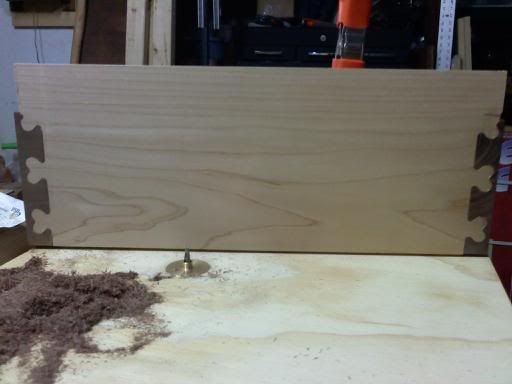 Maple front and walnut sides. I just got a boatload of walnut shorts from my cabinet maker friend (free)
that's a gloat in case it went over your head. LOL
Also I picked up drawer slides, under mount to make the drawers easy to open and close. These are great slides for 20" I paid $2.88 a drawer set from Harbor Freight. They are self closing and smooooth to roll.
Sweet !!
I also made this little guy for the outside of the cabinet, he needs some carving and sanding….
That's all I got accomplished this weekend, thanks for looking, and check out the Woodline USA website, they have some nice stuff,
Lisa
-- Imagination rules the world. ~ Napoleon Bonaparte ~ http://quiltedwood.com
---