I finally made myself a zero clearance insert for my table saw. This happened today only because I spent 4 hours in the emergency room yesterday to have my left palm stitched up. Yup, I have officially joined the ranks of the injured woodworkers; bitten by my own table saw. Like many, I removed the splitter to make dado cuts and did not replace it. Yesterday I ran some hard maple through the saw and noticed it was pinching on the back of the blade. Stupid thinks to herself, as she has many times before, I'll use my 1/8" shim to hold the cut open. Now the shim I was using had 45 deg cuts on both ends, with one end in my left hand, I pressed it into the gap not realizing the blade was under the surface of the wood (and stupid did not turn the saw off this time as she always does). The shim hit the upstroke of the blade and exploded into about 50 pieces while driving the point of the shim into my palm. Ouch…without all the gory details, I have four stitches in my palm.
Here is my insert….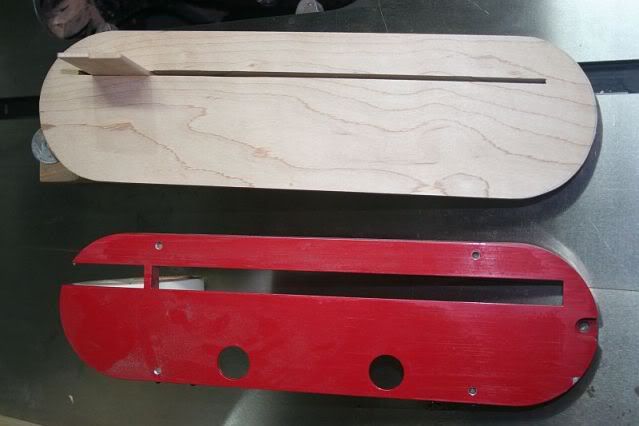 I traced the original insert onto a scrap of maple, cut the width on the TS and the rounds on the band saw. Sanded the ends until they fit snug. Planed the thickness to be level with the table.

I added a washer to the back of the insert to fit under the bottom surface of the table top. This holds the insert in place, preventing the upstroke of the saw blade from throwing the insert at you. I notched a groove with a carbide bur, and epoxied the washer in place. Then set the insert in position and raised the blade to saw up through the insert. I flipped the insert vertically front to rear and ran the blade up through again.

If you notice, the front of the blade is 1 1/2" from the front of the insert, and the back is 3 1/2". By flipping the insert it extends the cut, that will be behind the blade when put back to the original position. This will allow you to put a splitter behind the blade in the saw cut.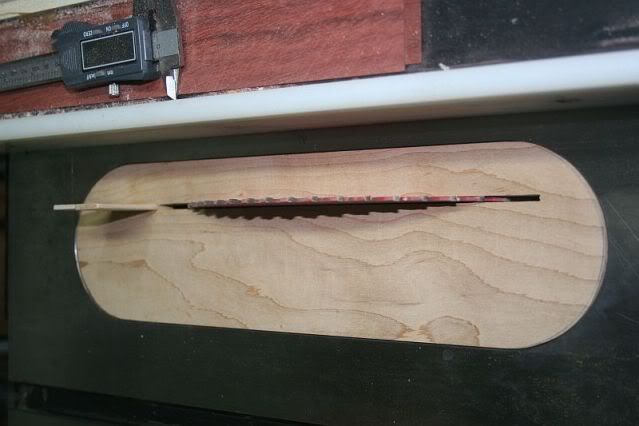 The splitter thickness is slightly thicker than the kerf, then on the fence side of the splitter that will seat into the kerf, the slight thickness is removed. This will force the piece on the inside to press up against the fence.
I think you can see that in this picture-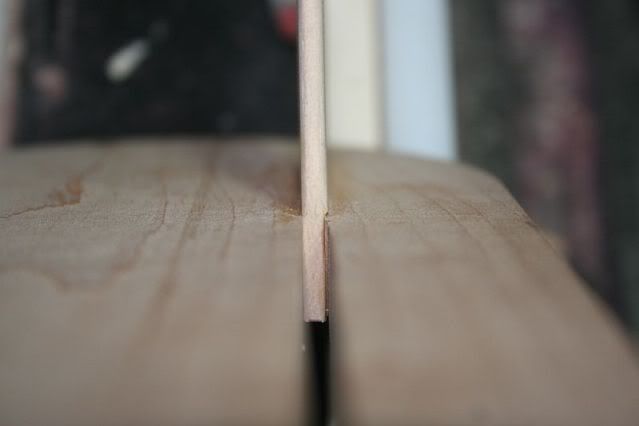 Glue in place, put insert into table, and you are ready to be sawing SAFELY.
To remove the insert press the back curve down and the front will pop up.
I meant to make one of these a while ago, takes a rude awakening sometimes to get me moving.
Thanks for looking,
Lisa
-- Imagination rules the world. ~ Napoleon Bonaparte ~ http://quiltedwood.com
---