Greetings,
Some background first, some of this information was included in a recent post but for those of you that missed it I'll start from the beginning :)
Until recently I was having my pieces shot by a professional. He moved, sigh…
For archive type shots I was using a Kodak 2 mp P&S. For web stuff it worked fine and I even had an image printed in Fine Woodworking's Readers Gallery. They must have REALLY liked the piece :)
I never liked the idea of the time and cost to have pieces shot so this was the perfect opportunity to take control.
After much research I purchased a Olympus Evolt E-510, two light stands, 2 – 65w CF bulbs, quartz bulbs for my 500w halogen work lights, a paper backdrop and a Velbon tripod. The CF bulbs are 200w equivalent and have a color temp of 4100k.
This was already way more than I had planned to spend so I have been experimenting with continuous lightling before purchasing strobes. BUT, the goal is to have magazine quality photo's… all the time.
With my Kodak camera I found I had the best results at night, with the shop flourescent lights on and the camera flash.
My first tests with the new camera were at night with the shop lights on, a 500w halogen shined directly at the object, another 500w bounced off the ceiling onto the backdrop and the 65w CF bulbs on each side. The object is the worst thing I could find to photograph, a bar stool mock up finished with flat black paint.
All shots were using wrinkled white sheet until I determin where I want to permanently mount my paper backdrop.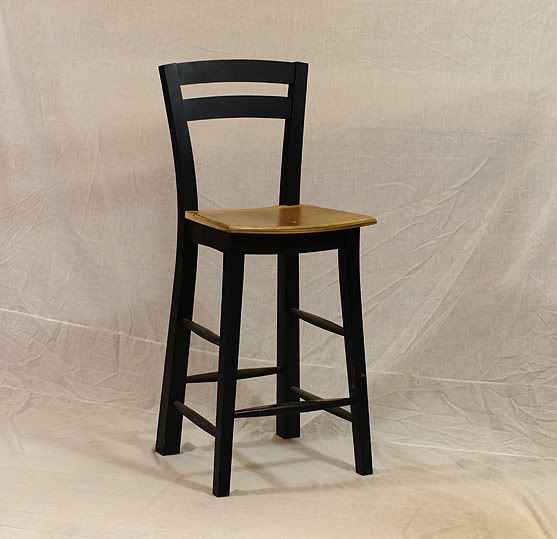 Close but… so I tried some advice I received about using daylight. I didn't really want to restrict myself to a specific time of day but if that's what it takes.
This Olympus camera test is kinda backwards, the cloudy daylight is coming from behind the object and I have the two 65W CF lights on each side.
Much better results, we're starting to see some depth and detail.
This led me to try some shots with two pieces I shot with the Kodak so I could see the difference.
This is late afternoon cloudy daylight with the 2 – 65w CF light stands with the Olympus vs night with shop lights and flash with the Kodak.
Kodak – Cherry Entrance bench with black leather seat
Olympus – brown leather seat
Walnut Trestle Coffee Table – Kodak
Olympus -
So far these tests have pretty well convinced me I won't be permanently mounting my paper backdrop, it will need to be placed according to the lighting conditions.
Next step is to come up with an easy system to hang sheets over the windows for shooting with sunny daylight and acquiring panels to bounce light.
Stay tuned :)
Cheers, Don
-- Don Kondra – Furniture Designer/Maker
---