I know that I disappointed a few with part one of the blog series.not showing how to make the jig. hey that is life.,. no just kidding.,
You now know how to use this nice little jig.
Now to the nitty gritty and how to make one of you own..
As much as I would love to tell you all that while sitting in my inspirational chair.. near the inspitational Altar
It came to me in a blinding flash of light.,.
Well what really happened was..
One afternoon while chatting to the staff at my local hardware store an elderly gentleman[ His name is Alan Adlem and he lives near me..about 10 miles away.].[older than me anyway] asked if they had any white wood…I struck up a conversation and asked what he wanted it for..
It turns out he is a wood turner and wanted it for a segmented bowl.. knowing the hardware only had two types of timber, soft and hard…I invited him to visit me and my little workshop.
He ended going home with a few pieces of silver ash, purple heart and some cherry [European wild cherry]
Before he left however he commented on my work and in particular the "Lazy Larrys". He informed me that he was a retired engineer, turned wood worker and that he had a jig that he had made that would cut spiral wedges to form a circle. [I had been thinking along these lines and thought the new beasty would be ideal for making the peices using the template router facility.] He further claimed that the cut on the bandsaw needed no sanding and fit could be adjusted if need be. I said I would love to see that…
He rang me a few days later wanting to bring his jig over for my inspection. I unfortunately was busy going to the Maleny wood show..
This happened once more, on the day I went to Brisbane for the working with wood show..
I rang him a few days ago..Friday to be precise. He came over the next morning with the jig and a sample of the spiral circle,,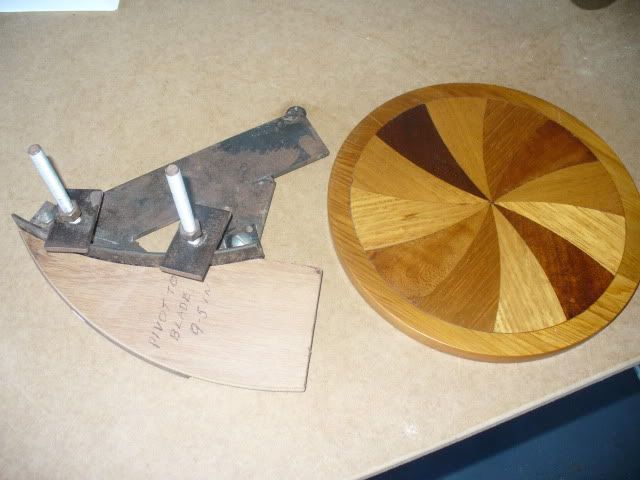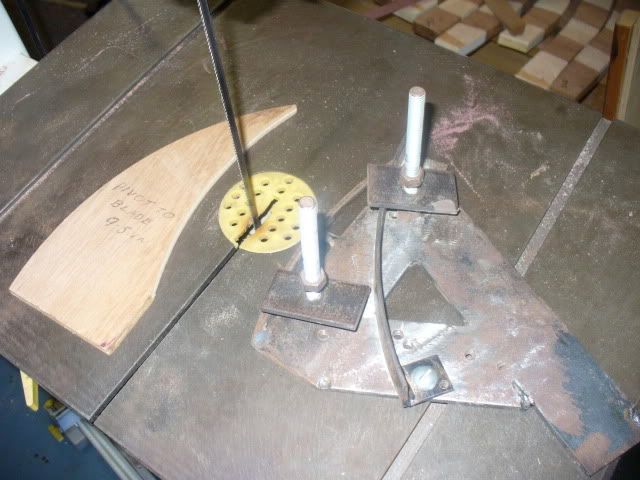 I took some pics and told him I could make it out of wood cause I don't work in metal,
He left me the template that is the key to this whole jig.
-- Be safe.
---