I got home from work this afternoon with a lot of things to do… I had been down to the Mechanics to see if the old black ute had arrived from the panel beaters..Not yet.. tomorrow… Its a 1962 Ford Falcon… full bare metal respray… all the mechanical and rubbers and suspension and brakes and interior have been replaced or reconditioned.. and new badges….will post pics if you want when I get it back…. picked up some XXXX Gold coolaid and checked My emails…
Then I saw the parcel…sitting on the kitchen bench….!!!!.


Lots of very pretty stamps…

had to share the opening with you all…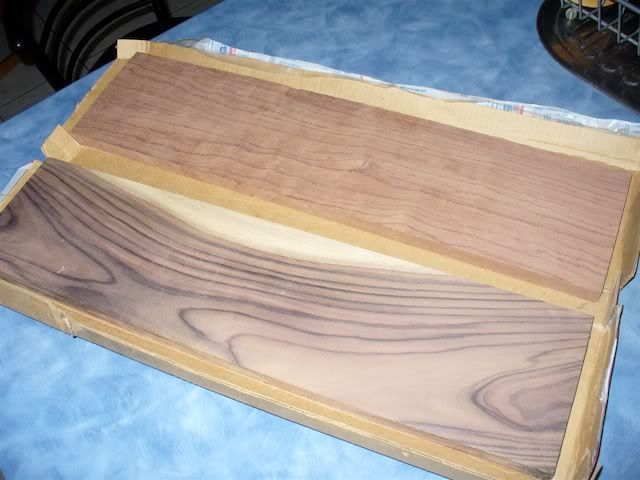 I know that all of you know what this timber is…


And I think that some of you know who sent it…


For those of you who don't I want to thank patron aka David Mitchell for the absolutely fantastic pieces of timber… the one with the sapwood is Indian Rosewood from the shipment from Rosewood and the other is BUBINGA...
hey Kent NOW I have some BUBINGA LOL Time to make some real jigs… LMAO ROFL….

Once again thank you David for all that you have given me in the form of friendship and of course the timber but I think that I speak for all the LJs …... you are truly a King amongst Men…
You are ALWAYS there to share Yourself and your knowledge and ask for nothing in return. You deserve all the happiness that life can provide…
i will deliberate long and hard to come up with a suitable project for this gift of wonderful timber… please do not be disappointed if it takes a while for me to make something significant with it….
Kindest regards
Your friend Larry…
PS Three cheers for Patron…
-- Don't drink and use power tools @ lasercreationsbylarry.com.au
---