This project is not technically finished so I will not post as a project..
This part of the blog will deal with the cutting of arcs.
I basically used one of the patron jigs I developed to cut the end curves for a Baguette Board…this pivots on the circle cutting jig.
Cut two lengths of contrasting or complimentary timbers… I of course chose Purple Heart and Silver Ash…
Silver Ash and Tasmanian Blackwood would have also been suitable… But if all you have is Walnut and Curly Maple or some other combination…maybe Bubinga and ???.... feel free to use them…these are cut to roughly 36 inches each…or use a few pieces to make the total. Just make sure the timber grain is similar in all pieces if you can't use a single piece.
.

Then by placing a piece of timber next to the fence as a spacer.. centre the blank… cut to 45 mm [regulation size for the chess board square.]. A nail is driven in at 45 mm as a stop for the cutting blank..
.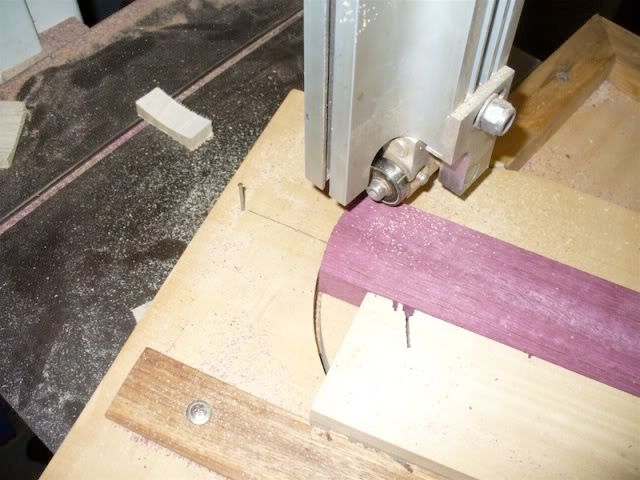 Cut the first curve of the end of the blank … and then move it to the stop and cut again..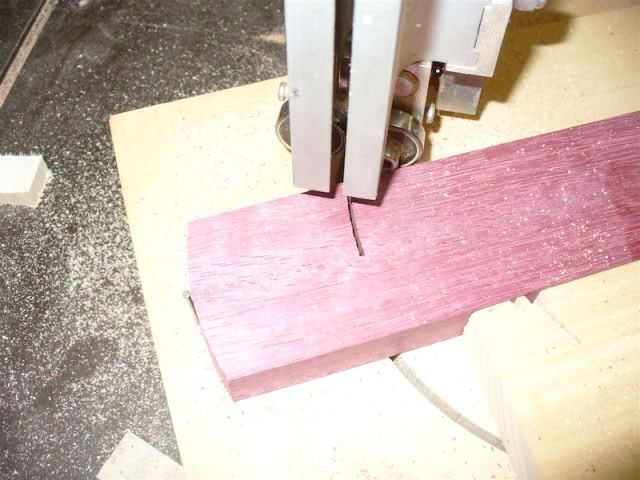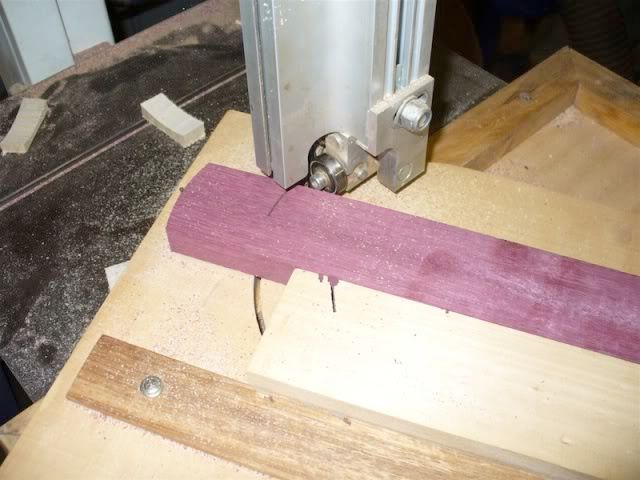 Cut all the "squares'' of one color…. remembering to leave every forth piece with a straight edge at one end.[this is for the side..]. Then cut all the ''squares" of the other color… again with one piece in four with a straight side on the end.
NOTE
Eight "squares'' of one timber will have a concave end and 3 straight sides and eight of the other timber will be convex.
Assemble with alternating pieces. Rotate the curve direction on each row..

Glue up , sand and apply finish…
In the next installment I will be making a border for the chess board… still contemplating what I will actually do with this to keep to the theme of one slight curve and some straight lines too.
-- Don't drink and use power tools @ lasercreationsbylarry.com.au
---