Well another day… not much done… still recuperating…cleaned up the small spot of blood on the saw.. lol
I did however do some things that were slightly constructive..
My good friend Col came over with some of his creations..boxes and boards [cutting type] that needed to be passed through my 16/32 drum sander, sure makes light work of flattening and smoothing a cutting board .. especially endgrain.. and safer too.,
Another friend and LJer Ken rang looking for a small amount of PH for accents on his Lazy Kens LOL.
Cut and dressed two bits 21 " long 2" by 6" and Col and I drove down to Kens workshop.
It has to be in the best location for a workshop…right on the marina ,, he used to live on a boat at the marina just a few short steps from the workshop… he lost the boat in a poker game… no just kidding wife got it in the settlement … although I think he would have rather lost it in a poker game.. lmao.
In return for the ph which he prizes highly… he gave us some Camphor Laurel.. very highly figured and lots of colour. In addition to the several very wide boards I got a lot of narrower boards and all the small off cuts from the wishing wells he makes.. he needed the room to sort out all the many pieces that go into make a wishing well..


The larger boards.. all 1" thick and dressed already. Longest is 48" widest is 16"


These boards are also 1' thick up to 36" long but not as wide LOL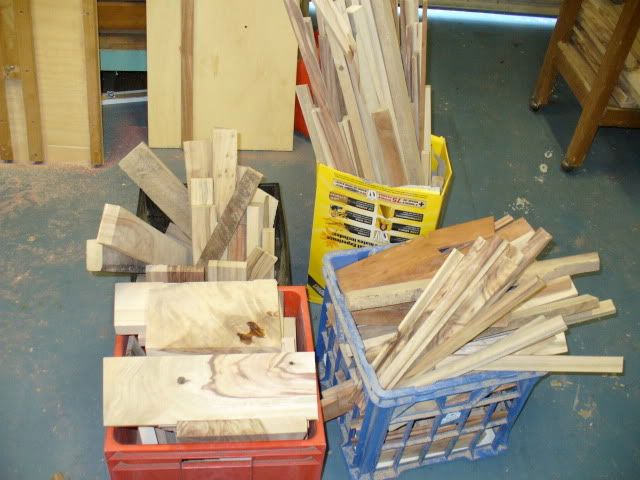 These four boxes are the off cuts… although he could have used them eventually he had no room.
And Now the moment you have all been waiting for… these boards are not exactly finished so I wet them to bring out the grain and color so that I could at least let you all have a peak of #2 thru #7 of the 150 I am still attempting.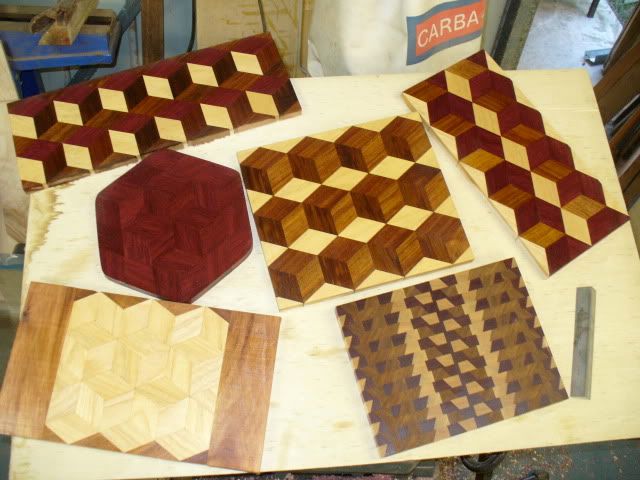 One is a an endgrain butcher block made from what was left after I cut the 60 degree bevel rip cuts for the endgrain tumbling block design block.. not shown,, not finished yet. will be in the next 5 or 6 pics.
The solid PH and the solid SA are both tumbling block long grain design..the other 3 are a slight variation on the tumbling block theme… with an extra diamond separating the cubes


Thanks goes to Moshel for directing me to a wonderful mathematics site for inspiration,


All these boards [ except the PH and the EGBB ] are to be edged so will post a finished pic soonest.
Thanks to all who expressed concern and to all who care enough to follow my ramblings.
Larry the bored guy. LOL
-- Don't drink and use power tools @ lasercreationsbylarry.com.au
---