I felt I probably should share this with everyone. I've been lurking for about a month and it's time I provide some background. About 4 years ago, my eldest and her family moved to Mobile, AL, from New York. They bought a house down there and asked me to design and build a playhouse for the kids (6 and 3 at the time). I couldn't find any plans I liked, so I worked up the plans and drew up a materials list. My daughter then went out and purchased the materials and had them delivered. Since I live near Chicago and she had very little in the way of tools, I packed up everything I thought I would need in our van and drove down to see her new house and start on the playhouse.
It's amazing how many tools can fit in a van (It was also close to Christmas, so we had lots of room taken up with presents). I had everything but a chop saw, which my daughter decided to buy down there. Once we got to Alabama, I dutifully admired her new house and then went to look at the site. They had a very large yard and the playhouse was to go at the back of the lot, about 150 feet from the house and down an incredibly steep hill.
You can see it in the background behind my construction crew here (we brought them hard hats so they could help – labeled "Foreman" and "Supervisor."). I only had 5 days there before I had to leave and get back to work, so I wanted to start quickly. Unfortunately, Alabama weather prevailed and it rained fairly steadily for the next 6 days. Nothing to do but begin.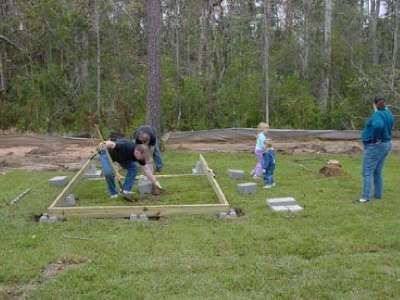 While you can't see it, each of those foundation blocks was under water by the time we got the floor finished. It rained a lot that week. Fortunately, my daughter's house had a covered back patio and I was able to use that for most of the tool work. Of course, that meant every time I used a tool, I had to drag whatever I was working on up that hill.
Once the foundation was complete, we put together the floor and walls. Using T1-11 siding for the exterior made it fairly easy.
The walls were designed so they interlocked. At one point I had toyed with the idea of pre-fabbing the whole thing in Chicago and bringing it down on a trailer. That probably would not have worked, but I might have been a lot drier. Also, the T1-11 extended below the framing, so I could nail it to foundation as we raised each wall. Extending the siding over the framing in several directions made it easier to get the walls up single-handed, which I was much of the time.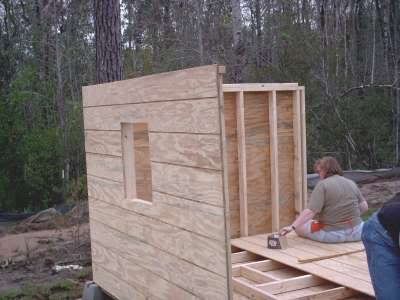 I framed out the windows, but left the final trim for later. Now I had been there about two days and the rain finally went from a steady downpour to just a steady drizzle.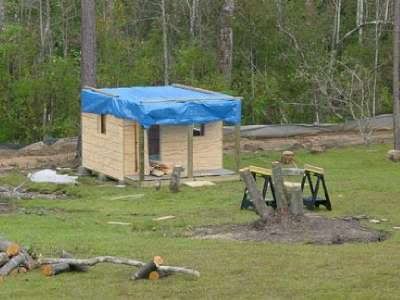 That tarp filled up with water every night. It was somewhat discouraging.
You'll notice here that the sun is actually shining. That lasted for about 4 hours – and it got hot. But I had to put up the roof. I had never done this before, although I had read about it. Getting the rafters and that center board to stay up while I nailed them all by myself was one of my more challenging tasks.
Once I got all the rafters up, it stabilized pretty well. At this point it is Thursday and I have to leave on Saturday. I am getting a little nervous. I love my daughter and son-in-law, but neither of them are what I considered skilled carpenters. A Masters Degree in English and a PhD in Theoretical Physics generally don't give you a good foundation for driving a nail.
I finished the roof Friday morning. I then put on the tar paper. That roof turned out steeper than it looked.
I had to put cleats up to keep from sliding off and even then, I almost took a tumble a couple of times. I finally tied a rope around my waist and over the top of the roof. It was only about 6 feet to the ground, but I didn't want to drive back to Chicago in a cast. Incidentally, here you can see the hole I cut as the start of the octagonal window my daughter requested. That's the reason she bought the chop saw.
This is where I had to leave. I got the framing done for the windows. I gave my daughter and son-in-law extensive instruction on how to put down the shingles, then held my breath. All the pictures you see from here out show the work of the most educated construction crew I have ever met.
Not only did they do a bang-up job on the shingles, but my daughter framed out that octagonal window like a champ. I was very impressed. She kept all her fingers and the corners match perfectly. She glazed it with plexiglass.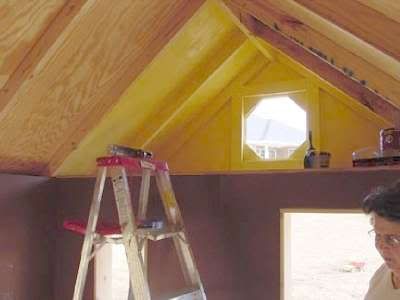 I had covered the inside walls with tempered hardboard (cheap, fast, easy to paint, hard to damage). We didn't do the ceiling, but I had made certain no nails from the roof had missed the rafters and could catch anyone. Now they started doing the painting and trim.
The ladder got them up to the loft. It was intended as a reading nook. They wanted bright colors, so they chose yellow and light blue.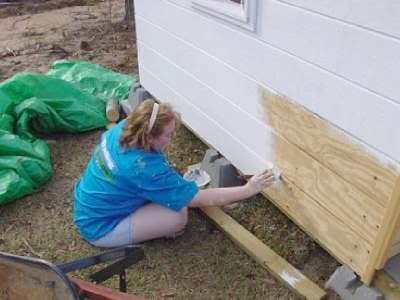 The exterior is white, with yellow, blue, and purple trim.
My daughter got fancy with the trim.
The kids just loved this. They painted one wall with chalkboard paint and Katie had her reading nook. They brought down toys and stuffed animals from the house.
She got even fancier with the railing, the dutch door with the heart window, and the shutters for the windows. It was the perfect playhouse. I did the design and the major construction, but what really made it shine was the finishing touches my daughter and son-in-law added. Total cost (in Alabama about 4 years ago), roughly $1300. But I think it was a real success.
Now, the final chapter. Five months later they sold their house to a couple with no kids and moved back to New York. They are probably using it to store the lawn mower now and I never get to even visit it.
---