Ok, last new/used toy was dropped off to my porch today until after the holidays. This one has already become my favorite of the lot, this is the Stanley Bailey No. 5 Type 11 -
I bought this one for 10 bucks from ebay. The patina was heavy but the rust was fairly minimal on the body. The sole was smooth and without any pitting.
I disassembled the plane and gave the parts an evapo-rust bath. While disassembled, I took photos of the distinguishing marks that ID it as a true Type 11.
From what I read, Type 11 is the only Stanley Bailey that has 3 patent dates -
The iron's trademark stamp was in production between 1912-1918. I have no doubt that this was the original iron. This makes the plane at least 92 years old.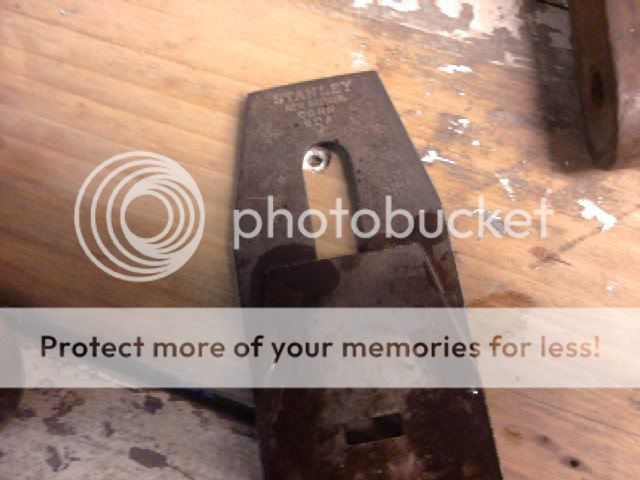 When disassembled, the tote was in two pieces. Cracks in old totes are not uncommon. There was a piece of and old Stanley Tools emblem on the tote. I didn't want to replace it, so I wood glued the pieces together. There were bits missing which left gaps around the crack. I squirted some epoxy on the handle and used a plastic glue spreader to fill the gaps. This gave it a stronger bond and allowed me to keep the original tote.
After soaking everything, I reassembled the plane and flattened and cleaned the sole with sandpaper adhered to glass and used the work sharp to hone the blade. Many people replace the existing blade with a Hock, but I am going to keep this one for awhile. I like having all the original hardware and I was able to get a really nice edge on the original.
I didn't do a full restore to like new condition. I wanted it workable and so it was restored to that level. It retained some of its age but the rust and most of the patina is gone.
It really is a beautiful tool. Maybe not much to look at, but it amazed me how different the feel and quality of the plane in comparison to my earlier restores. It gave me more of an understanding of what people talk about when they compare the quality of the old planes with the new. I don't regret my other purchases, I think they will all work rather well, but it is nice to have a point of comparison and have a little history with me in the shop.
So now I have the basic collection, Block, Smoother, Jack, and Jointer. I am done for now but I know many of you galoots out there are thinking "Oh no buddy, you are just getting started" ;)
Happy woodworking all,
David
-- There is little that is simple when it comes to making a simple box.
---