My two younger girls (ages 7 & 4) are always interested in working on a project in the basement with their dad. Most of the time they are gluing sawdust to a piece of scrap wood. This time around I thought I would try and do something a little more involved with them. We decided to build them a kid sized bench using some of the scrap plywood I've got laying around.
With a bit of searching through the piles, we were able to find some pieces that would work without much cutting required. I showed them how to line up and mark their pieces so they could see where to spread the glue. I also let them do the glue spreading themselves.
The only real glitch we ran into was when we attempted to glue the small side pieces on that would connect the front of the bench to the back. After letting the glue dry for 30 mins, I removed the clamps. All seemed well until I attempted to move the bench and that is when it all fell apart (literally, not figuratively)! My 7 year old looked up and me and said "maybe we should use nails". All I could do was laugh.
I've told this story to one of my friends in Chicago and he has been busting my chops since then asking when I'm going to complete this little wonder project. Well Paul, here it is. And this time I used screws!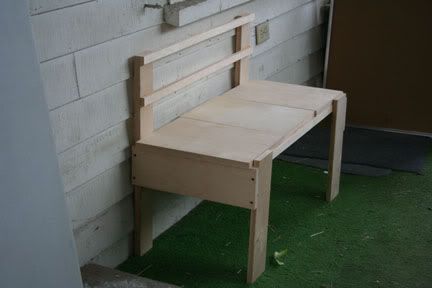 The girls are very happy with their bench and after we return from vacation, I'll show them how to sand it down to take off the sharp edges and perhaps we'll do some painting.
---