In my second group of prototypes I wanted to experiment with using just two species of wood. In these examples I have used Walnut and Maple. Of course any one of these designs could be created with a different selection of wood. I just wanted to mix things up a little to keep it interesting for myself.
The first design I put together with the Walnut and Maple selections is based on the popular celtic knot design. In this version, I went with a single knot. I didn't think the design would be recognizable enough if I tried a double knot. Then again this is why I'm putting together these prototypes, isn't it? I'll have to try the double knot with three wood species that might help define the design enough.
The alternating color layers at the top of this design are just something to break up the solid Maple. I think it may distract a little from the knot design and I may eliminate that if I do glue up this design.
Design 1: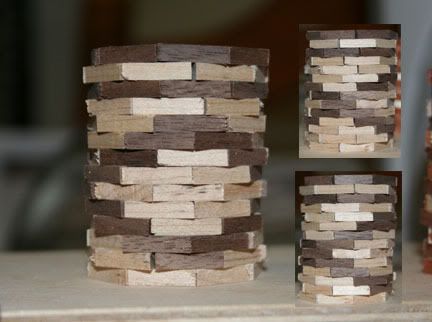 I like this second design for the mere simplicity of it. One of the keys of this design is not just that there is a large diagonal stripe of Maple running through the Walnut, but that there is only one full layer of Maple in that whole transition. That of course just might go to show that I really over think this stuff!
I again run in the dilemma of what to do with the second half of the pen though. This example is the length of the pen body rather than the pen cap. Making the design fit the cap would eliminate the ability to add the solid layers of Walnut, which I will admit is not a crucial requirement. I think some more thought is going to be needed before this design sees any glue.
Design 2: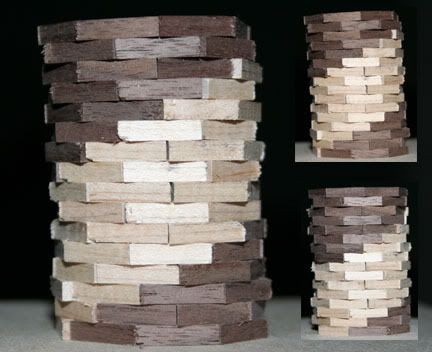 This third Maple and Walnut design is a variation of the "argyle sock" I showed in group one. In this version I didn't separate the diamond patterns with a defined border. I also added the alternating wood species to the center of each diamond. I think this design could look ok if it were glued up as I think it would transition well from the cap the pen body.
Design 3:

---