Prior to finishing my latest segmented pen, I cut several hundred segments with 22.5 degree angles to create a few more pens with eight segment layers. Having these pieces of Maple, Walnut and Jatoba, I thought it would be a nice way to get a good visual of what some different designs could be. Kind of like a rough sketch in 3-D.
I didn't want to get into gluing anything and commit myself to a design I didn't fully like, so I carefully stacked my segments and let gravity hold everything together for me. I figured this method would let me quickly see, physically, what I thought I was seeing in my head. It would also be much less time intensive than gluing a full blank together to flesh out the complete idea. Each design I have put together is the full size of a Jr. Gent II cap.
After stacking a design and taking a couple pictures from different angles I took apart what I had done and designed another. It was after I had six or eight of these designs that I thought I would put together a blog series to show how these segmented pens would look from design to completed pen.
A couple of the designs I've come up with include all three species that I had prepped. This first design is one I've been thinking about for a while. With the light color of the Maple separating the Walnut and Jatoba diamond patterns; it reminds me of an argyle sock.
Design 1: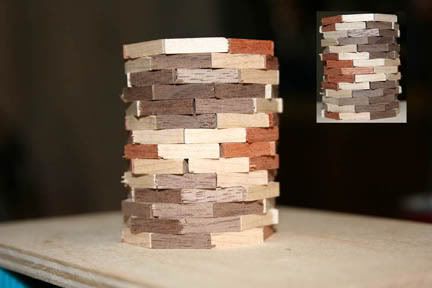 Another design I put together uses all three species in staggered columns. I'm on the fence about how I feel about this design. I think this design is the best example of why I find it helpful to put together these little prototypes though. I know the final look will be slightly different than what is shown here simply because the length of each segment will be smaller. But I'm not convinced yet that it will work.
Design 2: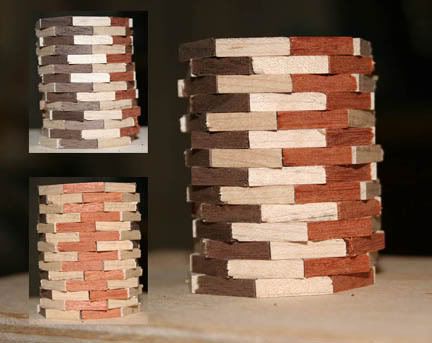 I've not yet thought of a nick-name for this third prototype but it is one that I like. The only real concern I have with this design is how it would transition from the cap to the body of the pen. I can't decide if perhaps a solid color body should be used, or should the pattern repeat itself on the body. Again, here is another good example of how prototypes can help prevent wasting time and materials on a design.
Design 3: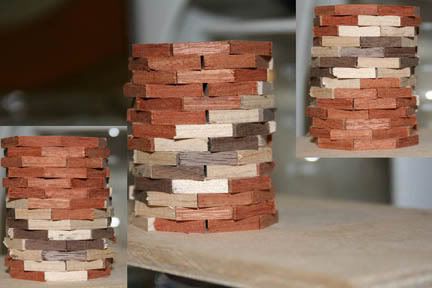 The forth prototype is a similar design to my first segmented Jr. Gent II roller ball. In this example the peaks and valleys are a bit higher and deeper. I think the colors contrast well in this example. I think there is a good chance that this prototype could become a pen. I think the balance of color is what I like the most about this particular design.
Design 4: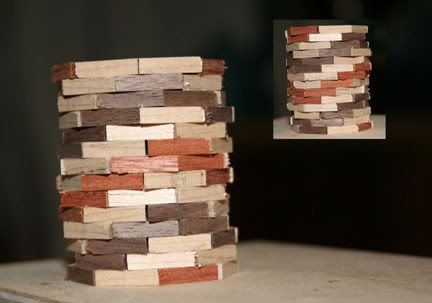 ---