I have had my lathe for about 18 months. I started right away turning pens. If I had to guess, I would say I have made somewhere around one hundred pens at this point. I have enjoyed turning pens since it's typically a quick project cycle and provides that immediate sense of accomplishment. The majority of these 100+ pens were made using a single piece of wood or acrylic stock. That all changed at the end of 2007.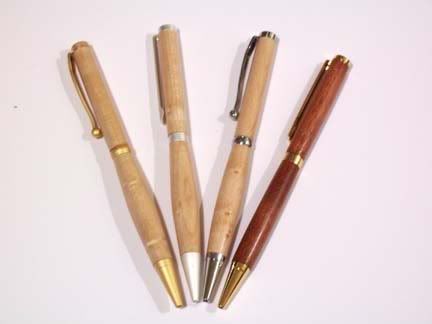 A collection of early pens made with Bird's Eye Maple and Rosewood.
One of my friends, and fellow Jock, also turns pens. He had provided me with some "gentile encouragement" to take my pen making abilities to the next level. With Christmas coming up quickly, I decided I would take the opportunity to experiment on a group of pens my wife had asked me to make for our daughter's school teachers.
The pens made for the teachers were all made with slim line kits. I created six different designs for the 13 pens. For wood selections, the set of pens used Sapele, Bloodwood, Maple and Walnut. I also used a new finishing technique of CA glue (superglue) and BLO (boiled linseed oil). I'm pretty pleased with how the collection turned out and have received several very nice compliments from the teachers that received them. The designs I like best from this group are the "harlequin" style that are shown in the picture below. The harlequin in the middle, of the picture below, is made with walnut and maple. The harlequin on the far right, of the picture below, is made of maple and bloodwood.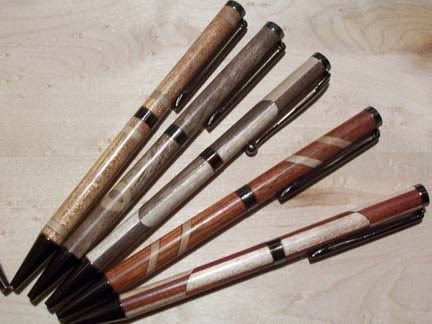 A sample of the designs used in the Teacher's gift set.
Shortly after finishing the pens created for the teacher's I attended a local turner's group meeting that featured one of the members doing a demonstration of his segmented bowls. I decided to try implementing those techniques into my pens.
The segmenting process I use is fairly straightforward. I build my pen blanks in a bricklayer's fashion (offsetting seams). For this first pen, I used a combination of Maple, Jatoba and Walnut segments. After milling strips of ¾ inch wide stock down to 1/8 inch in thickness, I then cut each of the segmented pieces at 30 degrees allowing for six segments to be used in each layer of the blank.
My first segmented pen attempt was a success and failure all in one! The body of the pen came out as I had hoped. Turning the cap however, is where the trouble started. In the process of turning the cap, one end of the blank blew apart. I eventually completed the pen by turning a piece of Ebony for the cap.

My first fully segmented pen with damaged cap.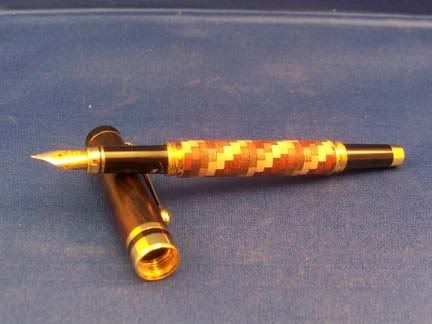 My first completed segmented pen.
This segmented pen was also my first time using a fountain pen kit. The kit is a Classic American Fountain Pen. There are few things I didn't like about this kit:
• With the cap screwed on to the back of the pen, the pen is very top heavy and awkward to write with.
• When turning the cap, you are required to turn on end down to the brass tube (this is where my segmented piece came apart) to fit the pieces together.
• The ink dries out real quick in the nib and it's a bit of a nuisance to get it flowing again.
I have seen several postings, at the IAP (International Association of Penturners) website, of pens made with the Jr. Gentlemen's II kit. Liking the look of this kit, I decided I would try a few out. I ordered four kits to start with, two rollerball and two fountain pens. I've made two segmented pens using the Jr. Gent kit, and have a third in the works, and have been very happy with the look and feel of this kit. I've also found, from quite a bit of reading, that rhodium, black titanium and gold titanium are the most durable finishes on pen kits. My goal is to try and focus on only using kits with these available finishes.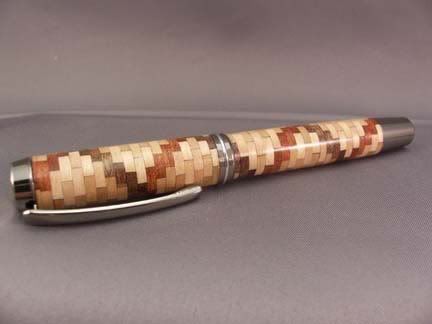 My first segmented Jr. Gent II fountain pen with black titanium finish.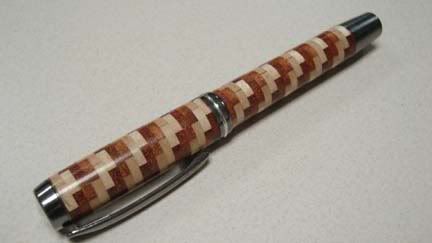 My first segmented Jr Gent II rollerball pen with black titanium finish.
As I work on my next segmented pen I thought I would take some time to work on a few different designs to see what works and what doesn't. I decided to work with some smaller segments as well. The next few pens will include eight segments per layer versus the six segments per layer I had used in the first couple of pens. To start, I cut several hundred segments of Maple, Jatoba and Walnut.

Maple, Walnut and Jatoba segments (left to right).
---