Being a fan of segmented turning I joined the group Segmented Woodturners, a chapter of the AAW, earlier this year. While I've made quite a few segmented turnings, I have not yet made a segmented bowl… well until now!
The current preseident of the Segmented Woodturners group is Malcolm Tibbets, an astonishly talented turner. Malcolm has written a book on segmented turning and has also produced four dvd's on the subject. With Malcolm's advice and encouragement, I incorporated his floating bottom technique in my first bowl. The floating bottom is used to prevent damage to a piece due to wood movement.
Here is a series of pictures that covers the process:
yes, there is a hole at the bottom… it's actually designed that way!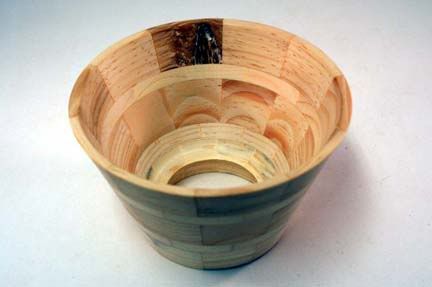 the base has a recess to hold a floating bottom.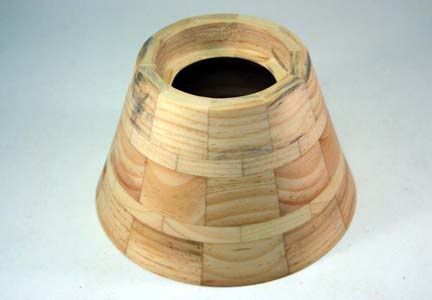 the floating bottom is a single piece of pine, turned to a diameter of about 2". the floating bottom is just shy of 1/4" thick.

the floating bottom is kept in place with this "keeper ring" made of ten segments. there is a 1-3/8" diameter hole in the middle and the ring is about 2" in diameter.

the floating bottom in place.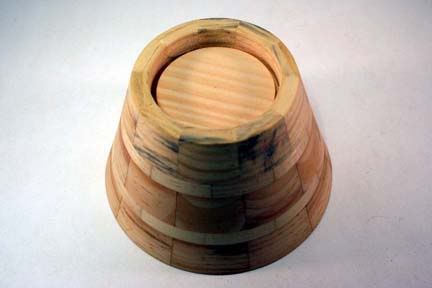 the keeper ring installed. The keeper ring was designed to be about 1/8" shorter than the base of the bowl.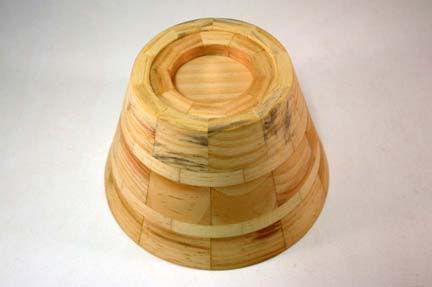 a top view showing the floating bottom in place.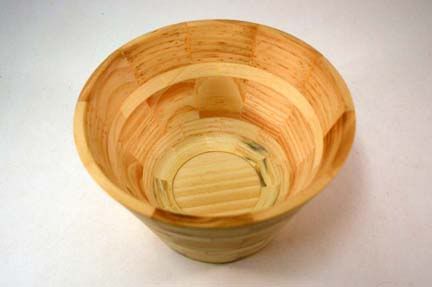 the bowl is 2-3/4" tall. 4-1/2" wide at the top. 2-3/4" wide at the base. the wall thickness is a fat 1/8".
for dry items or display purposes the floating bottom seems to be the way to go. If you want to use any sort of liquid… you'd be better off taking your chances with a solid bottom.
---