The earthquake which occurred on Feb 22, 2011 in Christchurch, NZ is tragic with loss of lives, destruction of infrastructure and sad stories which will continue to unfold over time.
I don't mean to take away from the human tragedy that this is and will continue to be for a long time and I hope I am not being insensitive by making a few observations about what buildings were damaged and which ones weren't.
My own town of Murchison was the epicentre of a 7.8 magnitude earthquake in 1929 and lessons were learned then. In my town, all brick chimneys collapsed and were responsible for many injuries and since then, all buildings are all wood frame and all have wood siding with a very small minority with brick veneer ( which is, in my opinion, irresponsible ). This may strike people when they first arrive in town. To those who read too much "3 little pigs", one might be forgiven for thinking that we live in a 'poor' town where there are no brick buildings.
However, I wanted to show a few photos from the recent quake in Christchurch which provides evidence that wood is a significantly important material in earthquake zones.
First a concrete and steel building which could not take the sideways impact of the 6.3 magnitude quake. Unfortunately there were casualties in this building.
Now look at another building whose brick facade crumbled but the frame stayed intact: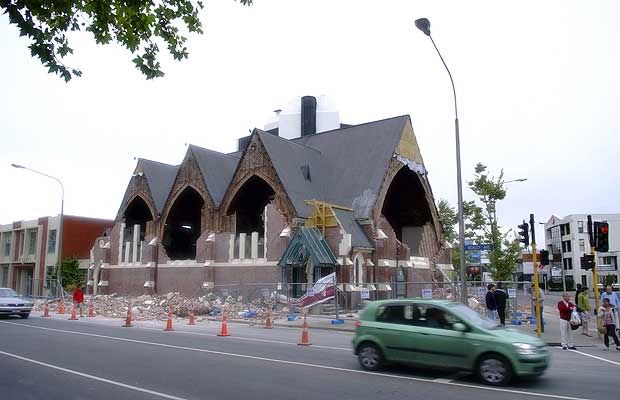 And another to show how a wooden framed window survived a fall from several stories to the street:
-- If you can't joint it, bead it!
---