Finally back to the shop to finish off the final bits of the plane.
I am following Mike's ( stefang) master class on a medieval bucket
If you recall, the plane is being created in order to plane the inside of the staves to the curvature of the bucket. As well we need a 'binding lever' which will be used to install the willow band around the bucket once completed.
Ive chose to pass on the lagging knife. There appear to be other methods available. i might regret this but for now, I don't have a knife I could use anyway.
The bottom has been glued up, the side of the sole was squared up to the side of the plane and then the curve of the stave marked out and ready for shaping.
I shaped starting with a block plane to get the edges
And finished up with a spokeshave to get it to the final shape
It's harder than it looks. The walnut seemed hard to shape without some tearout and some chatter but I think it should be ok
And now for some final shaping. I just freehanded some curves to a Krenovesque shape, being careful not to take too much from the thickness since I started with a 2" block. A decidedly un-medieval method using the bandsaw was used.
After the bandsaw:
and some sanding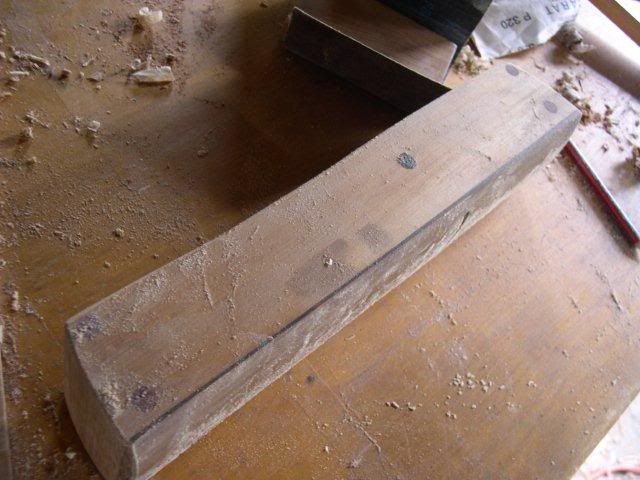 some linseed oil and she's all done! Ain't she a beauty?
But does it work? Well, I can produce shavings. the opening of the throat seems ok – nothing getting caught up in there
And eventually I did manage to get the correct curve on a test piece. Though I think it still needs a bit of fine tuning since the curvature of the blade and the curvature of the sole does not exactly match. I think I need to tighten the curve of the blade to prevent digging in on one of the edges. I will have to take the blade back to the grindstone.
Then to the binding lever.This took almost no time at all.
Cut a blank on the bandsaw – using NZ Red Beech again.
Use Mads' pdf template. I just traced over the template with a ball point pen and impressed the design onto the blank and then darkened the lines

and cut on the bandsaw. note: the circular part was drilled out first.
And some work with the spokeshave, sanding and some linseed oil finish. I may still need to shape the bearing surfaces but I left it for now until I know more about how it will be used.
-- If you can't joint it, bead it!
---