Next step of building the plane to be used for planing the inside of the staves to make a wooden bucket – the traditional way. Today, I cleaned up the dowels and pins sticking out – paring it away with a chisel and then I added the sole finally.
I used Mike's (stefang) technique for measuring, marking and chopping out the opening in the sole to fit the curved blade.
I don't know if Mike was kidding when he said he chopped out the 45 degree ramp in the sole in 40 seconds. It took me about 40 minutes. I think each subsequent step in a complicated project takes me longer and longer as there is more at stake if I make a mistake. I didn't want to do a do-over – though, who knows, I might find out later that I have to anyway.
So, today, I marked the opening for the blade in the sole. I decided to chop it out entirely using chisels only. Slow going but a surer way of ensuring an accurate opening, given the other options I had.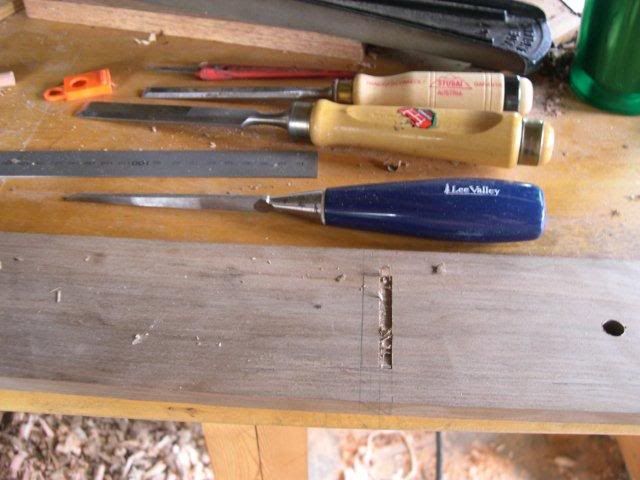 Then set up for chopping out the 45 degree extension of the plane ramp through the sole. I used the cutout from the plane throat as a guide. Mine looks like swiss cheese now as I use it for testing out hole sizes for pegs and dowels.
Fast forward and we're done…
Ready for final glue-up on the plane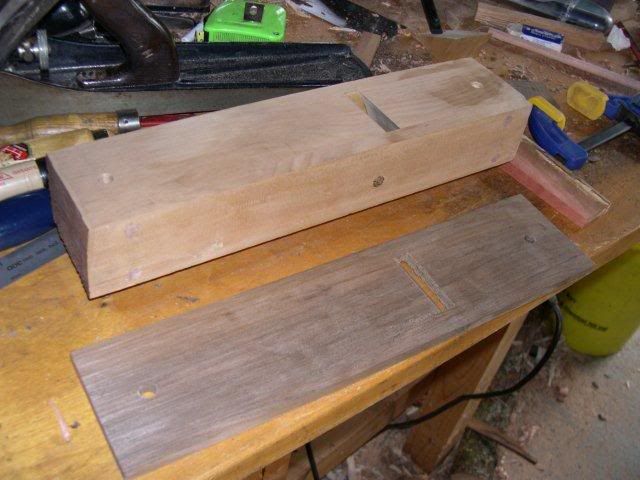 And add some glue and lots of clamps and that's it for this weekend while the glue dries
-- If you can't joint it, bead it!
---