Some more progress on my plane, which will be used to curve the inside of the staves to form a bucket.
I am following stefang's master class on making a bucket using traditional methods
I left off here last time

Next to make was the crosspin. I chose to make a wooden pin. I don't have any plug cutters so I did this on my
rusty lathe ( forced to sit outside but under cover for space reasons). I sized the middle part to fit inside the plane less 1/16" so it wouldn't bind when the sides were glued up), then marked centers on the ends, punched the center to ensure good seating on the lathe centers and then turned two pegs on the ends to 10mm to fit my drill bit.
Here's the crosspin having come off of the lathe and being checked for size – seems ok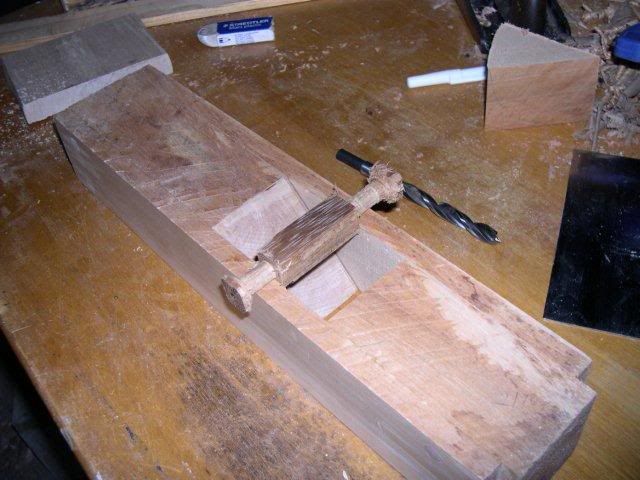 and a bit of clean up, rounding the 2 edges of the crosspin which go towards the throat of the plane to ensure that shavings don't get caught up in there and a bit of linseed oil to finish before gluing up the sides.
Then carefully marking out the position of the pin, drilling the holes ( first one side, then using the hole as a guide to drill out the other side which I didn't show here)
Lined up against my measurements. Flat side towards plane, spaced 3/16" away from the where the blade will be.
And now finally ready for gluing the other half with the obligatory subliminal messages now customary to this master class
and the glue up – go drink a tea…and start thinking about a wedge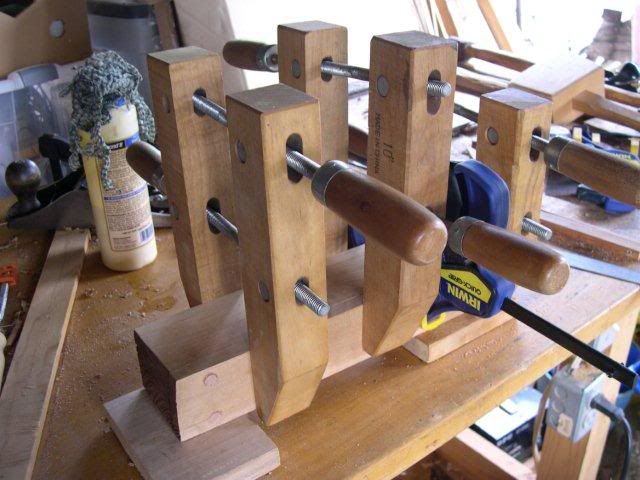 I found this piece of wood which looks unlikely to be anything but it is a piece of NZ red beech which is extremely weather resistant, hard and close grained. It's been weathering outside for several years but will clean up very nicely.
I didn't take any pictures of the planing and forming of the wedge ( and I might still make another one later). I just formed a simple flat wedge about 5" long and slightly less than 2" wide. I might go back and cut a curved top wedge later. I can see the obvious advantages of the top of the wedge being slightly away from the blade when it comes to removing or tightening the wedge now that I've had a go with this one.
While it still does not have a base and the wedge needs some fine tuning to sit completely flat against the blade when wedged, I couldn't resist a few test strokes. So it works like a scrub plane right now and sure enough it made some shavings!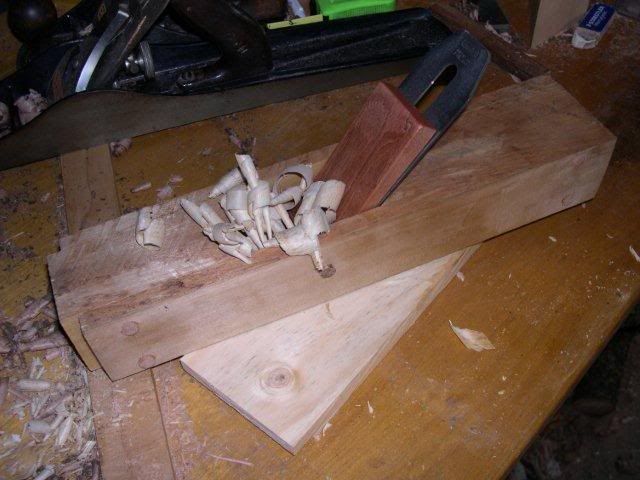 -- If you can't joint it, bead it!
---