I am following Stefang's master class on building a Nordic bucket using the medieval ways
The first steps are to make the tools required to make the bucket.
The most important tool is a plane to curve the inside of the staves of the the bucket and in true medieval fashion, this is being done with largely hand tools ( ok, and a bandsaw from well into the future).
This blog series is to show my progress of the master class.
Anyone can follow along and jump in any time to his class. His blog is excellently written and photographed and others following along ( particularly mafe and his progress blog provide excellent additional resources)
So far I've chosen some recycled Rimu for my plane body, planed, squared and sized the body to my stanley #5 blade ( 2").
The sole will be a piece of wood I had lying around which seemed straight grained, clear and hard. I thnk it is a piece of walnut but not actually sure.
I skipped a lot of steps and just show them here together:
Then I skipped ahead a bit and decided to mark and grind my plane blade.
I decided I wanted a slightly bigger bucket than Mike ( stefang) is building ( his is about 8") and I wanted mine closer to 10" ( actually 25cm) so my radius is set to 125mm
I don't actually have a compass, so I cobbled one together from a set of calipers. It's equipped with a felt tip marker for marking the radius on the plane blade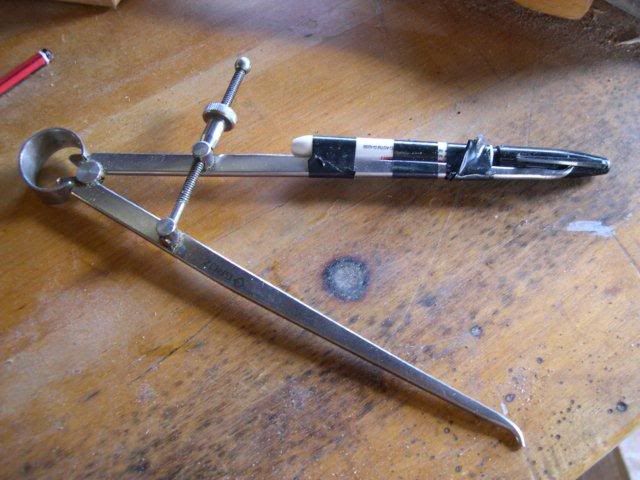 Marked out the radius on the blade and ground to shape using a hand powered grinder
And then the results after about an hour or so! This is before honing
And that's all I got so far but I have everything ready to start assembling the plane now…
-- If you can't joint it, bead it!
---