Friedensreich Hundertwasser (1928-2000) was an Austrian Painter and sculptor. Born in Austria he lived and worked primarily in Vienna but eventually made New Zealand his permanent home. He was one of Austria's best known contemporary artists though he remains controversial. I first got to know Hundertwasser from my own time spent living in Vienna and like Hundertwasser I too now make my home in New Zealand, so it seemed appropriate to use his work as my inspiration.
The common themes in his work are a rejection of the straight line, bright colors, organic forms, a reconciliation of humans with nature, and a strong individualism.
While living in New Zealand and as his last major project undertaken before his death he redesigned a public toilet facility in Kawakawa. The inspiration for my table is taken from this building.
Kawakawa public toilet facility

Friendreich Hundertwasser (1928-2000) – He is buried in New Zealand, in his garden of the Happy Dead, under a tulip tree.

And here is my Hundertwasser table:

The legs are turned and painted (or could be tiled per Hundertwasser's style). The frame is made from New Zealand recycled Rimu. I haven't been quite true to Hundertwasser's dislike of straight lines with the choice of table top. Putting on an organic shaped and mosaic tiled top was proving more of a challenge than I was up for, this being my first time with Sketchup…but it would be an interesting addition. Instead I opted for a boldly colored top to balance all the color from the legs. A highlight in the table top ties the frame and the top together. The frame also got a small painted rabbet along the perimeter to match the table top ( this is better seen in the rendered versions shown at the end).

The legs support the table. The decorative frame underneath is held by 10 dowels from the frame into the table top.. The dowels come through to the top of the table top to show off the joinery.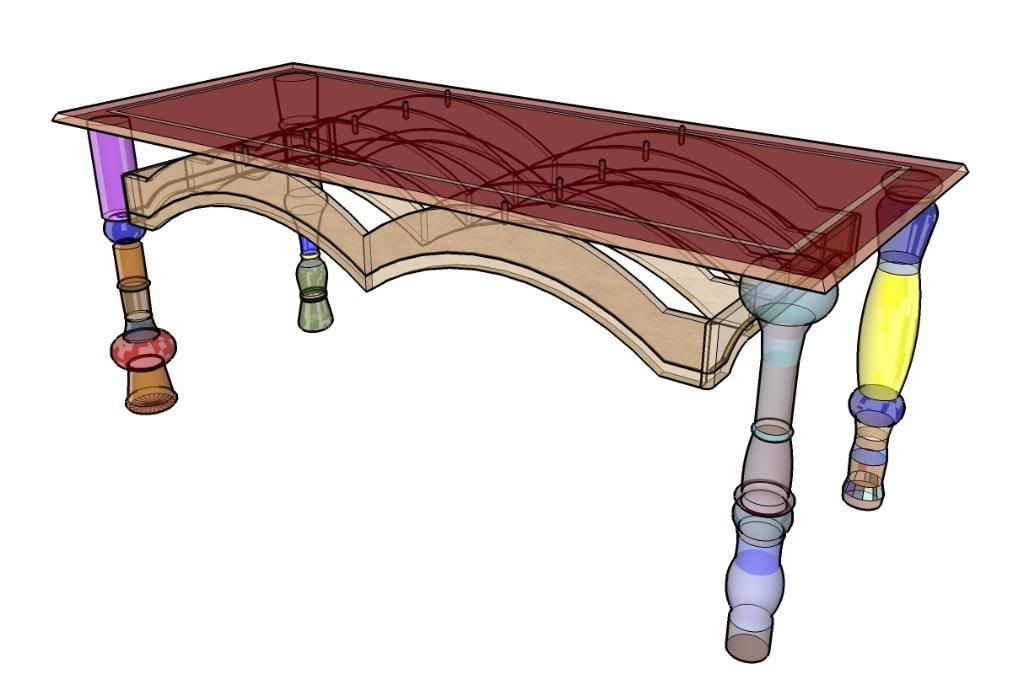 A couple of renders of the table. ( my first time so just the basics).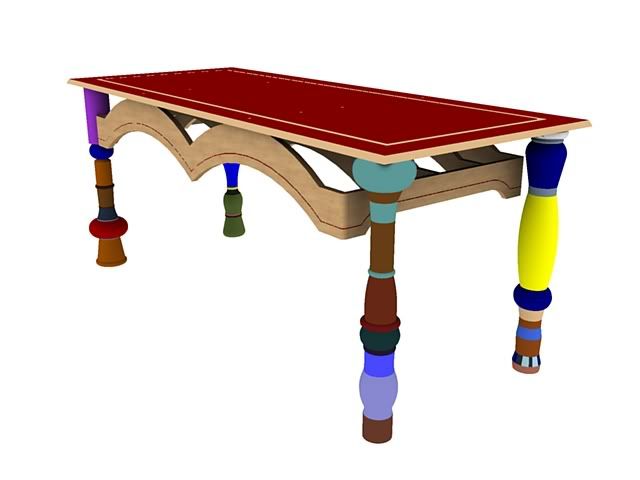 Steve
-- If you can't joint it, bead it!
---