I built the 'Alexander saw steel tapered reamer' based on the information found on Jennie Alexander's green woodworking website. SawSteelTaperedReamerPlans
I'm having some trouble understanding the instruction on how to sharpen the back edge of the saw blade, which works as a scraper to form the tapered hole.
Here's what mine looks like now – As you may be able to make it out, it's just a square edge right now.
Alexander says this about sharpening and this is the picture provided ( very small and can't be enlarged ).
"View the blade from the heel, and chamfer so that the blade will ream when rotated clockwise. Drawfile the burr edge (or edges) to a 45° chamfer. It is helpful to chamfer the outside board clamping the blade in the vise. While the 45° arris can be cleaned up with a stone, that is not really necessary. Remember that your blade will be scraping end grain—not a pretty task. Thus the presence of saw teeth and a less than exquisite scraping burr do not adversely affect the reamed mortise. Put a drop of oil on the arris and lay it over by progressively burnishing until the burnisher is 10° below horizontal (1). Test the burr."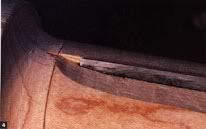 It's not clear to me which way the 45 chamfer should be. Can anyone help clarify?
-- If you can't joint it, bead it!
---