Hey LJ's. So I have the upholstery of the sofa frame complete. The only thing left as far as upholstery, is the seat cushion and pillows!! My next step is making the legs. This is where I need some advice from you guys. I was planning on making some legs that are really big and bulky, probably either black or dark shade of brown (like walnut), but I was wondering what you guys think? I was also thinking about only doing 1 long seat cushion. I kind of like the fact of not having any cracks to lose keys in :) But again, was wondering what you guys think? The pictures are below, and again if you have any questions just let me know and I'd be happy to answer them. Thanks a lot!! My next post will be of the finished sofa under Projects. Thanks for all the support!!
Sorry, I can't figure out a way to make the picture smaller so you can see the whole thing!! Photobucket sucks. Anyways you can click on the picture and it'll take you to the full size pic. Thanks!!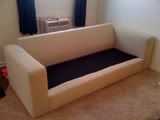 -- Hey you dang woodchucks, quit chucking my wood!!!!
---