So, now I've got the bulk of the work done on the case. Where I left off in my last blog I had cut the sides and glued the top together.
Now, I got the top down to the right size. This was a little tricky because I wanted to keep the joint pretty much right in the middle of the panel. Once it was to size it was time to route a cove along the edges so I could fit them into the slots I cut into the sides. I used a cove cutting bit that I filed the guide bearing post off of so I will get a "tongue" that is straight on the edge so it will fit into the sides before the cove starts.
So I wouldn't have any tear out on the end grain edges I clamed a piece of scrap to the trailing edge of the top.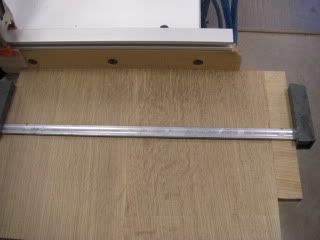 Everything went very smoothly with the router table. Here's the result.
I cut a piece of scrap quarter inch plywood to use as the bottom and stained it to match as close as possible to the sides. After the stain dried, I test fit the box to make sure the top, bottom and sides all fit nicely. Which they did, perfectly (not to boast).

Now that I'm satisfied with the fit, the final step I do before I glue the box together, and I do this same thing whenever I make my small boxes as well, is to do whatever finishing needs to be done to the inside surfaces. So, I sand, and I sand, and I sand some more, then I spray my finish. In this case I used a water based spray lacquer. To keep the miters clean so the glue will stick, I used some masking tape.
After the insides have been sealed and finished, it's time to break out the glue bottle. These are simple 45 degree miters, so I spread some glue, not too much because I didn't want any seeping out of the joint into the interior or the box. It's not too difficult to clean out if some does, but why make extra work for yourself if you don't have too. I'm using Merle Adjustable Corner Clamps to hold the joints together (http://www.mlcswoodworking.com/shopsite_sc/store/html/smarthtml/pages/merle_clamp.html ).
So, next time, it's back to the router table to cut the recesses for the splines.
See you then, and thanks for reading.
-- "At its best, life is completely unpredictable." - Christopher Walken
---