So, I decided to start an interesting project a few weeks ago and I thought I'd share my progress. I figured it would be neat to build a wood briefcase. Now, I know that in today's business society people tend to use shoulder bags, "soft" briefcases or messenger bags to tote around their documents. But I figured, "what the hell, if anything it will be fun."
Like the majority of my projects, it all starts with a drawing.

I planned the sides be about 5 inches high with an outside dimension of 18.5 inches by 13 inches. The sides and the top are going to be about half an inch thick. I didn't want to go thicker because of weight.
The idea is for me to take one of my small gift boxes (like these http://lumberjocks.com/projects/11122) and just make it bigger, but a handle on the side and some case locks. Like the second of the two boxes I've posted, I decided to do the dovetail splines in the corners. This serves two functions: One – it reinforces the joints, and two – it looks nice.
So, digging through my left over wood pile I found a nice piece of cherry for the sides that I planed and cut down:
And I beautiful piece of quarter sawn white oak that I glued together for the lid: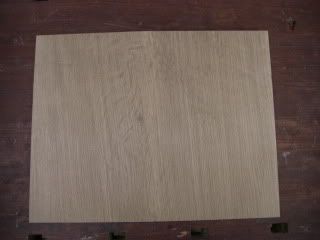 As I get further along with this project I'll post more pictures.
Thanks for looking.
-- "At its best, life is completely unpredictable." - Christopher Walken
---