I'm really late with this. August and September were very busy months, mostly related to upheaval at work. In the insanity I had trouble deciding on an inspiration and even more trouble finding the time and energy to focus on learning SketchUp. About a week before the deadline I finally came up with an inspiration. But despite my best efforts I couldn't get it together to submit on time. The final straw was primarily mental (no wise cracks, please). I really didn't want to use someone else's photo of my inspiration. And the timing was wrong for me to get there to take pictures myself. I had thought I had a few, but it turned all I had was one detail.
Despite hearing the sound of the deadline whizzing past I decided to finish up the design and post it when I'd had a chance to not only finish it, but also get some pictures of my own. Here's the result.
My inspiration is the Old North Bridge in Concord, Massachusetts. Americans will know this as the location of one of the opening battles of the Revolutionary War. The bridge was made famous by Ralph Waldo Emerson in the Concord Hymn which starts with the line "By the rude bridge that arched the flood". The current bridge is part of the Minute Man National Historical Park.
These pictures were taken from my kayak. You'll find more pictures from that paddle here. The river that runs under the bridge is the Concord River.

I happened to pass under the bridge as a tour was crossing the bridge. According to the tour guide the original bridge was narrower and had a shallower arch, but the construction is basically the same.
Here's the table inspired by the bridge. Basic dimensions are 68" x 42" x 29". Woods would be oak and walnut. Mostly mortise and tenon joinery. Breadboard ends on the top. I have no current plans to build this, although two of the people who read my personal blogs have volunteered to take it off my hands if I do.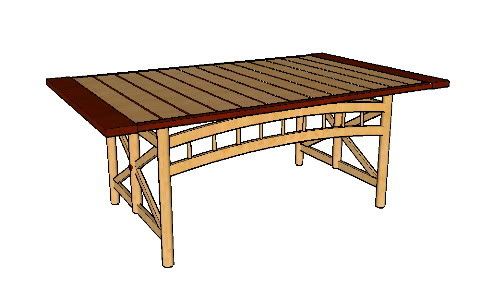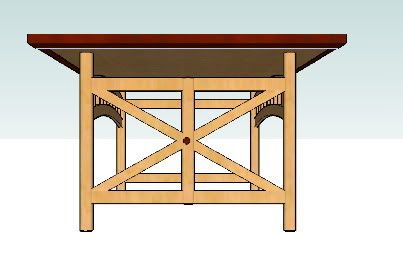 The biggest challenge I had in creating this in SketchUp came from the curves. Never did figure out how to create a mortise in a cylindrical leg. The SketchUp model isn't perfect but it definitely shows what I want it to show.
-- Chelle http://artsgranddaughter.blogspot.com
---