I haven't posted anything in my blog for several days because I have been too busy researching my latest acquisition. This is a 1940's Craftsman (made by King-Seeley,) scroll saw model 103.0404. I was able to get this one for only $10.00, but it didn't come from the auction house, but rather craigslist. It looks like it is in pretty sad shape, but I see a diamond in the rough.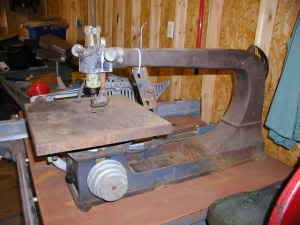 This saw has a 24 inch throat with a 14 inch table. My current scroll saw is a newer version of the Craftsman line that reads 16", but I wouldn't cut anything over 12 on it because it is too small. I have been working with wood for most of my life and have seen 24" inches countless times but it never really seemed fitting until I saw this saw for the first time.
Photos do not do this saw any justice. The first time I picked it up, I grunted. It weighs in at about 80 pounds without a motor (it actually mounts on the bed of the saw in the trough behind the table). With the motor installed (I have a vintage Wagner ¼ hp set aside for this one) it should top out over 115 pounds. This saw will not be very portable, but it won't vibrate away either.
The table is 14" X 14" and even has the capability of accepting extensions and a rip fence. The upper arm can be removed and the saw can be converted to a saber saw, and there is even a router attachment. (Sadly I fear that searching for some of these parts may be a wild goose chase, but I know the accessories exist. Half the fun I have in owning these tools is the search for the accessories.)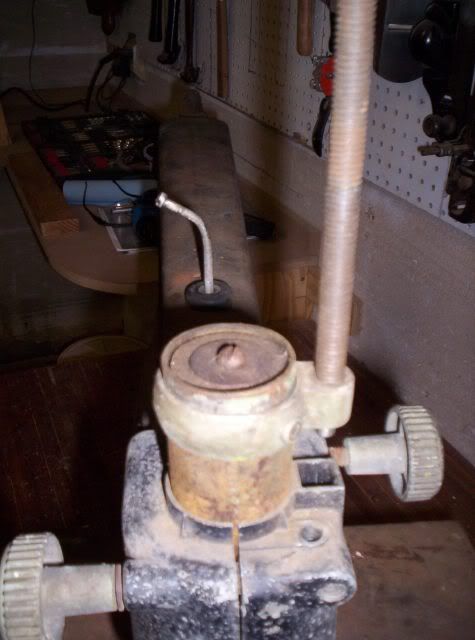 There are so few moving parts that this saw is simplistic. Why do I like vintage tools, because they hold up a lot better than those built today, and not only that, but they look a whole lot better!
More to follow…
-- Brian, Lebanon PA, If you aren't having fun doing it, find something else to do.
---