Every lumberjock has at least one – some might not consider it a woodworking tool, but I think if it is used for your woodworking hobby, then it is a woodworking tool.
When I started my quest for vintage tools, I knew that I would be cleaning up some rusted metal. I was in a Big Lots store and saw a 6 inch grinder for $12.00 and thought: "It can't be that bad." So I bought it and realized quickly that my original thought could not have been further from the truth. It took a long time to get up to speed and it didn't take much to get it to slow down. I knew right away that I would need another grinder and that I would not be buying any tools from Big Lots.
Here is the one I got.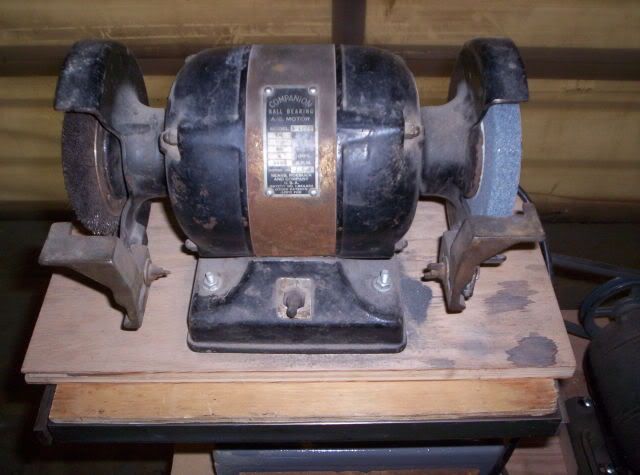 It is a Companion 6" ¼ HP. For those who don't know it, Companion was the inexpensive brand name for Sears and Roebucks tools from approximately 1933 to 1941: in 1941 the Companion brand name was replaced by Dunlap and in the late 1990's Sears brought back the Companion line.
I got this one from my father in-law – having my wife by my side for over 22 years has been good for me in more ways than one. I have used the grinder in its un-restored condition for several years but after finishing my planer, I decided it was time clean this one up as well. I am not an electrician so the motor had me a bit worried. When I took everything apart, cleaned, painted, and put back together again it did not work. It would not start spinning unless I "helped" the motor spin fast enough to start. Once it was started, it would run fine. Ah oh! I knew I did something to cause this.
I took a crash course on electric motor repair and figured out that the centrifugal switch housing was not depressing the switch on the inside of one of the motor end caps. This was due to the centrifugal switch housing sliding on the rotor shaft. I had to fabricate a permanent bushing to keep the centrifugal switch housing from sliding on the shaft and when I re-assembled everything, this time it started fine. This is a grinder that can be used to sharpen or clean almost anything. It doesn't even begin to stall when a heavy piece of metal is being ground. I think I may have extended the life of this grinder at least another 60 years.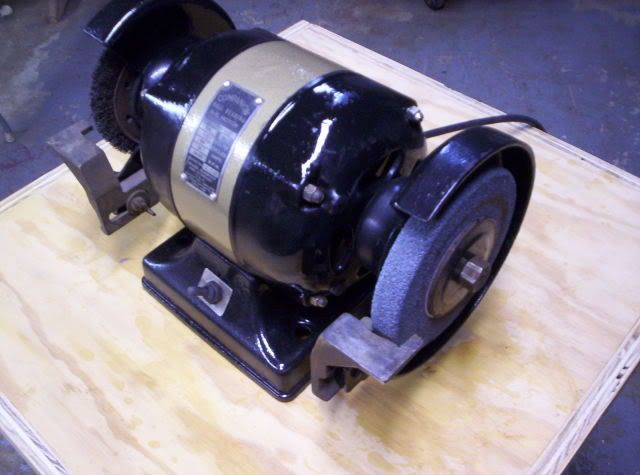 In addition to the Companion, I also have this little belt driven jewel that I have no idea what the manufacturer is. This one has several different uses from grinding, buffing, polishing, and cleaning. I use it mostly with a wire brush and a scotch-brite flap brush. In this set-up it removes rust in a hurry.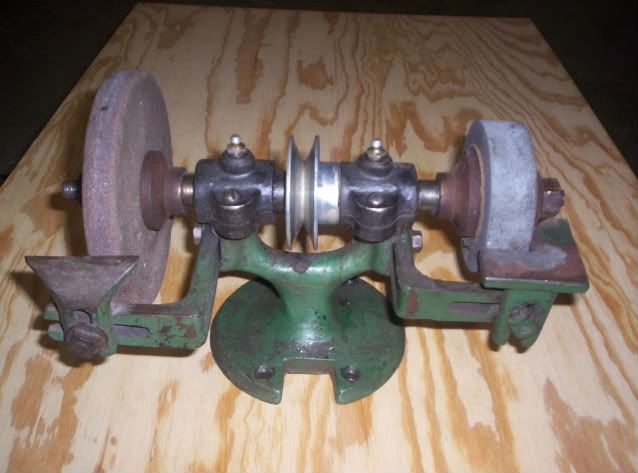 What's next? I'm not sure yet, but you can bet it will be something vintage.
Thanks for reading.
-- Brian, Lebanon PA, If you aren't having fun doing it, find something else to do.
---