In the last two weeks, I have bought the two pieces of equipment that I have been looking for and now I think my shop is complete as far as vintage power tools are concerned (until I see something else).
I have a Rockwell/Delta drill press, but for me it just wasn't old enough. I walked into the auction house as a way to get away from Trick-or-Treat night. Wasn't really looking for anything but then I heard this little beauty calling my name: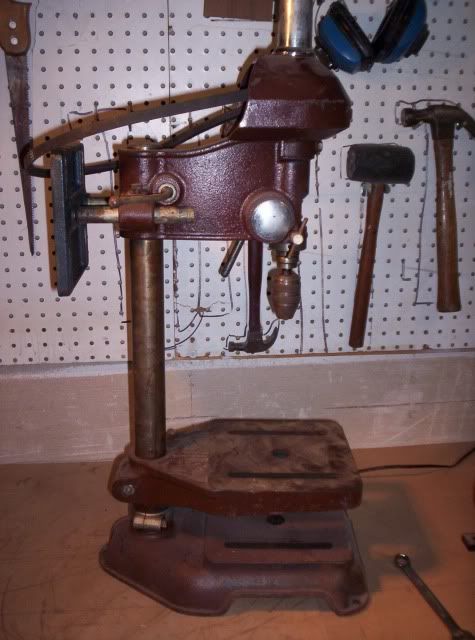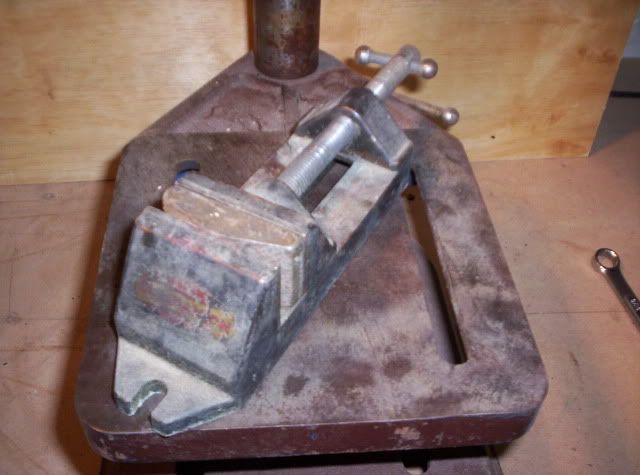 It is a Companion (Companion is the cheaper Craftsman line that ceased manufacturing in 1940) model 101.03540 11" bench top drill press: complete with keyless chuck from 1939 with a matching vise as a bonus. It had an old GE 1/4 hp motor on it, but the power cord was three pieces spliced together and I happened to have a spare Companion 1/4 hp motor, so it had to go.
Now all I need is an older Band Saw. I have been looking for a Delta 14" but it seems like current owners think these models are gold plated. I did not want to pay the prices that people were asking for. I decided that a 12" Craftsman would also be a model that I would accept. I searched the local auction house listings and read CRAFTSMAN Band Saw. Figured I'd go look and see.
Last night I bought the last piece:
It is a model 103.24260 (King-Seeley) 12". I think that is the shortest drive belt I have ever seen. I paid a little more than I wanted to to get the Band Saw, but like I said, it completed the shop. $80.00 for both pieces. They are both a little rough to look at but that isn't anything I haven't dealt with before and that is half the fun of buying these pieces of old Gold. So now with this Band Saw replacing my Rockwell that I have, all of my power tools are older than I am. I know that Craftsman woodworking tools get a bad reviews and comments, but I think that is because people are not truly aware what they were like years ago. All totaled I have spent approximately $250.00.
Now all I have to do is finish refurbishing everything that needs it.
-- Brian, Lebanon PA, If you aren't having fun doing it, find something else to do.
---