EDIT: It looks like wide images don't fit well into the format here. Any tips on the recommended max image width to use and that sort of thing? 25% of the right side of most of my images seem to be chopped off, which I can fix by shrinking the images, but I feel like they would get pretty small in that case!
Hello everyone. This is my first time posting something on here, after many years of lurking silently and absorbing a ton of knowledge from the good people on here. I figured that I would share a little bit of what I have been up to with my first table saw since it has been fun to wrench on something besides old German vehicles.
I picked up a Delta Unisaw 34-802 Type 3 about 18 months ago from a guy on Craigslist. The deal also included a 1HP Delta dust collector, an Accu-Miter gage, a nice Dado set, various 10" junk blades and a tenoning jig. All in all, it was a decent way to get started. Prior to this, I had been using my father's Powermatic contractor's saw since he lives fairly close by. So, since I had a few speaker and furniture projects under my belt already, I wanted to get a proper cabinet saw for some of the projects that I had in my head.
The saw was in decent condition when I got it. The belts were not cracked, but had definitely been sitting still for quite some time. The set screw on the motor fan was also loose, which led to some rather noisy operation until I figured out what it was. Basically, the saw sat for a good 15 months because I was in the middle of a major garage renovation and had a lot of house projects to finish up before really playing in the garage (my wife and I purchased our first house a little while before I got the saw).
So, on to current progress and pictures of what all has been going on. The first order of business was to get rid of the surface rust that had formed on the table top. It was nothing serious, but it was ugly and made it a pain to move workpieces, which is a big safety issue. a 3M metal-specific abrasive pad and some PB Blaster made very short work of the rust. A few wipe-downs with some acetone got it squeaky clean, and then a good coat of SC Johnson paste wax went on top to keep things in good condition.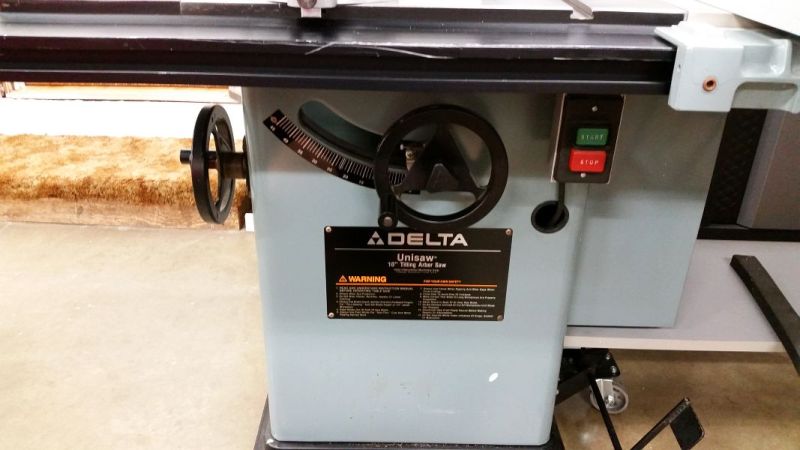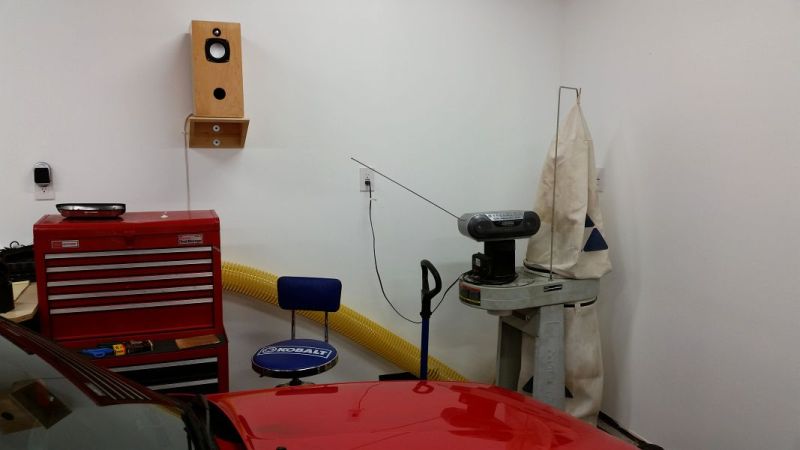 There was a little bit of rust on the trunnion controls as well, so I buffed and waxed those as well. Some crud had gotten up into the sleeves, and the wheels turned much more nicely after cleaning that out.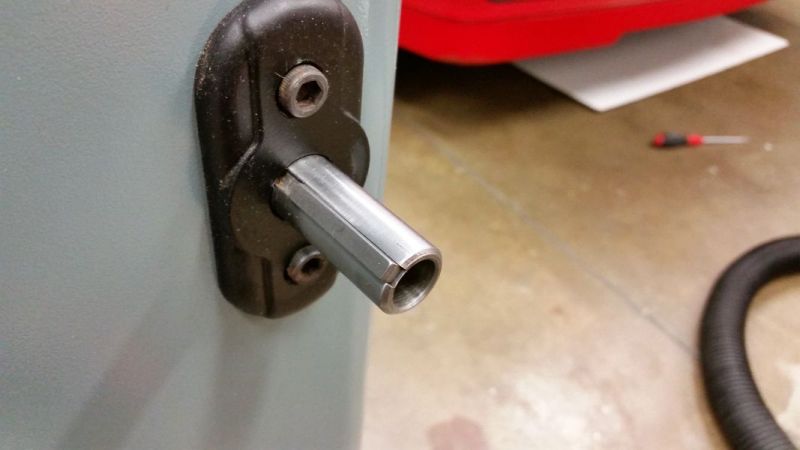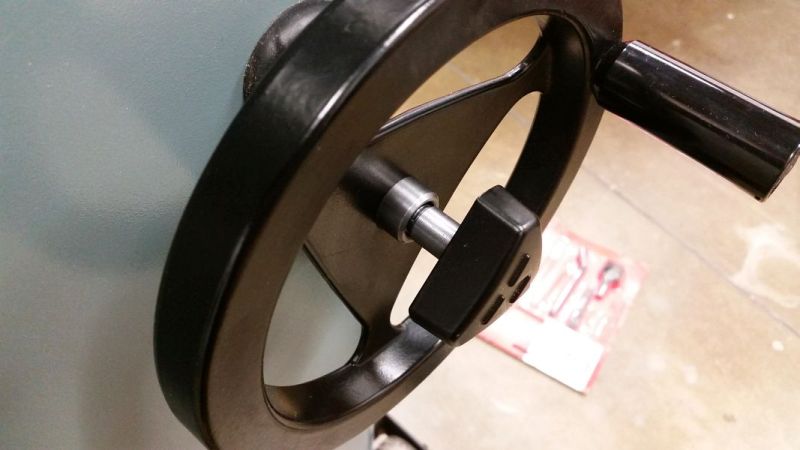 Next I took the cast iron top off to get a look at the trunnion. Things looked good overall, except for the pitch and saudust that had built up on the work screws and other moving pieces. A brass brush took most of it out pretty easily. The work gears and racks got a good coat of paste wax, which REALLY made a difference in the ease of operation. The semi-circle sliding joints which the trunnion tilt pivots on got some canned silicone grease sprayed in (it is in a solvent that helps it penetrate, and then evaporates). It is a real pleasure to operate the wheels now.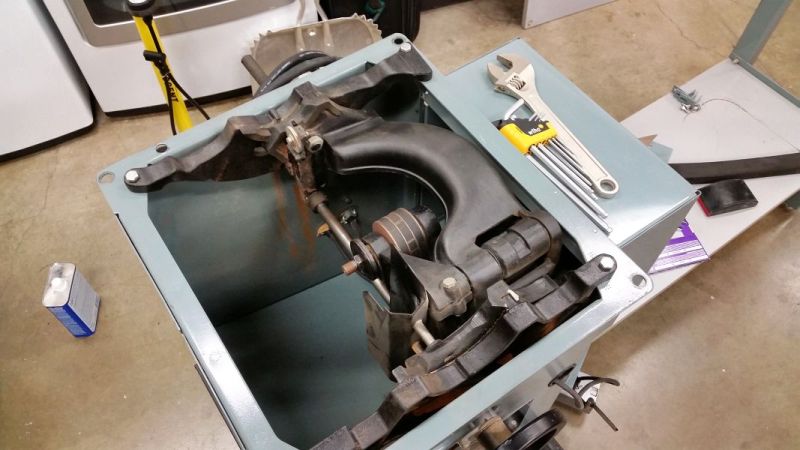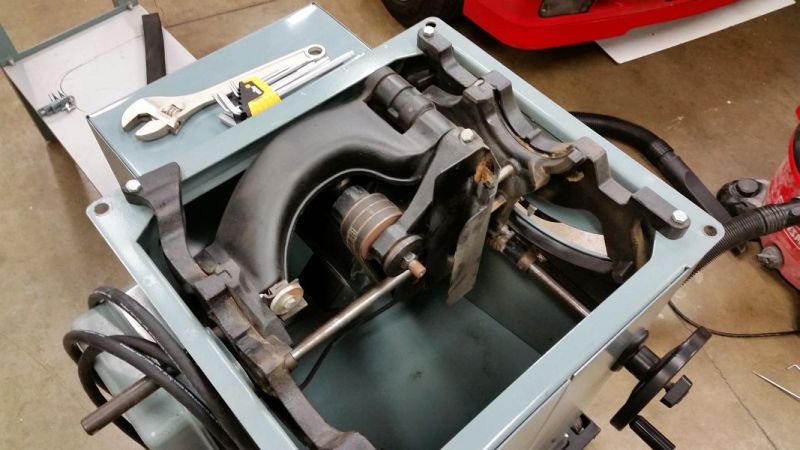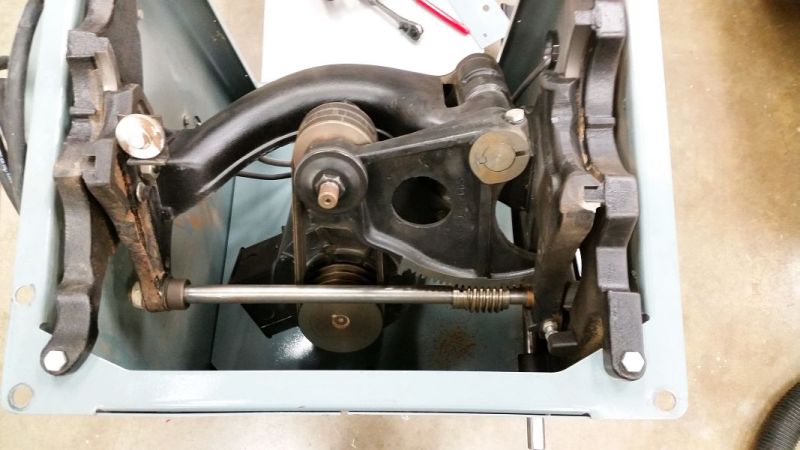 The cord that was on the saw was also a little old and the sheath was cracking, so I made a new one out of some 10-3 SJOOW cable and a NEMA L18-30P plug (which is what I have in the wall for my auxiliary 240V circuit). The rest of the wiring in the box looked fine though.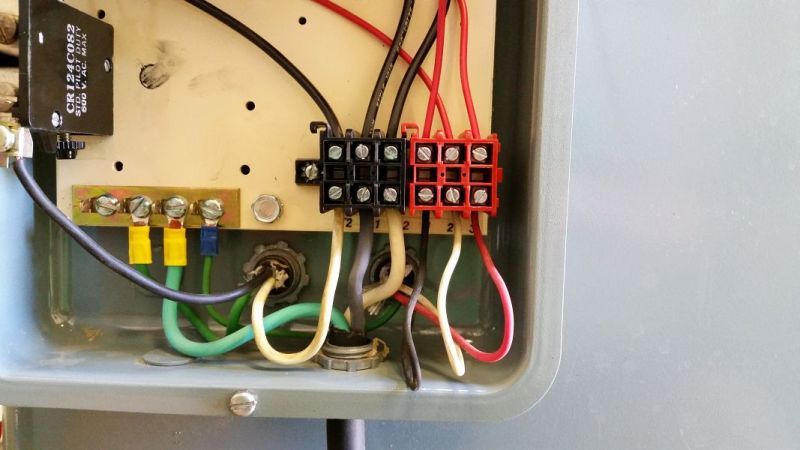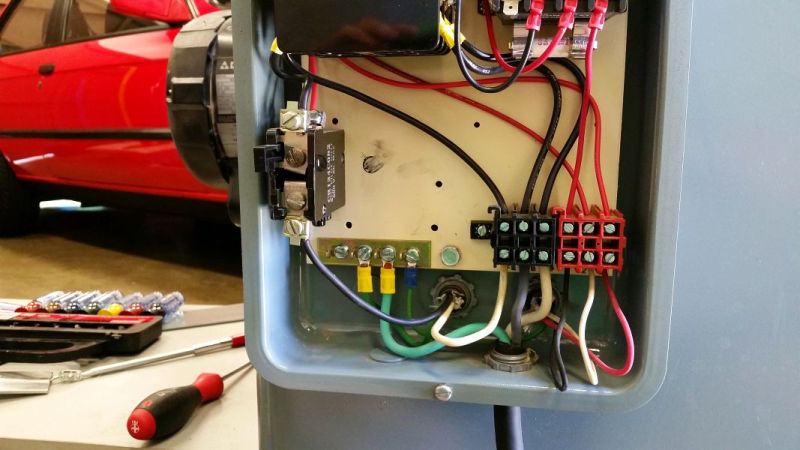 I had built a plywood box/manifold for the dust collector to attach to the saw, and while it worked reasonably well, I wanted to try to adjust the air flow into the cabinet a little since a lot of the big openings were not in places that seemed useful to me. The big offender (in my opinion) was the open bottom of the saw. Aside from leaving dust under itself after every use, having air flow up from the bottom just seemed like a waste. So, I popped the mobile base off and made a baffle from some 1/8" hardboard and foam weatherstripping.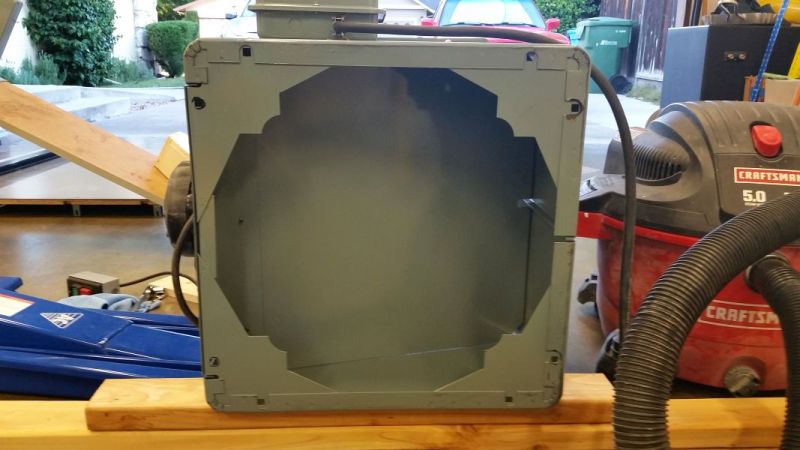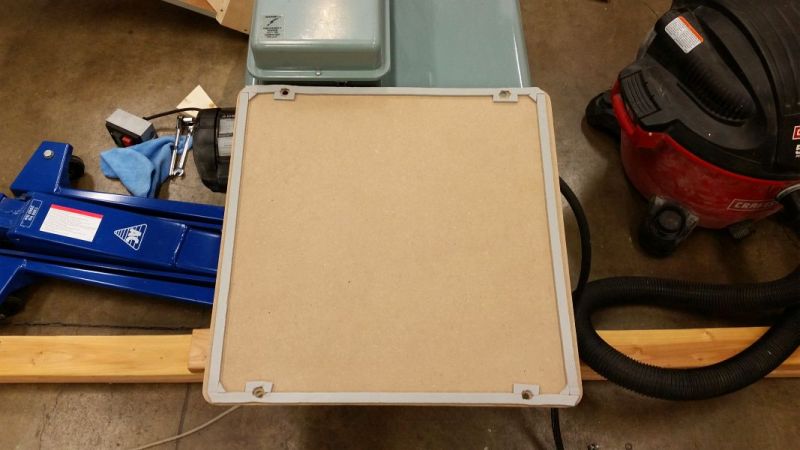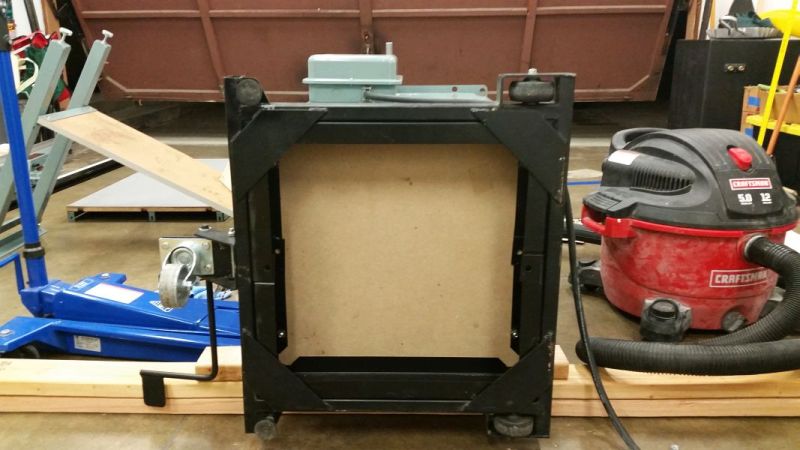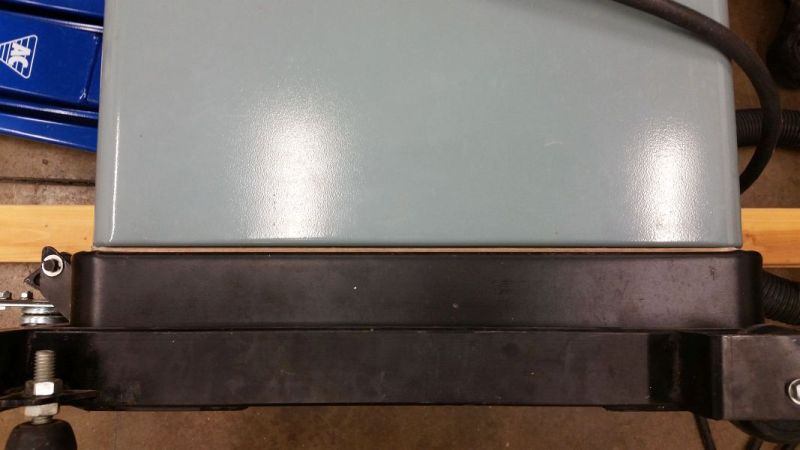 The motor cover also had a number of gaps around it, so I used more foam weatherstripping to seal it a little better.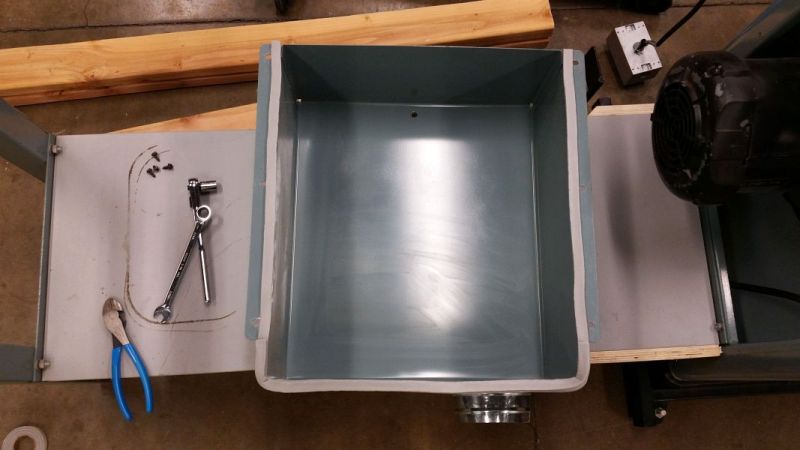 The final leak I wanted to deal with was between the table top and cabinet body. This was also a fairly easy fix, using some 2.5" square foam rectangles from the local "big orange" store. A little carving with the utility knife got things fitting well, and none of it sticks out when the table top is in place.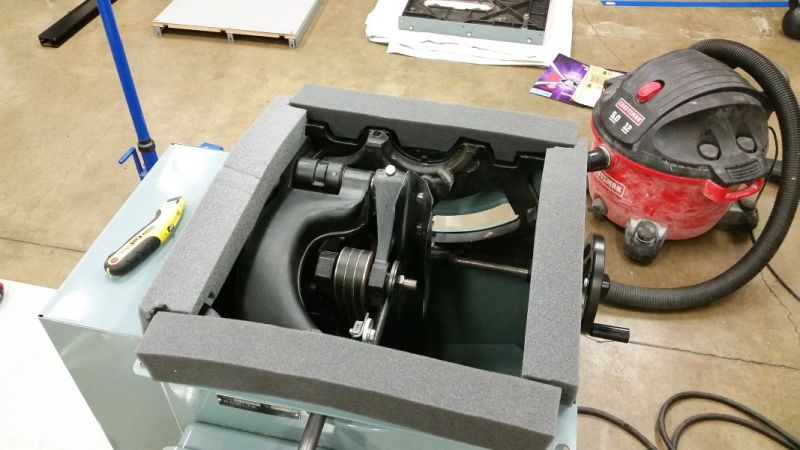 Now, the only air inlets are at the blade, and the 2 large slots where the tilt wheel is and in the rear where the trunnion bar sticks out. The open area of these is about 21 inches square, and I am using 5" dust collector hose (which has an area of 19.6 inches square), so this should be "just right" as far as air "sources" for the outlet. I have a 17" section of 5" hose that runs to the DC, which I operate in the back yard so that none of the dust that make sit through the canvas bags gets into the garage (there is a cat door in the back garage door that I route the hose through, and I crack the main door to provide make-up air). For the record, I LOVE this hose. It is polyurethane and the spiral ribs are on the outside, making the inside almost perfectly smooth. There is virtually zero static build-up. I got a 25ft length of it on Amazon (it is called Flex Tube PU or something to that effect…free Prime shipping haha!).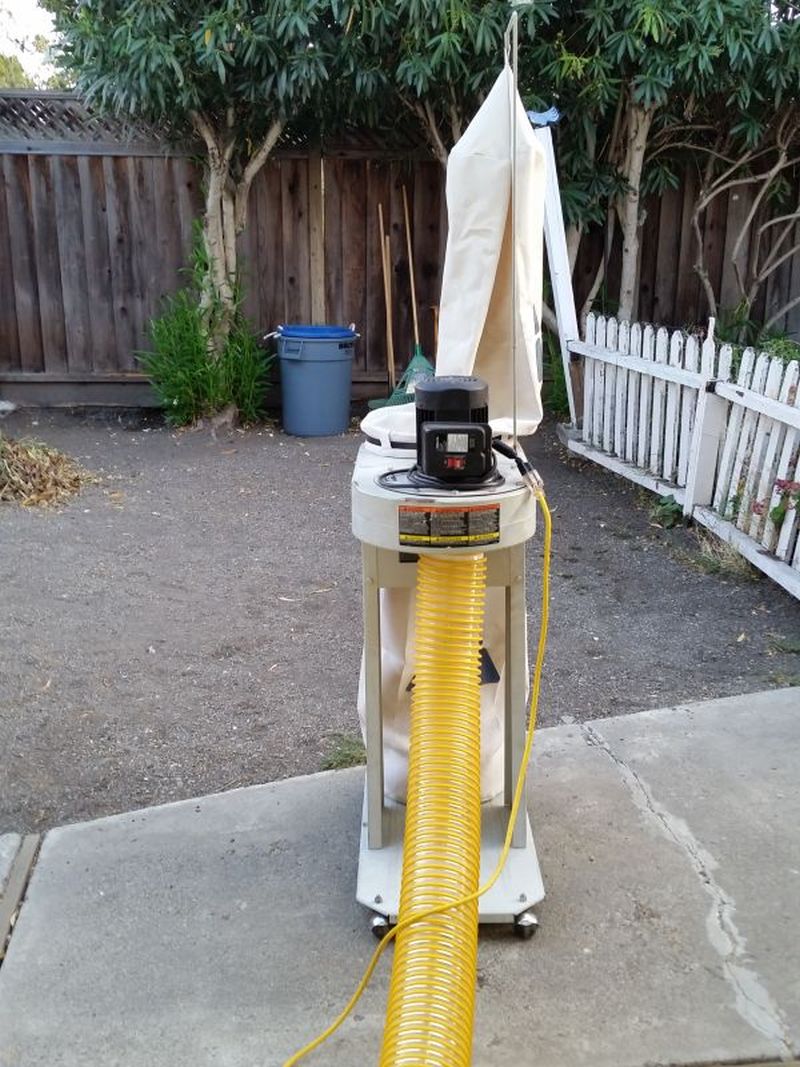 The next order of business was to reassemble the saw and get everything aligned. I picked up a couple of goodies on Amazon to make life easier.
Aligning the table top to the arbor. A few whacks with a rubber mallet was all it took. The flat plate which I mounted in the arbor was about 0.003" concave in the middle, so I just aligned to the front and rear.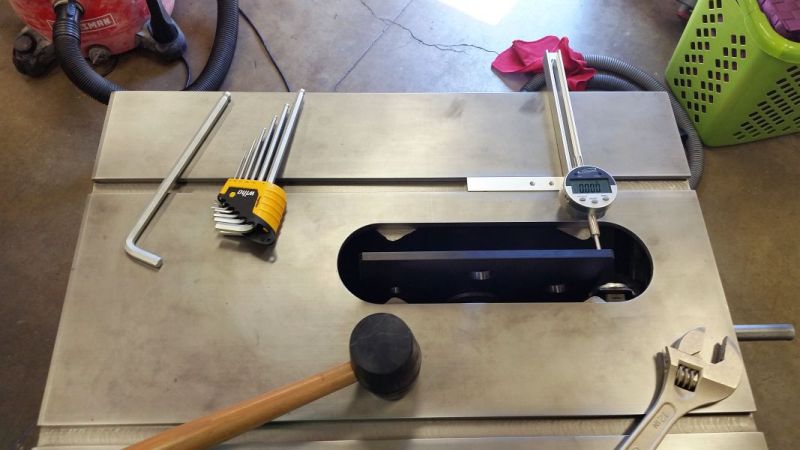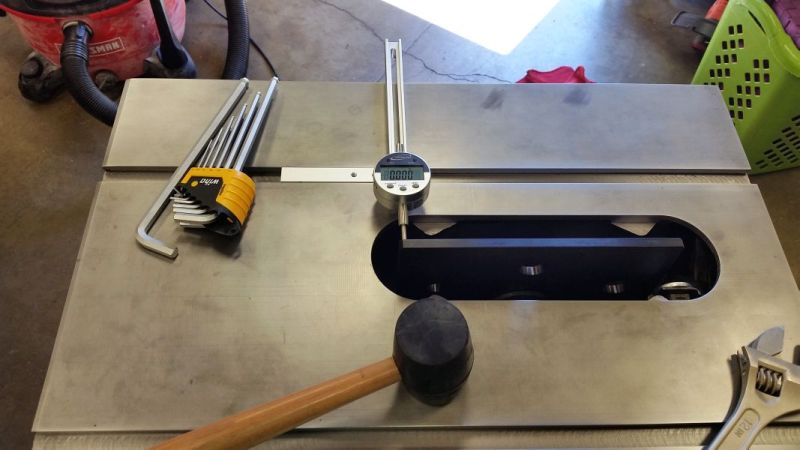 Next I put the left extension back on. Wax had to be reapplied later on since my sweaty hands started causing light rust!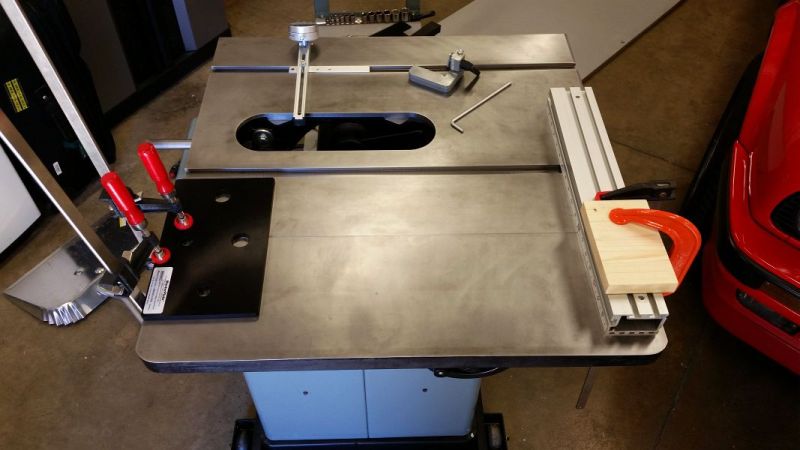 Next, I used a digital level to set the vertical and 45 deg tilt stops. Zero the level on the table top, and the rest is easy!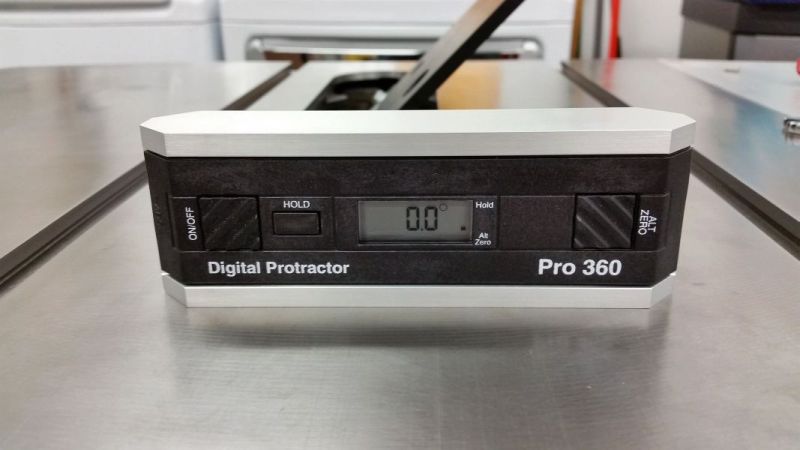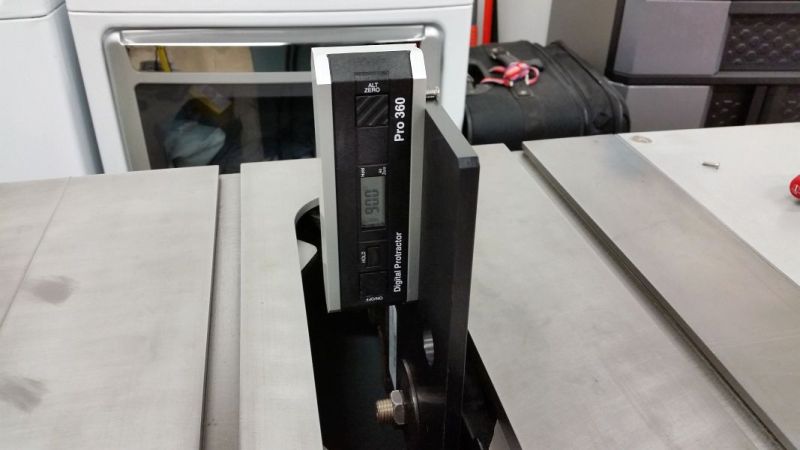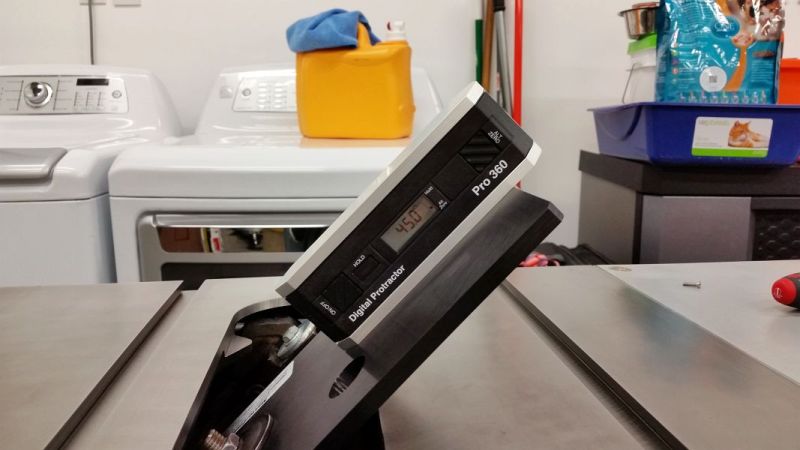 The next item was to get the Unifence parallel to the miter slots. Once again, I made the alignment to the front and rear since the middle of the fence seemed to be about 0.005" concave, and there were some blade marks from where the previous owner must have been using the dado set without a fence face.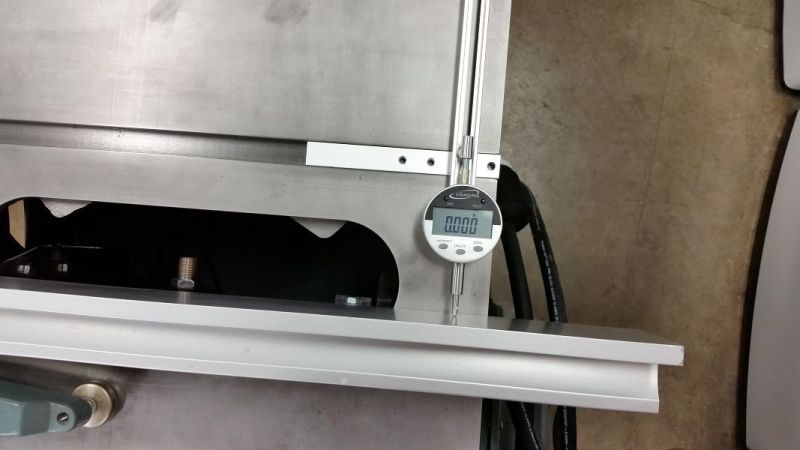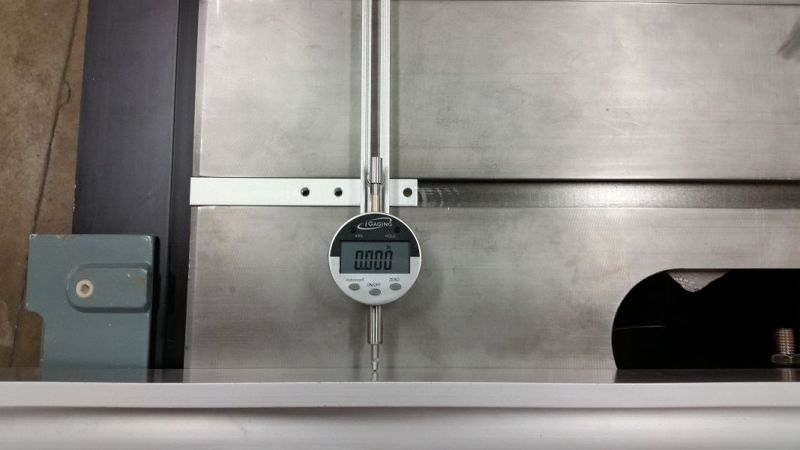 I also squared the fence to the table top with the digital level.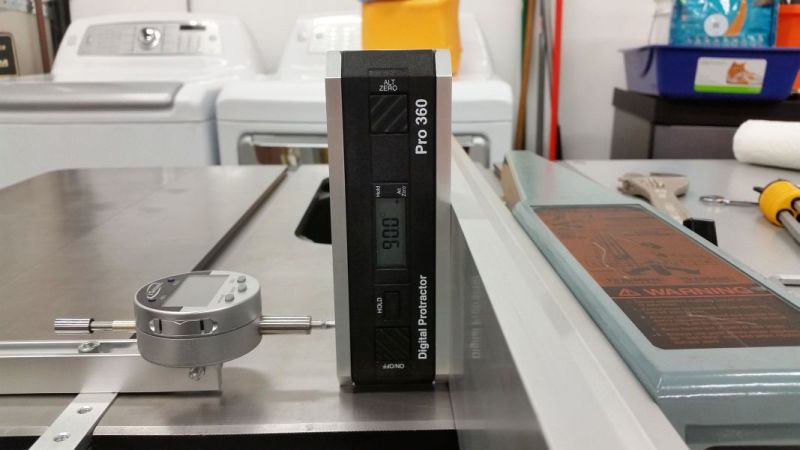 About a week later, I decided to pick up a cast iron extension that could accommodate a router lift. This is the Bench Dog part which you can find on Amazon and at Rockler. It fit the Unisaw just fine and had a matching bolt pattern. Given the huge bending moment that this 60lb item places on the mounting points, I tossed the 3 mounting bolts that came with it and got some grade 8 bolts from the LHS.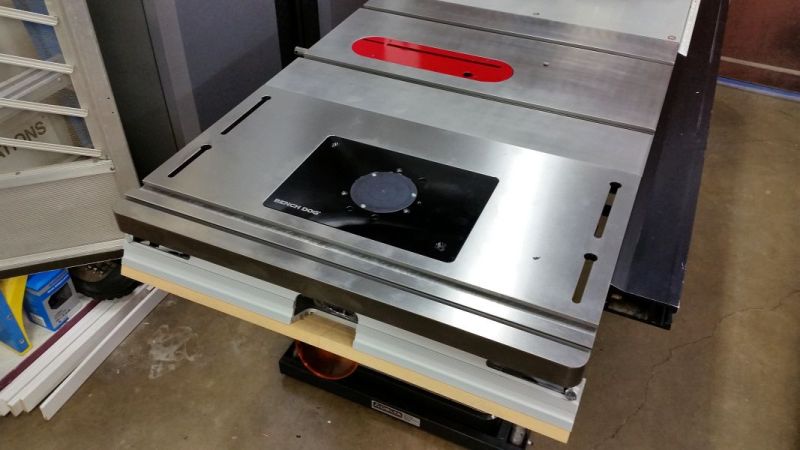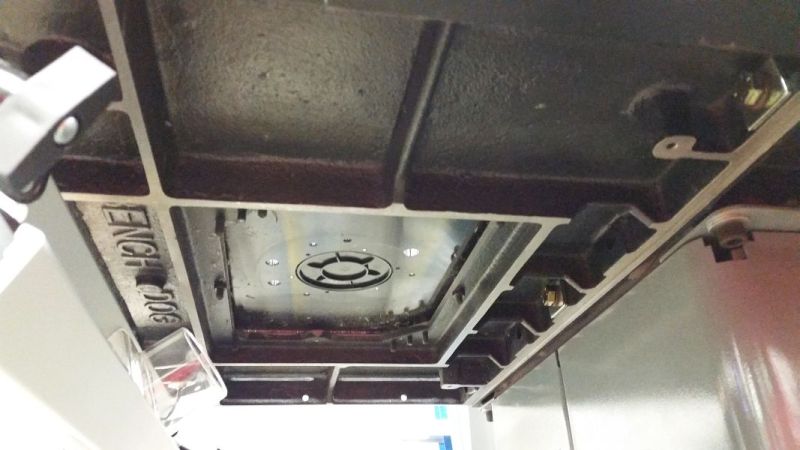 Overall, the quality of the Bench Dog items is OK. The casting was not perfectly flat and was slightly convex (on the top). With the front and middle parallel to the Unisaw's top, the rear was about 0.02" lower. I was able to VERY carefully bend this up into alignment with my high-lift floor jack, and then bolt it into place. Also note that the whole thing is coated with machine oil to prevent rust. It was a real pain to clean off, especially since basically all of the edges are finished sort of rough and have tiny burrs which eat up rags and paper towels. The castings on the Unisaw are finished a lot more nicely, but again, this is just a small gripe that does not really effect performance.
Beside that, there was a small pock-mark in the top surface of the casting. It is really just cosmetic, so I did not feel like dealing with trying to exchange it.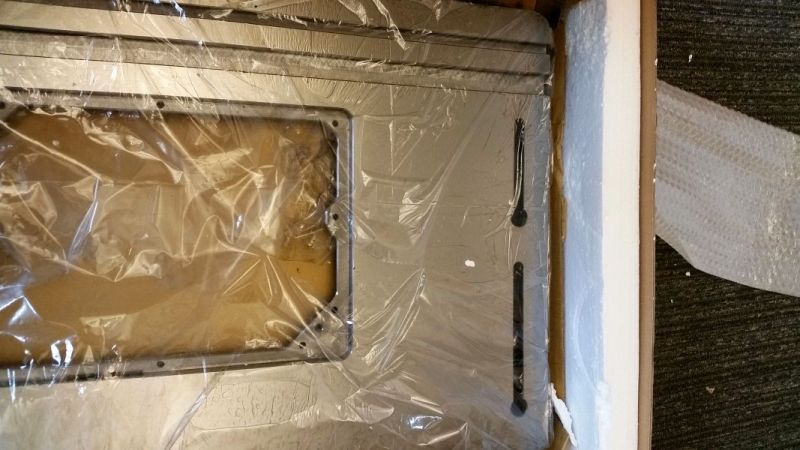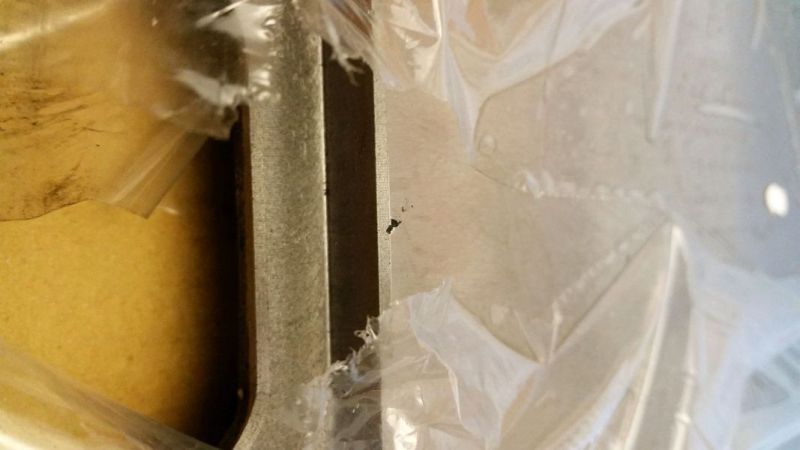 The threaded holes were also roughly finished, and a little chamfer would have been a nice detail (so I just added those myself later).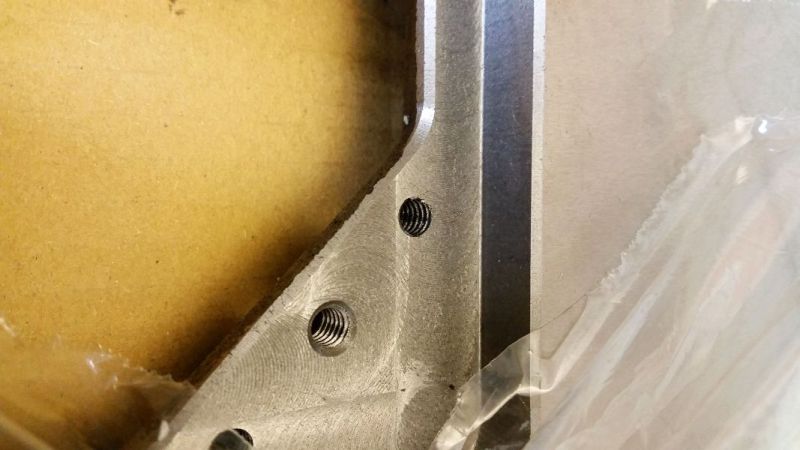 The fence that the router table extension comes with was also good, but it had a couple of small issues. For one, it was quite concave. This can be dealt with using some brass shims, but I am going to contact the manufacturer to see if they can swap it for a straight one (which may not be possible since large extrusions are often hard to keep straight, particularly after a large area is milled out).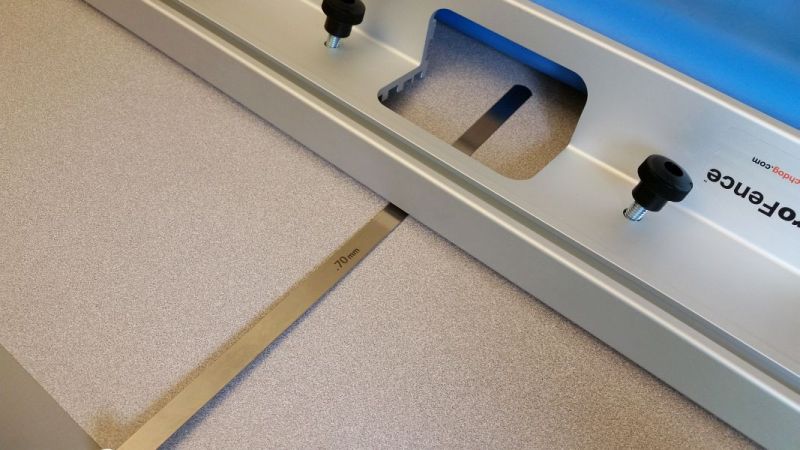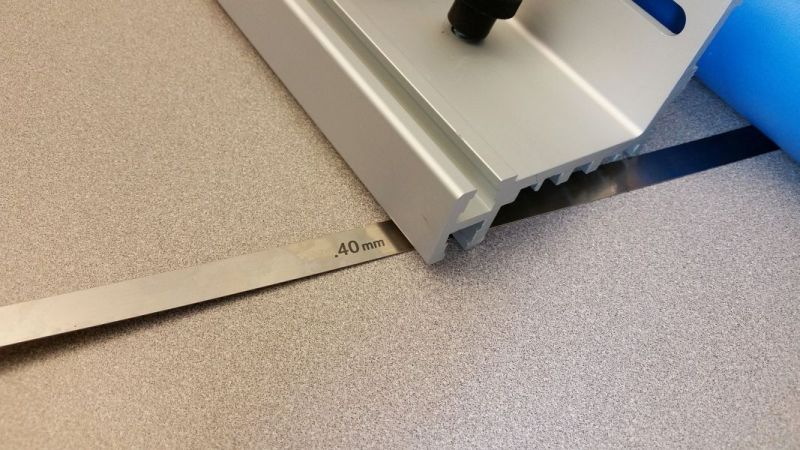 It also had a small ding in it from the mostly-adequate packaging it came in.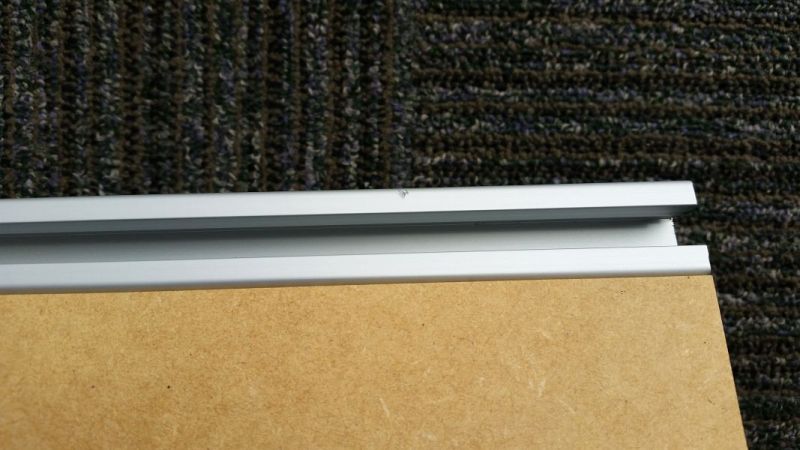 Anyway, the next thing to do was to build the "improved" dust collector manifold. I had converted the DC to use a 5" flange (since I bought 5" hose in anticipation of a 3HP DC someday), so I wanted to make a manifold for the saw that would accept this without a 5-4" reducer, and that would have a connection for an over-arm collector (which I will document in here at some point!). I decided to make it a little over-complicated since I wanted to try doing compound angles.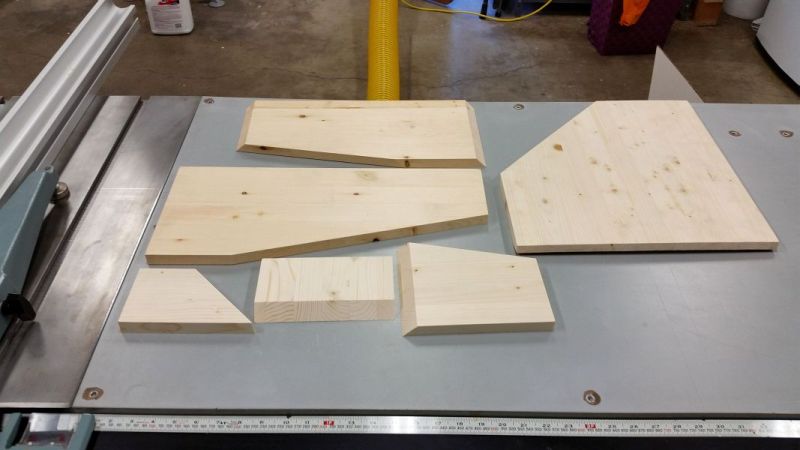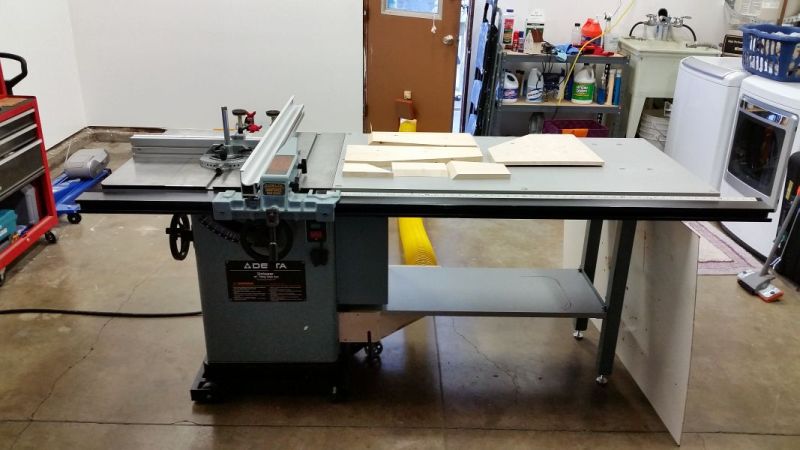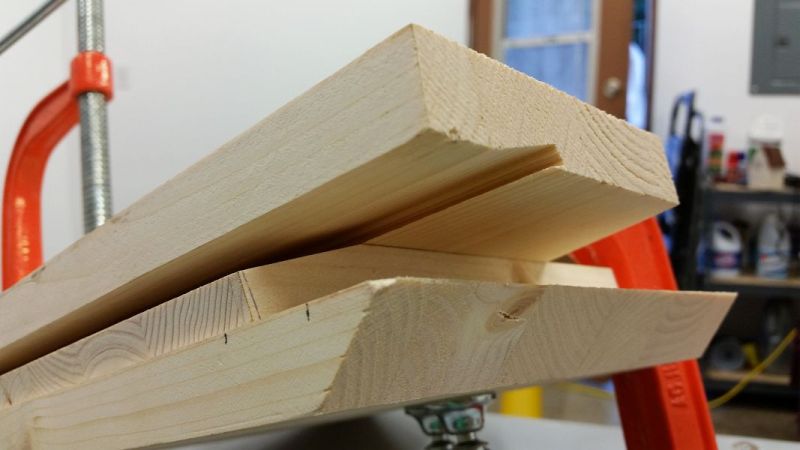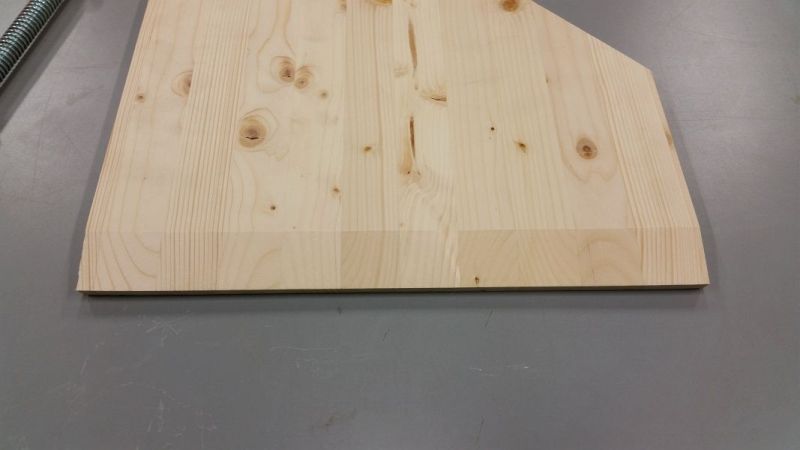 Converting the 4" DC inlet to 5" was super easy. I do need to think of some sort of physical barrier to prevent large chunks from getting into the blower vanes though.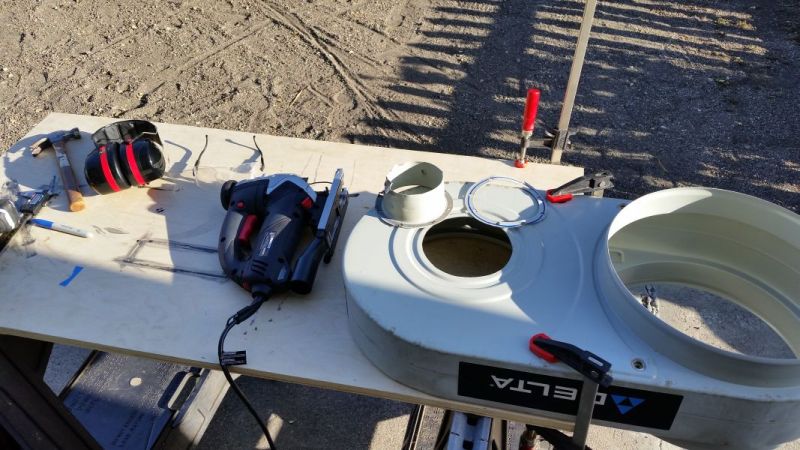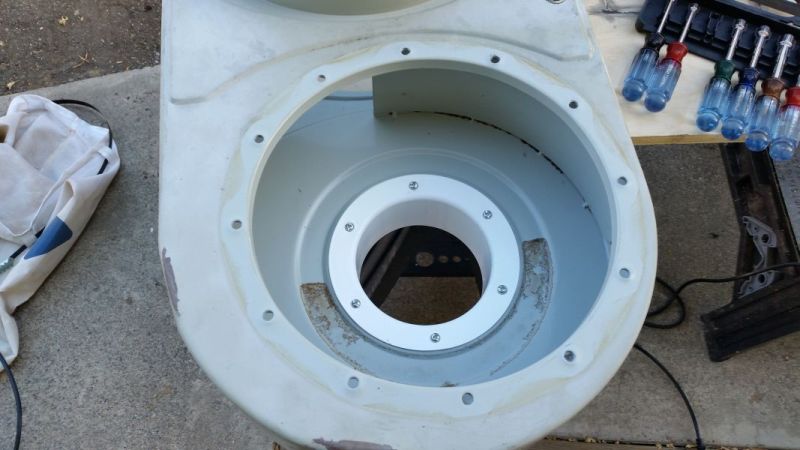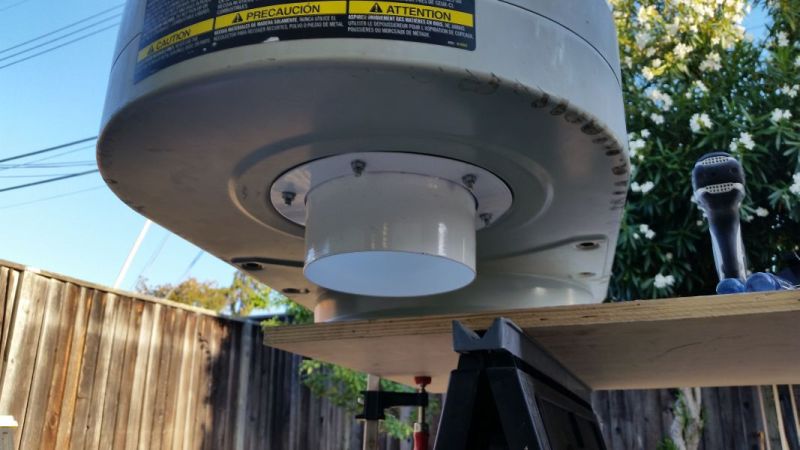 I am a big fan of glue-and-screws, so I dry-fitted all of the pieces to drill pilot holes.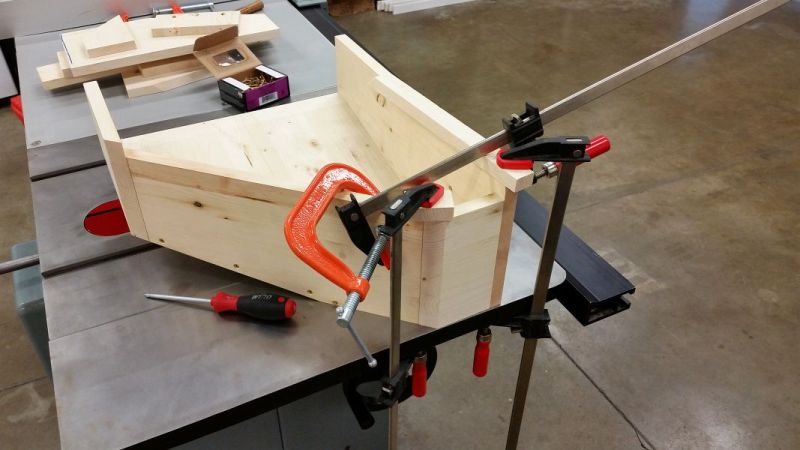 I also had a chance to use my new router table extension when I put the 3/4" radius on the air inlet/outlet. The 3" ABS inlet is where the over-head dust collection will connect, and the 4" fitting is where the DC hose connects. The OD of a 4" straight coupling is almost exactly 5", and using my father's lathe I turned it down to 4.9" and knocked the rib out of the inside.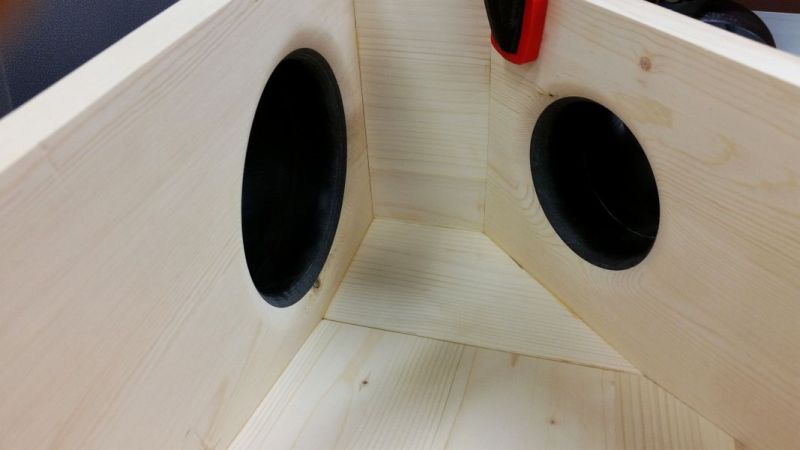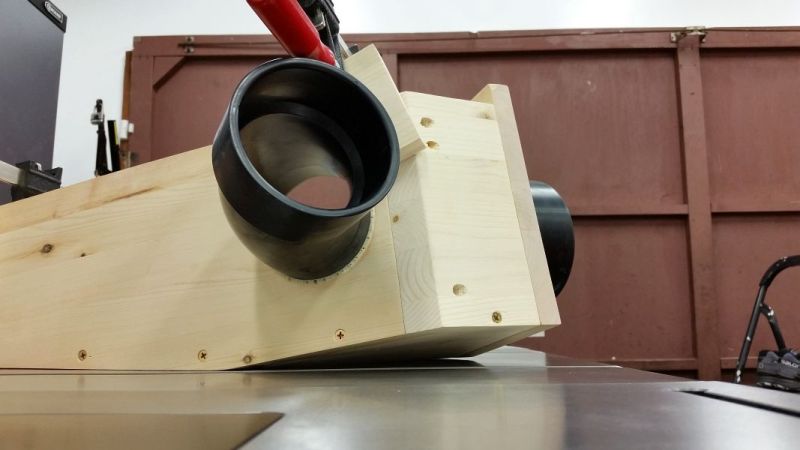 Gluing it up. Of course, I totally did not think about the best way to do the 45 degree joints, and I had to clamp things for a day while the glue dried to prevent the screws from pulling the pieces out of alignment. Oops!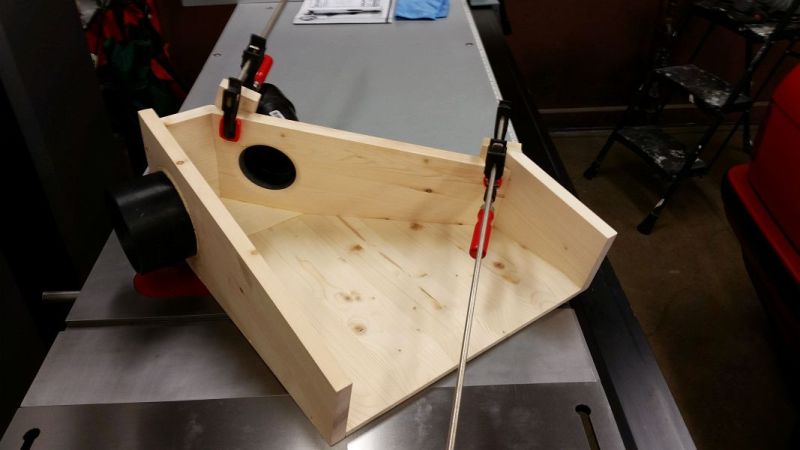 Once the glue dried for a couple of days, I got out the quarter sheet vibratory sander and went to town making everything nice and smooth. All of the joints were plenty good to begin with, seeing as how this is going to live under the saw, but I wanted to make it pretty anyway. Once I did a couple of passes, I got out the "red" wood putty and filled everything I could find (I like to use an obvious color on parts that I plan to paint since it is much easier to see where I have used it…obviously not ideal for staining and finishing oils).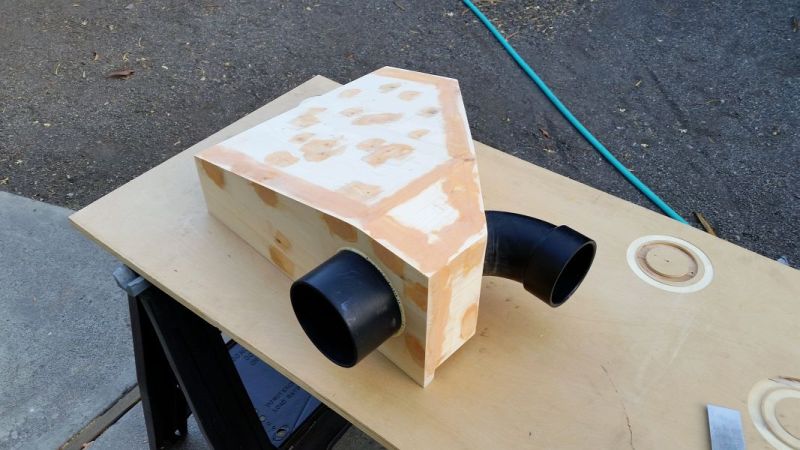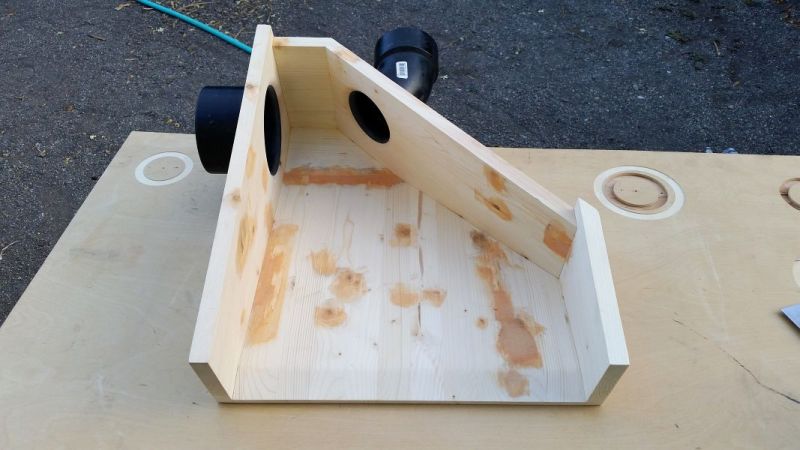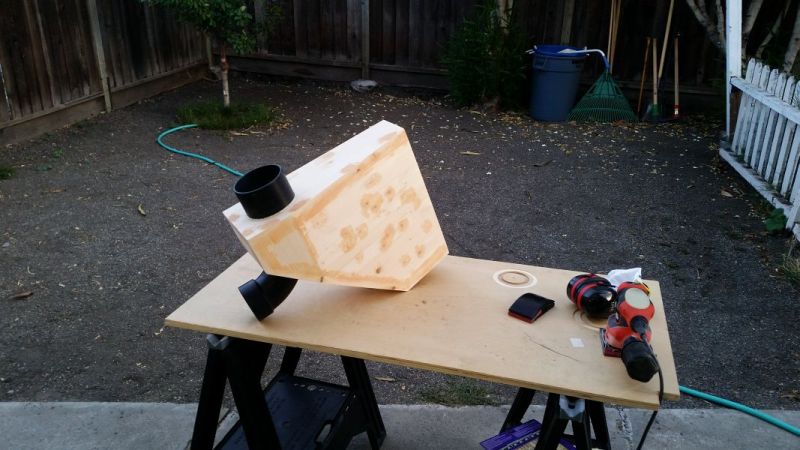 To finish, I gave it a couple of coats of gray primer and let it sit for 3 days. Then I gave it 2 coats of Rustoleum "Dark Machine Gray" high performance enamel. Once that dried for a couple of days, I added some weather stripping and installed it.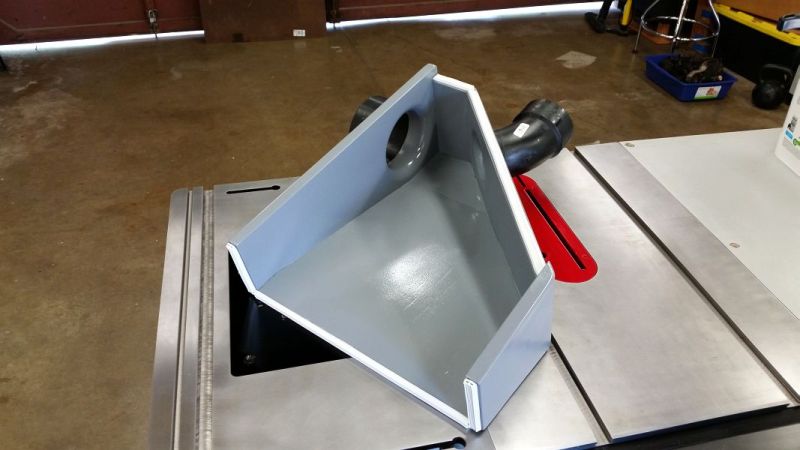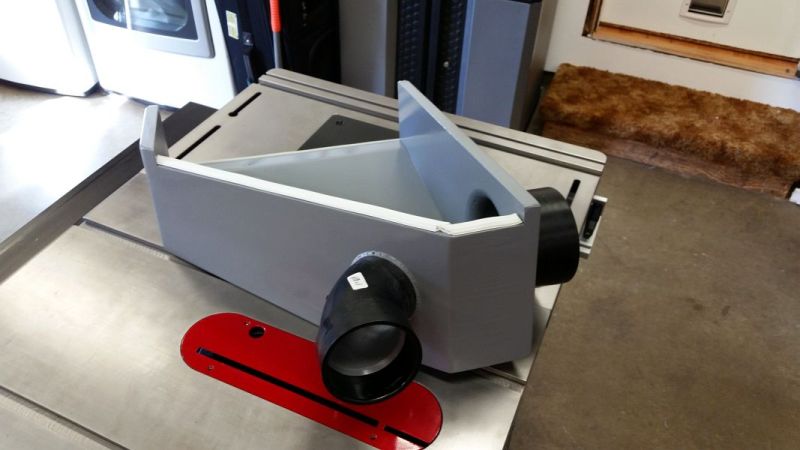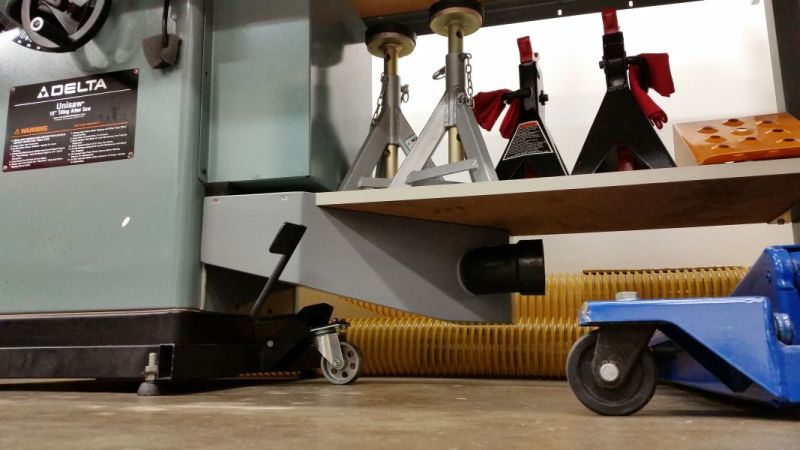 ---