I posted a while back in the forums about card scraping. Mainly my interest was driven by the reduction/elimination of sanding from my finishing routine. I bought some card scrapers and a burnisher from Woodcraft, set about sharpening them/creating a burr via several different methods, and met with lots of mixed results. Well, finally I have had some success! Let me thank all of the LJs who responded to my thread and put me on to some very good YouTube videos of different techniques. They definitely led to my success. In the future I will do another entry with the sharpening/burnishing method I landed on. For now, this post will show what I used it for and why I am happy. I hope it helps someone thinking about adding this tool and technique to their arsenal as I just have.
My current project is a coffee table, to match the end tables I just made for my family room. I am at the point of having cut all the pieces, and am pre-sanding the faces before assembly. My ROS does a great job of this, but I have always been left with problems sanding the thin edges. The ROS is too easy to top and round off or otherwise reshape the thin edge unintentionally. My powered disc/belt sander combo is too aggressive, and makes it too easy to leave sanding marks if you aren't very careful to keep the board perfectly aligned. Given that, I have always defaulted to using regular sandpaper and a sanding block to work out any saw marks or burn marks left of the edge of my material.
After going through a whole table worth of pieces that way, my arms are tired! Its a good thing I work out regularly, but even so when I am done it feels like I just spend a couple hours at the gym. Lots of tedious work. This time I employed the card scraper. WHAT A DIFFERENCE!
You can see in this picture the piece has some saw blade marks (scallops) as well as a small burn spot or two.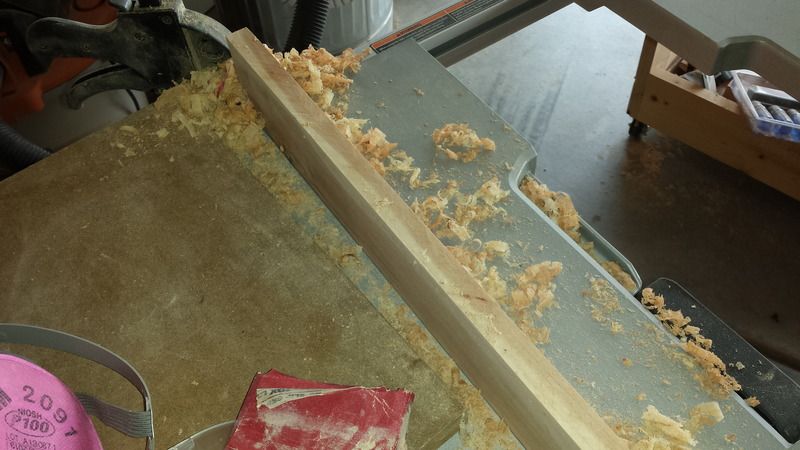 As I took the scraper to it, and found a good angle of attack as well as the proper amount of bow in the scraper, the nice fine curls started pouring off. And the tool and burn marks disappeared remarkably quickly. I was amazed! Here is what it looks like after scraping until the marks were gone, and the surface smooth.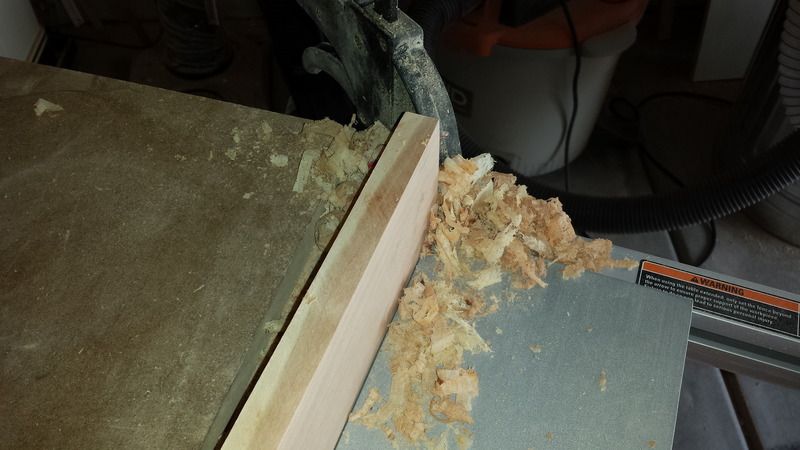 Pretty good, but not quite there. After just a few, and i mean a few, light passes with 220grit paper on my sanding block, it was PERFECT!
I would estimate I saved about 1 hour of sanding time using this method. I was tired, but less so. I believe I am now a believer in card scraping. I'm sure I'll find other uses for it as time goes on as well. I love it.
Here are a few more things I learned as a beginner in this technique
-Practice on a lot of scrap
-Practice again
-The angle you hold the scraper at makes a lot of difference. Experiment. It seems it may change as well from the left side of the scraper to the right, depending on how evenly you held the angle when drawing out your burr
-If you are scraping continuously, the scraper gets HOT. Wear gloves.
I think I am a long way from scraping an entire project – my ROS does not need to fear obsoletion – but I sure have found a good way to replace a tricky sanding effort with one that gives great results in less time.
More to come as I expand my trials.
-Brian
PS: Notice the "yankee ingenuity" in my pictures. My 3/4" boards fit perfectly in my miter slot. A quick clamp for use as a bench dog/block.
-- Part of engineering is to know when to put your calculator down and pick up your tools.
---