Since my first attempt at this blog seems to have been lost here we go again.
A friend of mine saw a pencil box I was working on out of red oak (my first attempt at dovetails) just for practice, and instantly wanted me to make him some stuff. "We can make this and that for me." After some discussion we settled upon a Tool Tote for his truck tool box. He is a network IT type guy who sets up networks for business and the like so he often has to carry tools and stuff from his truck into the job site. After poking around a little, I found a design I liked in Woodworking Magazine and made some mental tweaks.
I still have to measure his truck tool box to get the final dimensions but I am thinking somewhere in the area of 12" wide x 24" long by about 10" tall. 1/2" poplar to cut down on weight. I got a 6" bench top jointer at an auction, and hope to buy a planer when I get back from Russia (I leave tomorrow) at the beginning of next month. So this weekend I bought some 3/4 poplar just to try the wood and the joints to make sure I was able. So here are some shots of the Prototype.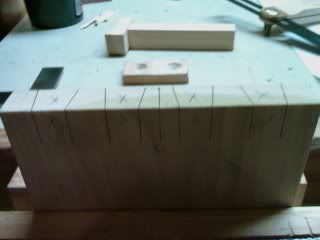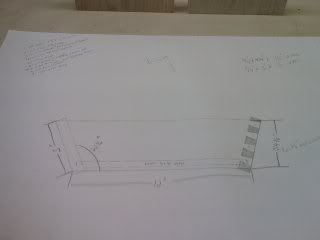 I made allot of use of my shooting board (shout out to Matt over at Matt's Basement Workshop for getting me into shooting) (shout out to my wife for the #5 plane she picked up for $13 at an auction. It also came in a box with a nice old brace and bits (about 12). It took a lot of time and elbow grease (and sand paper and Naval Jelly and paint and lapping and sharpening) to get her back to order but man is she a good user (the plane is nice too <g>)


I also used an off cut to make a jig to shoot the angles. worked like a charm as you can see by the bevel. Exact 22.5*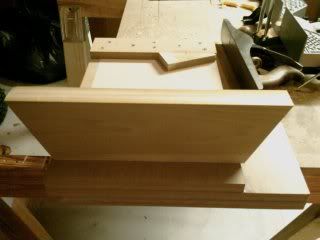 When you remove .001" at a time you can make two pieces exactly the same too.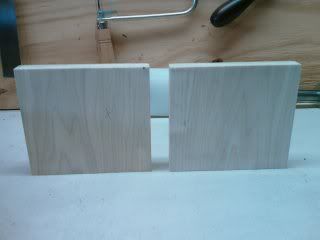 I hope the rest of this series will cover the rest of the research through the design and build. I am thinking of making 4 or 5 since he wants one for him and one for his dad. I want one and can think of a few other people who sure wouldn't turn one down. As soon as my project is posted on this I will link to it to see the finished project.


Sorry the pics are such low quality. I took them with my phone. You would think that since my wife is a photographer I could muster some better shots.
-- Jimmy, Oklahoma "It's a dog-eat-dog world, and I'm wearing milkbone underwear!"
---