Well, ladies and gents, I just finished my first real project, ever. I built a plywood box once with my dad (model car paint booth), and I made a poplar frame for the area rug I keep in the garage, but those don't really count. Today, after watching an episode of "The Router Workshop" on The woodworking channel, on trivets, I decided to make one. I had some 3/4 by 7 1/4 poplar in the attic that I got from the big box store. I had just finished my miter gauge (from Gord's plans, thanks Gord) and thought this would be a good project to take it for a spin. I am writing this sort of like a how to (or better yet a how not to) since I took the pics along the way so I could get everyone's input on all the things I am sure I did wrong. Just remember this is my first ever project. Not first on LJ, first ever.
My first process was to take the lumber to my miter saw and cut it to rough length.
And here is a better pic of my cross cut sled fro my wonderful cordless Ryobi that my wife got for my last birthday.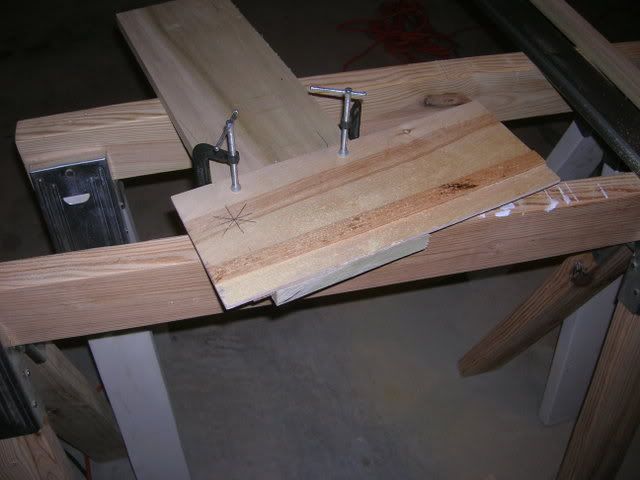 The next process was to setup my jointer to joint one edge. I used a piece of scrap MDF to double check the setup. I jointed one face, and then scribed a line. I then made about 4 more passed and scribed another line, checking to see that the two lines where parallel. I think this will make sure you don't have any taper due to improper setup.

I then jointed one edge for a referance.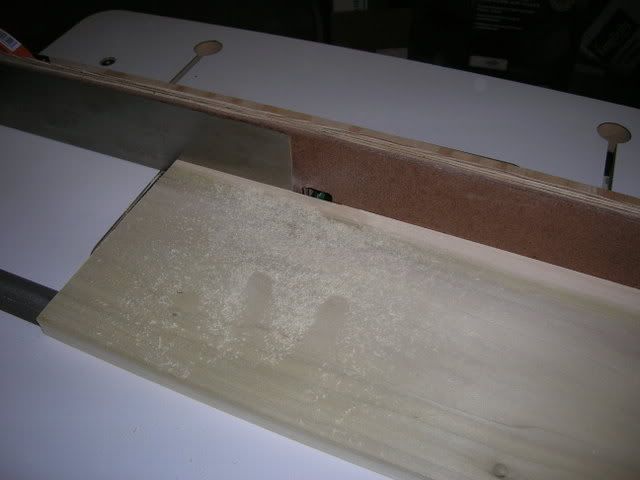 Then with one straight edge I went to the table saw to rip to rough width.
To setup my fence, I layout lines to set the fence to then I double check with the combo square against the back edge of the fence from the jointed edge.

Then it was time to square one end of the stock so I could reference my other cross cuts. For this I used my 90* sled and my fence with a stop block. I set the material against the sled and the stop block and run it trough, nibbling away until I have a nice square end.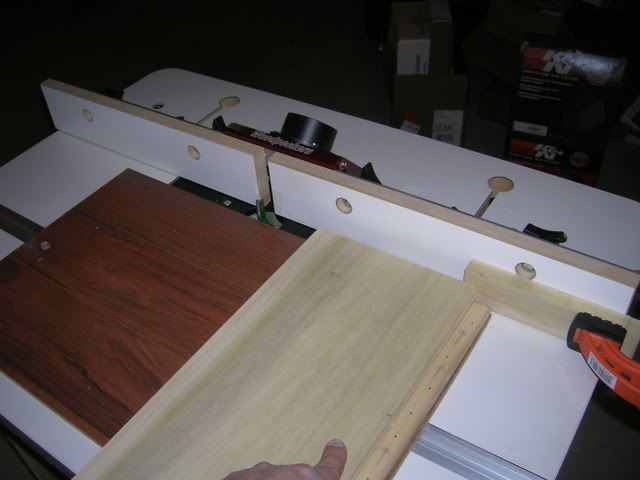 Here is a close up of the sled.
About 2 min after this picture was taken I added sand paper to the top of the sled (let's just say lesson number one). In hind sight I would have made this sled with a taller fence (its only about 1/2 now). This would help steady the work and back up the cuts.
Next I went back to the cross cut sled and cut off my first piece leaving it a little long. Then back to the sled to get down the final dimensions all around.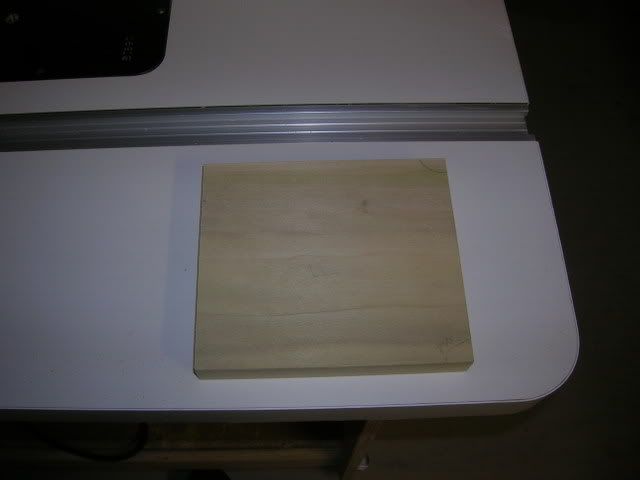 I then cut the other piece for the trivet, and used double stick tape to attach it to the first piece alternating the grain direction. I then used a flush trim bit to make the two pieces match.
Then I applied glue to one face and clamped them up (where I learned lesson number 2) In hind sight (since it's 20/20) I should have skipped the double stick tape step and glued first then flush trimmed (duh) Hence the clamp monster (that I forgot to take a picture of) and not really having enough clamping pressure on the two faces since I was using 3 of my 5 clamps to align the two pieces (which was still not perfect) Then it was back to the flush trim bit for a final clean up (yes after the glue was dry) Then I used a 1/4 round over on all corners.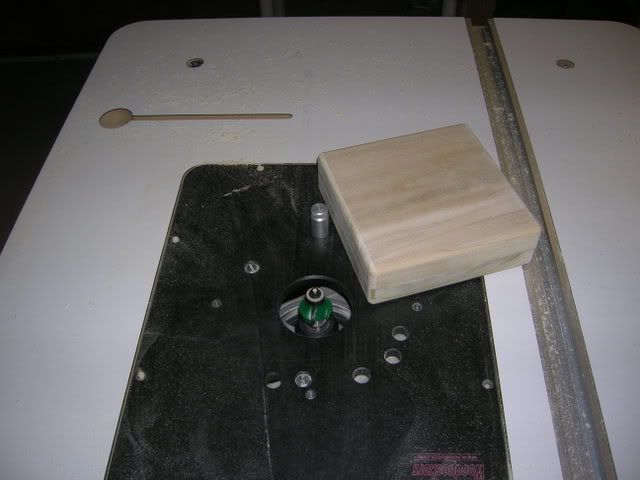 Then I got out the miter gauge and squared it to the slot.
It just so happens that my engineer's square's base is exactly 3/4 and fits VERY snug in the miter t- track. I then used a known square block of MDF to off set and set square.
I then used an aux fence and a 1/4 straight bit and made a pass through the fence.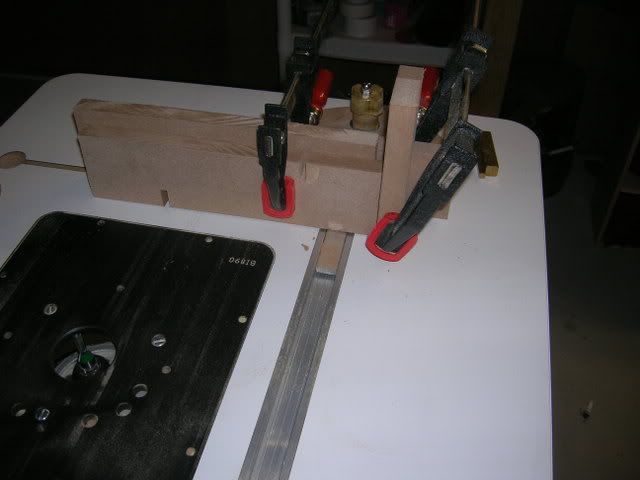 I then moved the fence over 3/4 (using the stop block and setup blocks) just like you might for a finger joint jig except then you should just move over 1/2 (and look at me acting like I know what I am doing).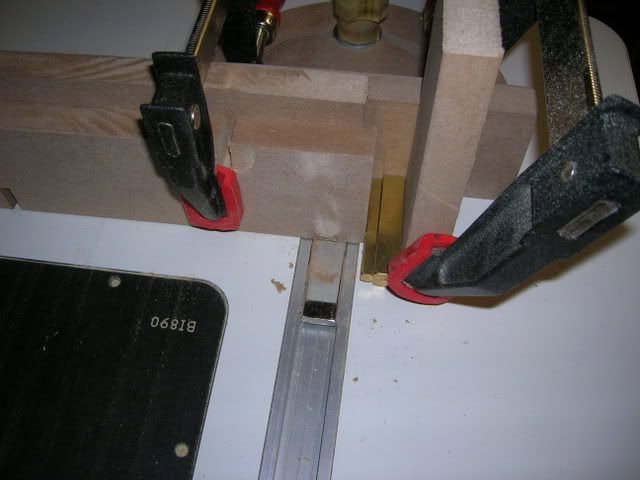 I then installed a bit of 1/4 key stock to act as an index pin. I made a pass at all the cutout positions at about 1/4 bit height then raised and passed again etc until all was done. I then looked at the cut and realized that it looked like crap since even with the index pin it didn't turn out to be in the exact same spot every time and so it left a lot of milling marks. (Lesson number 3)
So I thought why not just try and take the whole 3/4 at once. D'oh I said as the milled piece goes shooting off. It seems that (a) you shouldn't try to take that big of a bite (yes I already knew that I guess I just needed to learn the hard way like everyone else) (b) my glue joint was not strong because that is what failed (back to lesson number 2) and (c ) having to re-plan because of such a major bone head move sucks. (That would be lessons 4, 5, and 6)
So I removed this row and ended up with a short side with a square end (since I couldn't round it over now as all of the end grain would chip out). To solve the mill marks problem, I made the same passes as before but on the same slot until it was done, then moved to the next. The mill marks were not completely gone but much less prevalent.
I then sanded starting at 60 and working to 220. I made this little device for the bottoms of the slots.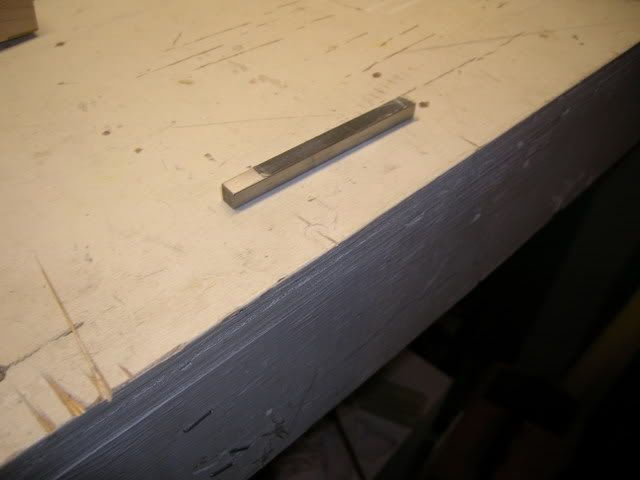 (yes that is my index key with sand paper double sticked to it). I was wondering if anyone had a better way of sanding the inside of something like this. I did the best I could but I am sure there is an easy way.
I then finished with tung oil. It isn't perfect but I thought I would give it to my mother. (Mothers always think it's perfect if you make it for them. I found that out a long time ago)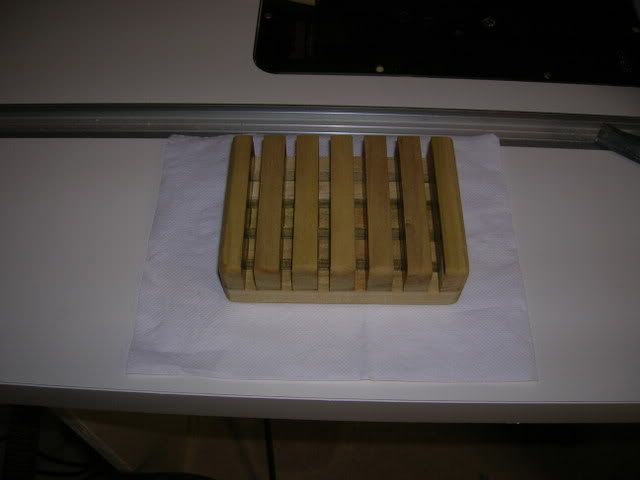 All in all I think it turned out ok. I enjoyed the process (even if it was close to complete failure) and learned a lot along the way. Now it's your turn to teach me. Please feel free to comment and tell me all the good nuggets of info I missed. Sorry for all the pics and the long post.
The wayward wood worker
-- Jimmy, Oklahoma "It's a dog-eat-dog world, and I'm wearing milkbone underwear!"
---