So I've been working on this project since January. Its been a really fun and very educational experience. There have been lots of "firsts." This semester I have been taking a Woodworking Class at my local community college. Although the class isn't really geared toward any particular set of woodworking skills it has given me an opportunity to build a project under the supervision of a more "seasoned" woodworker.
When the class began we were instructed to choose a plan for a project that we would like to complete. I had been working on some designs in SketchUp prior to that and decided to build one of them. I had promised to build a nightstand for my wife for Christmas so I already had purchased the lumber.
In this post I'll include several pictures and a few iPhone videos that I've taken along the way. When I finally finish the project, I'll post it on my projects page.
Here's a couple of images of the SketchUp model that I did…
I could have waited till later to do this but here is an image of how I glued up the table top from two pieces using biscuits to help align it. That was the first time I'd used a biscuit joiner and I've gotta say, I think I'm gonna have to get me one…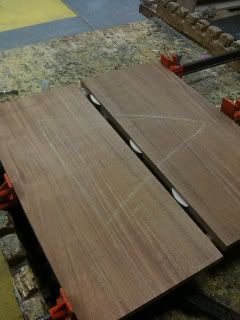 Here are a few pictures of my clamping strategy. You may notice that some of the pictures are taken in different shops. That's because I did the majority of the first steps at school and have been doing some "homework" in my own shop.
In these pictures you can see how things are coming together:
I saved the drawer for last, probably because I found it intimidating. I wanted to do half blind dovetails to show a nice touch of craftsmanship but I had never done it before. I don't have a router table or a dovetail jig but I do have a dozuki and some chisels. (I did cheat a little bit though, I used the scroll saw to cut out the tails.)
Here's a little video of my FIRST DOVETAILS EVER!!!
You can tell that I am less than impressed with my results on the first go-around but "practice makes perfect", right?
Here are a couple pictures of the half blinds that I did. The first one is right after I got them fit and the second is after I glued the drawer together and sanded the sides nice and flat. I made all of the pins a bit long so that I could sand them flush once it was glued up… (To fill the gaps in my joints I mixed up some two part structural epoxy with some sanding dust)
And finally, here's a little video tour of the table before I did the drawer…
I've been experimenting with some finishes that I'm considering so I'll show some of that as I get some pictures and video.
*By the way, has anybody used the Behlen's Water Based Grain Filler? I haven't been getting really good results with my experiments… It could definitely be user error… but maybe that stuff just sucks?... any advice would be appreciated…
-- Spencer, Gilbert Az (http://www.azwoodshop.com)
---