Trying to "guess" the age of these garments is tough. I thought I had a handle on it but, I'm not so sure after doing a little research on one of aprons I've got. It's one of those chest high aprons with the advertising on the front. I thought because it looks like the one my grandfather had, it should be from the 40's, wrong. It's older than that, how much, I'm not sure yet. Still researching!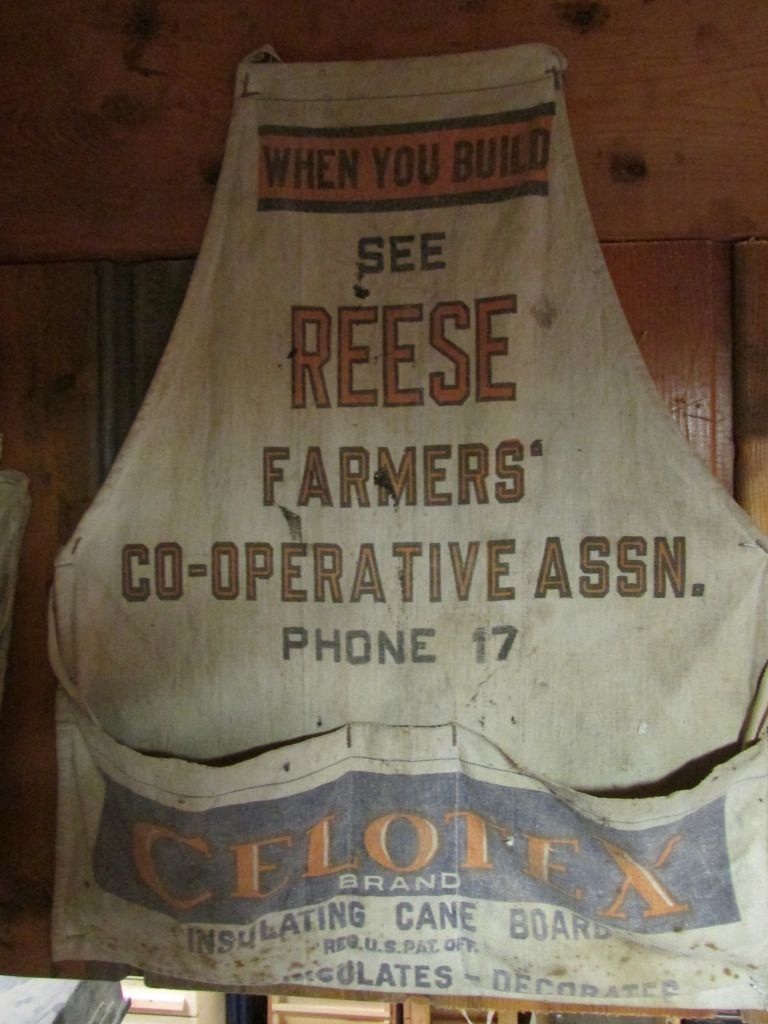 Check out the phone number on it first. The number is a two digit number. When's the last time you saw one of those? Well, in our area, it's been a long time ago. Second, look at the advertising. Celotex, who uses that anymore? And, still there are some other tell tale signs that we'll get into later.
Well, first things first. I looked up information on the internet concerning the town where the apron came from. From that info, I made contact with a gentleman who was a town manager. He in turn gave me the number of a guy who used to run the co-op in that town. Bingo, I thought! Wrong again. He ran it recently, so he has no idea how old it was. But, he made some phone calls and came up with a person that graduated in 1949 that told him that at the time she graduated, they were using 4 digit phone numbers. She in turn called someone from another town, 4 miles away, that told her his grandfather run a co-op there and there number was a 1 digit phone number in the early 1900's. They are still making phone calls for me. I'm glad, because I wouldn't be able to trace it down.
Another thing is the advertising on the front. Like I said before, when was the last time anyone used Celotex on their home. I asked the guy who run the co-op recently and he told me they were using Celotex in his area in the early 60's. That didn't help much.
Just for you information, every area had a different type of phone system. As an example; when I was a kid in the early 60's, we were using the old crank phones to call the phone office to contact someone. So, each town had it's own thing. I've been looking into that for a tell tale sign of age.
So, here I am still stuck on the age. But, at least I have a time frame when it was used. That's all for now. See you next time. If you have any answers for me, let me know.
-- DWelch. Michigan, The only dumb question is the one not asked!
---