My 1st PIECRUST TILT TOP TABLE #8
Well In number 1 – 8 we made the large circler pattern and four 20×20' patterns that make all the separate parts of the edge details
For our pie crust table.
Before we use this patterns to make our table we need to make sure all of our patterns are producing even edge details so when make our table we don't have to hand carve the edge to make it come out properly.
Some things we have to keep in mind before starting our table top.
We still screw our patterns down but the screws should not go into the table top more than 3/8" so that we done have to deal with the holes they make after the center is routed out.
Make sure your patterns are free from saw dust or any other debris that would keep them from screwing down evenly.
After routing each section to make sure the detail is crisp and even each and every time.
The way we start our table top is the exact same way we started our large circular pattern in #1-#3 this will complete the rounding of our table top.
A caution here, because we are routing in wood and not melamine
We need to route in steps instead of in one pass and we need to be extra careful when the grain runs parallel with our edge details.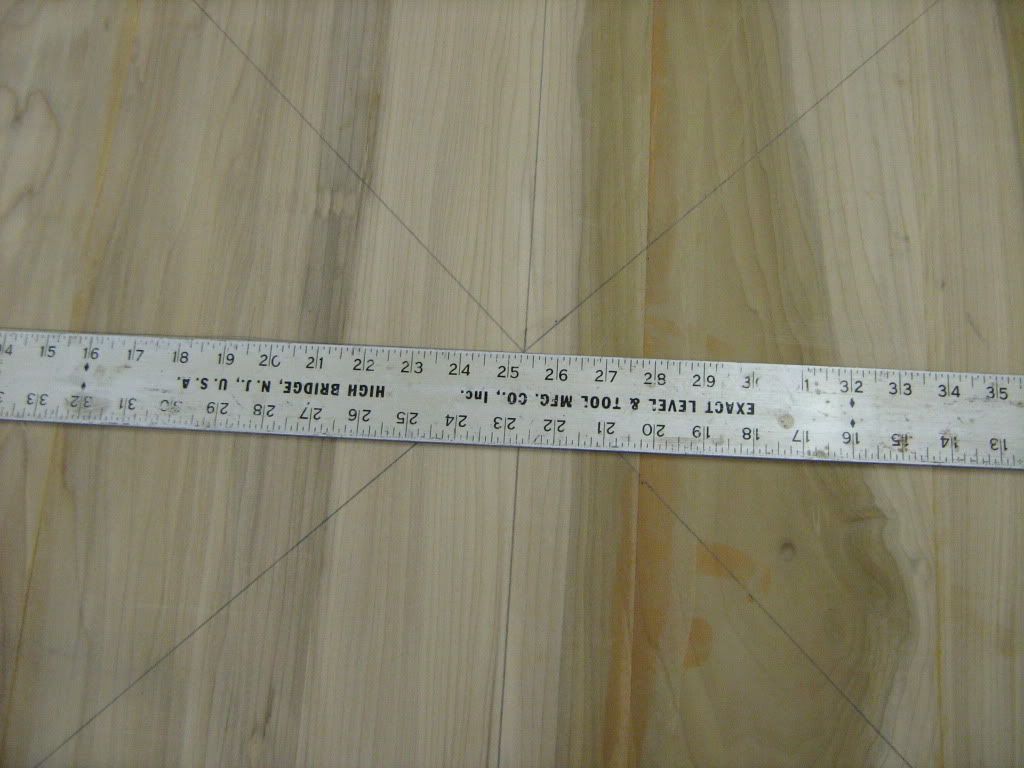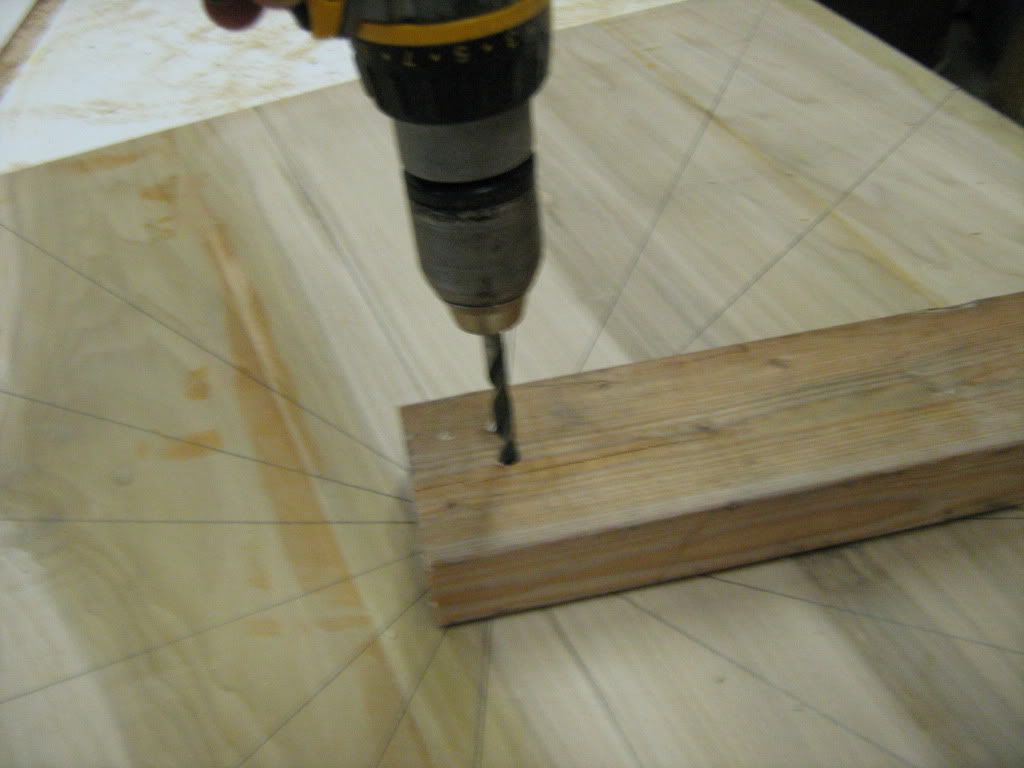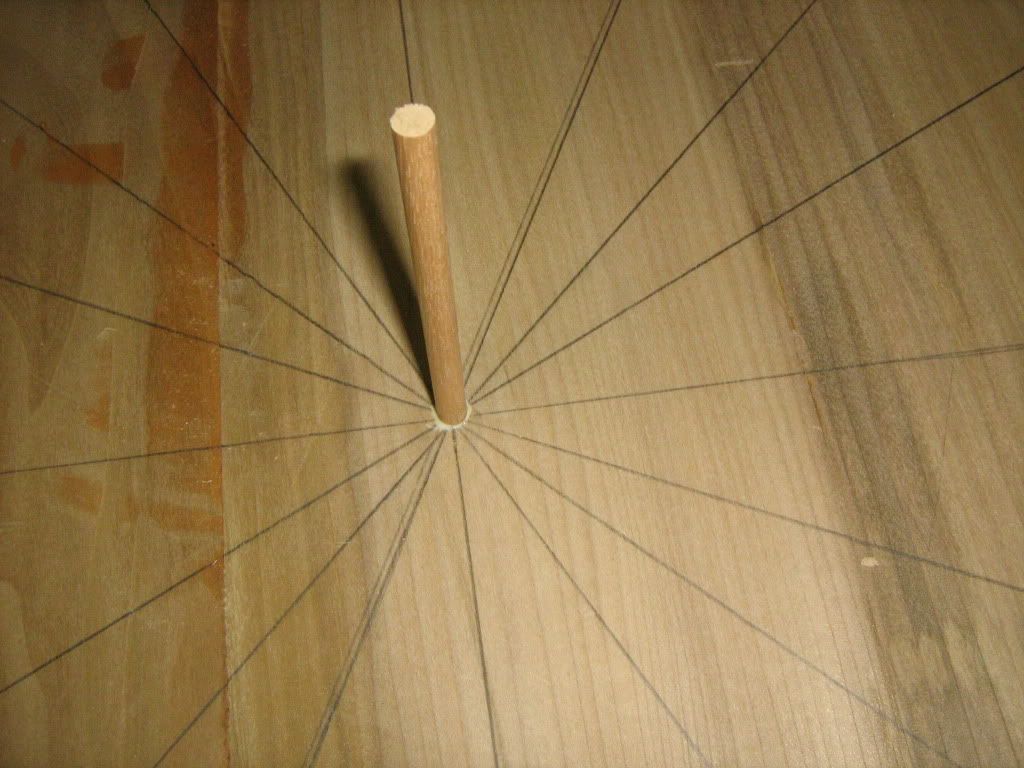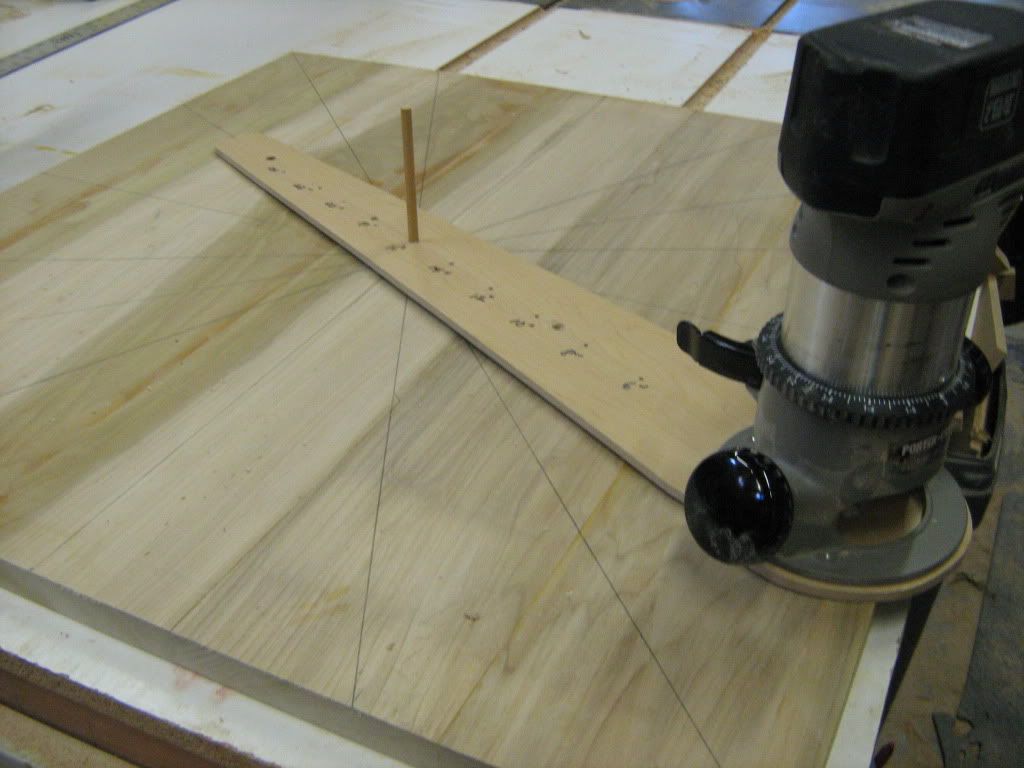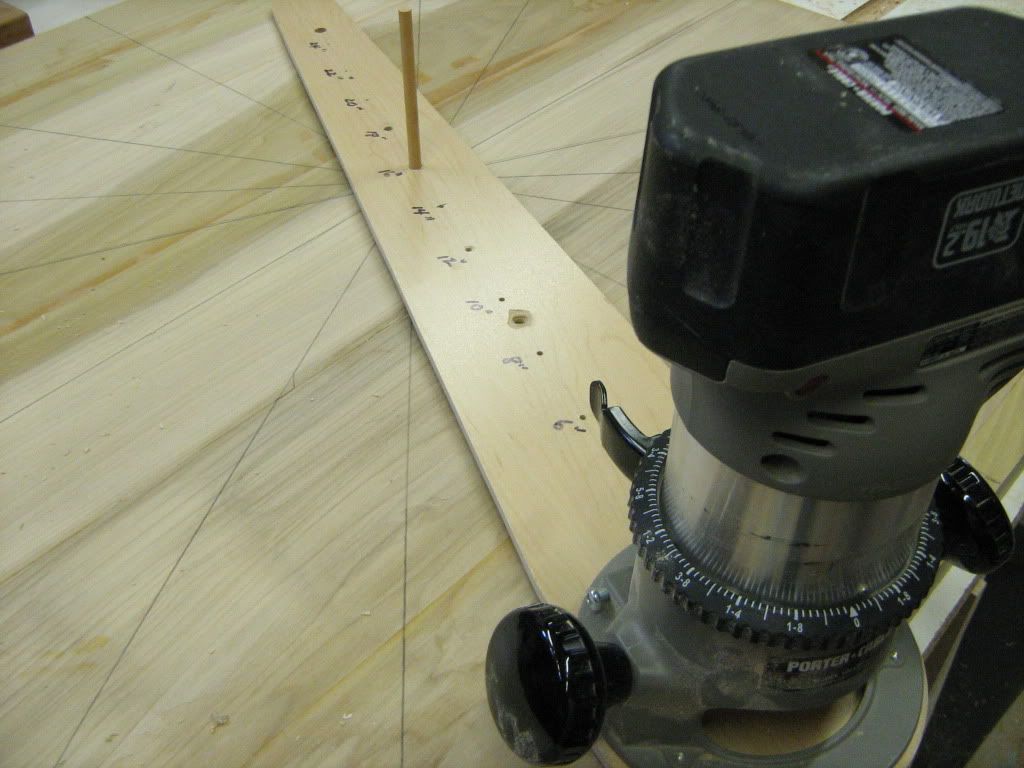 So at this point we have routed our outside edge being very careful that it has routed evenly and at equal depth all the way around.
Now we have to route the center section of our table to an equal depth with the depth as our last patterns depth.
There is more than one way to do this but the way I did this was to use the last pattern #4 to route away from the edge by using the side of this pattern until it was not possible to use it any more. After that I used small blocks of wood stuck to the bottom of the routers outer edge to continue to remove the center of the table top.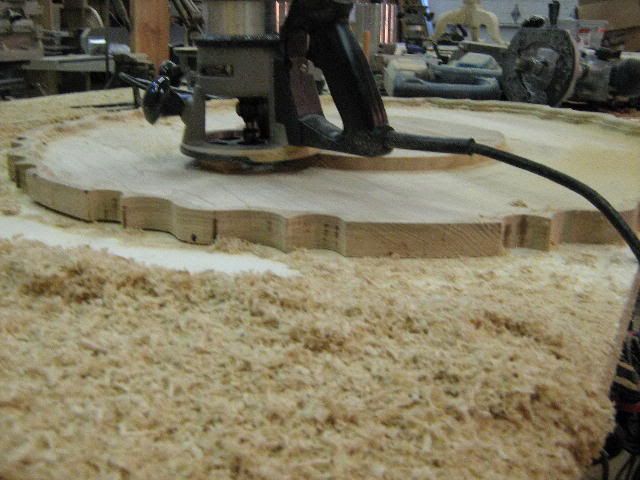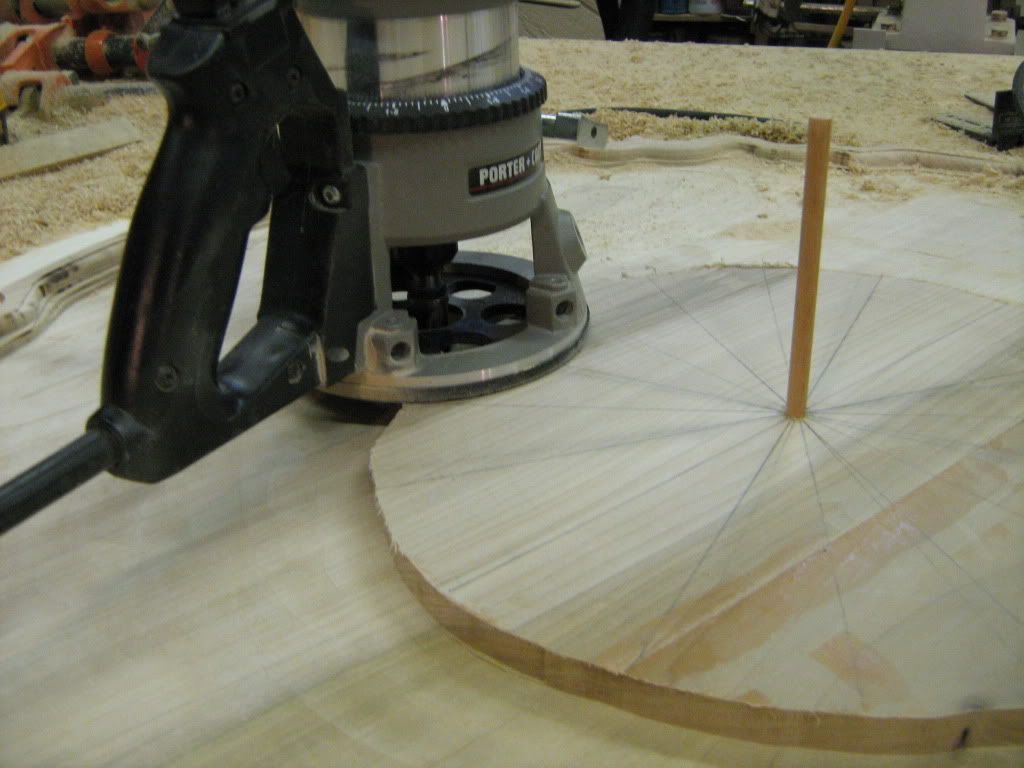 As you proceed you need to clear away the shavings so not to interfere with the process.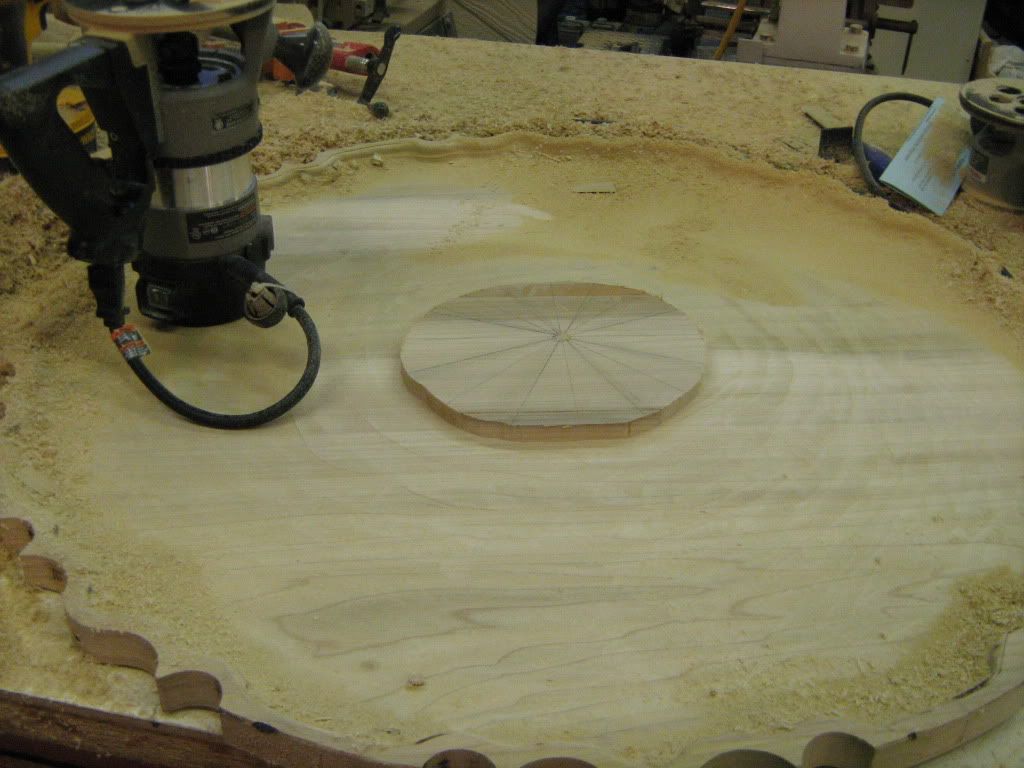 When you reach the center you need to saw of the dowel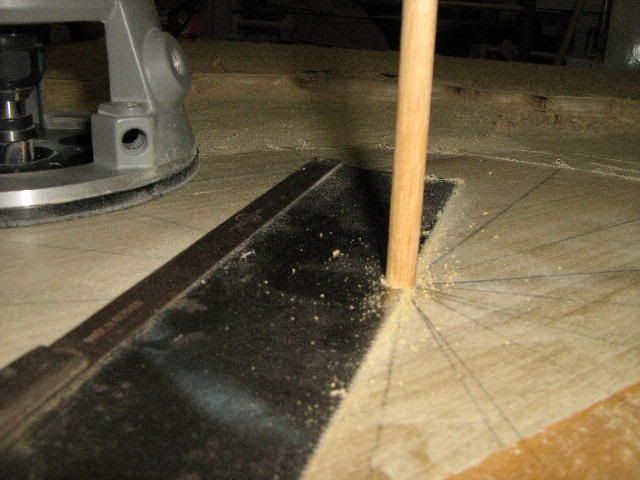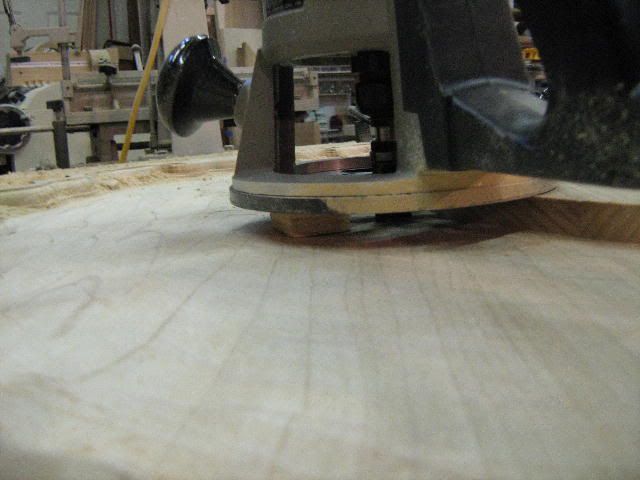 In #9 we will proceed with cleaning the edges and center of our table top.
Link to Charles Neil's The Magic of Routers
Were I got this whole process from.
http://charlesneilwoodworking.com/dvdplayer.php?id=61
Links to my pie crust table blogs
#1 http://lumberjocks.com/a1Jim/blog/10077
#2 http://lumberjocks.com/topics/9201#reply-94838
#3 http://lumberjocks.com/a1Jim/blog/10086
#4 http://lumberjocks.com/a1Jim/blog/10088
#5 http://lumberjocks.com/a1Jim/blog/10090
#6 http://lumberjocks.com/a1Jim/blog/10096
#7 http://lumberjocks.com/a1Jim/blog/10106
#8 http://lumberjocks.com/a1Jim/blog/10113
#9 http://lumberjocks.com/a1Jim/blog/10124
---