My 1st PIECRUST TILT TOP TABLE #7
In #6 we started routing with a plunge round of bit to start our
Pie crust detail. Now were are ready for our 3rd 20×20"
Pattern. Similar to the #2 pattern the 3rd pattern has to be set back using the same technique as before. This time because of the size bearing and router bit I set the pattern
Back 1 ¼" from the #3 pattern. After the same process of smoothing and trial and error I set the newest pattern on the out side edge lines and screw the pattern down . This time
I'm using a ½ round nose router bit with a 1 1/8" bearing.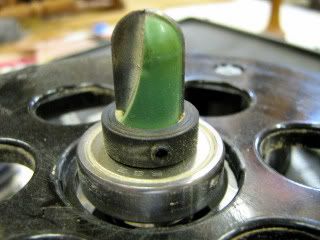 This #3 pattern will be cutting this part of the pie crust detail.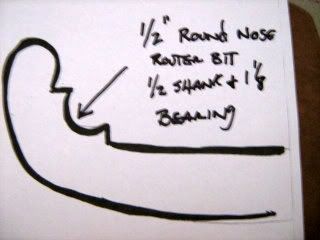 The next step is to make #4 pattern for the bottom cut of the detail this time it is set back 1 1/8" and because of the length of the router bit it was necessary to make my pattern ½ " thicker by adding a ½" piece of plywood to the top.
This is the bottom cut 1 1/8" router bit.

This is the area of the detail The #4 pattern will cut.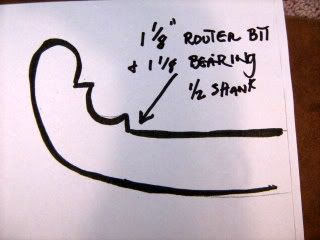 As with all of the previous 20×20" patterns this ones center line is placed on the center mark on the edge and screwed down before routing begins.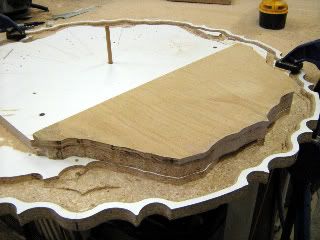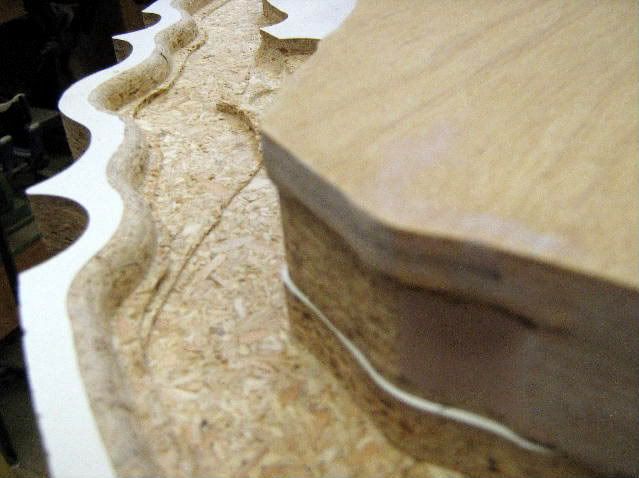 The next installment #8 will have a short review and begin with the use of our jigs and patterns on our actual table.
Link to Charles Neil's The Magic of Routers
Were I got this whole process from.
http://charlesneilwoodworking.com/dvdplayer.php?id=61
Links to my pie crust table blogs
#1 http://lumberjocks.com/a1Jim/blog/10077
#2 http://lumberjocks.com/topics/9201#reply-94838
#3 http://lumberjocks.com/a1Jim/blog/10086
#4 http://lumberjocks.com/a1Jim/blog/10088
#5 http://lumberjocks.com/a1Jim/blog/10090
#6 http://lumberjocks.com/a1Jim/blog/10096
#7 http://lumberjocks.com/a1Jim/blog/10106
#8 http://lumberjocks.com/a1Jim/blog/10113
#9 http://lumberjocks.com/a1Jim/blog/10124
-- https://www.artisticwoodstudio.com/videos
---