My 1st pie crust tilt top table #5
Were we left off in #4 was we had drawn out the pattern for our pie crust outside edge . after that we are back at the band saw or you can use a jig saw and cut out the pattern we made. This is a very important part of the process so you have to take the time to make the outside edge as perfect as possible. If you have a spindle sander it speeds things along ,if not you can use rasp, files, sanding drum kits (the kind you can put in your drill press or drill any thing that will leave the out side edge smooth and flawless.
Here's my pattern again

Now that we have our pattern made it's time to put it to use.
Remember those marks we made on the edge on ever other line of the large circle pattern this is were they come into play.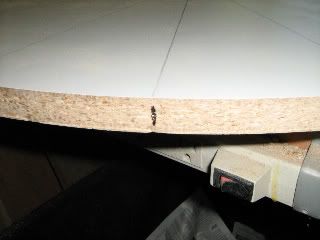 You take you pattern and use it's center line and place it on those lines one at a time you route your outside pattern using a top bearing flush cut router bit this time and making sure you have screwed the
Top pattern down with 2 screws
Here's a top bearing flush cut router bit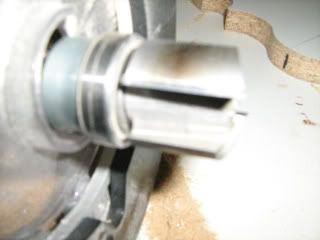 Here's how the routing goes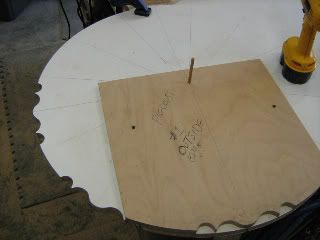 After you have smoothed the out side edge an eliminated any defects
It's time for the second 20×20" you make copy of the first pattern this is done buy placing the first pattern over the second one and using a flush cut router similar to what you did on the first pattern to make it round It is necessary to move the pattern back on the second piece of melamine . you would think that you just move the hole so you can continue but the pattern changes as it goes towards the center so you have to move it, You now remove about 1" from the front of the newest pattern This may very depending on what router bit your using for the second part of our pie crust pattern.
Removing the 1" or ? is done buy using a rabbiting bit and trimming off a ½" twice.
Such an easy way to trim the front to size as stupid as that sounds. .Thanks you Charles.
If I may add here If I had to fugue this out it might have taken a dozen tries to first figure that the pattern changed and then
Here's a what the second pattern looks like over the large round main test pattern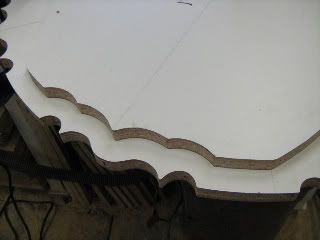 In #6 we will start are routing with are second pattern
Link to Charles Neil "The Magic of Routers
were I got this whole process from
http://charlesneilwoodworking.com/dvdplayer.php?id=61
Links to my pie crust table blogs
#1 http://lumberjocks.com/a1Jim/blog/10077
#2 http://lumberjocks.com/topics/9201#reply-94838
#3 http://lumberjocks.com/a1Jim/blog/10086
#4 http://lumberjocks.com/a1Jim/blog/10088
#5 http://lumberjocks.com/a1Jim/blog/10090
#6 http://lumberjocks.com/a1Jim/blog/10096
#7 http://lumberjocks.com/a1Jim/blog/10106
#8 http://lumberjocks.com/a1Jim/blog/10113
#9 http://lumberjocks.com/a1Jim/blog/10124
-- https://www.artisticwoodstudio.com/videos
---