My 1st pie crust tilt top table #4
In #3 we rounded our melamine and placed a mark on the edge of every other line. One thing I didn't make clear is that the circle we cut needs to be smooth and free of defects. A way Charles Neil (remember this is his process I followed) suggest is to use body filled on any defects.
The next step is to make a group of melamine pieces 20"x20" and place a hole the size of your dowel about 2" in, in the center of all of the these pieces . You need 4 but I made 6 for back ups.
You take your 1st 20×20" piece of melamine and place it on the dowel
Through the hole you drilled In the center of your circle so that it moves freely but not real loose. Now you mark the shape of the circle on the 20×20" piece so that buy just tracing the big circles shape on the bottom. Then band saw close but not to the line approximately 1/8" away from the line or so. Then place the band sawed piece back on the circle over the dowel. Install a couple of screws to hold it in place back far enough so the router won't bump into the screw head. The next step is to use a bottom bearing flush cut router bit and trim the 20×20" piece flush with the main circle with your router.
Here's a bottom bearing flush cut router bit.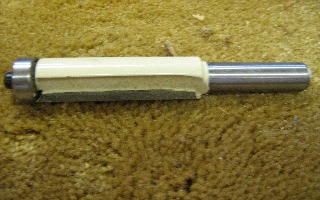 Here's what the first pattern looks like when you've finished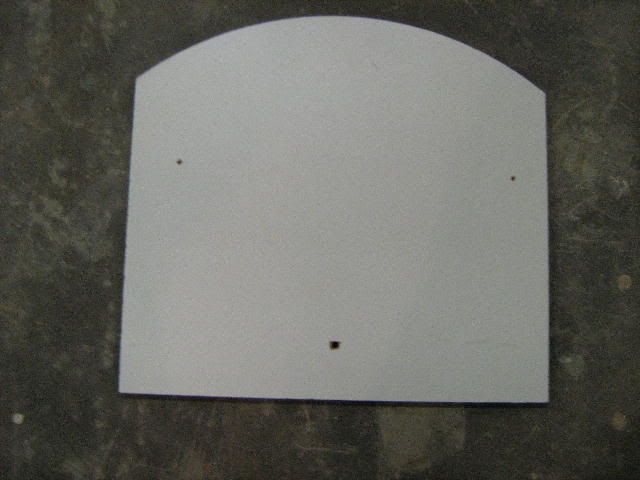 The next step is to draw out the pie crust pattern on your newly created 20×20" with the round shape. I didn't have a pattern for this so I looked at Charles table and Garyk's table and drew it out until it looked good to me. It starts by dividing the 20×20 " in half running from the dowel to the front. And thin using a compass to draw the arches
Here's what mine looked like
In #5 we will be doing some routing on the main circle pattern
Link to Charles Neil "The Magic of Routers
were I got this whole process from
http://charlesneilwoodworking.com/dvdplayer.php?id=61
Links to my pie crust table blogs
#1 http://lumberjocks.com/a1Jim/blog/10077
#2 http://lumberjocks.com/topics/9201#reply-94838
#3 http://lumberjocks.com/a1Jim/blog/10086
#4 http://lumberjocks.com/a1Jim/blog/10088
#5 http://lumberjocks.com/a1Jim/blog/10090
#6 http://lumberjocks.com/a1Jim/blog/10096
#7 http://lumberjocks.com/a1Jim/blog/10106
#8 http://lumberjocks.com/a1Jim/blog/10113
#9 http://lumberjocks.com/a1Jim/blog/10124
---