My 1st pie crust tilt top table
In installment #2 we left off were we had our melamine marked out and a dowel in the center.
Next we need to change the shape into a circle. That's done by the use of a router and trammel set for 16" so that our overall circle is 32"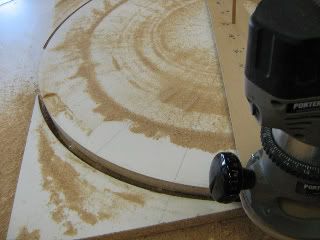 To make the routering easier I used a lazy susan to place the melamine on so it can be turned easily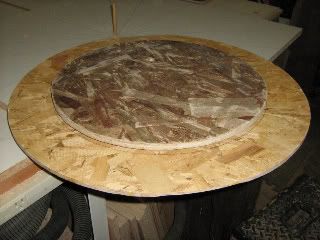 After cutting out our circle I place a mark on ever other line for our next step.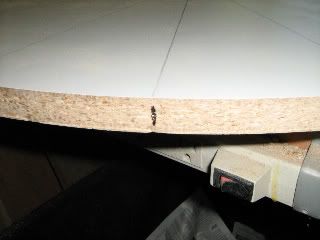 In #4 we will start the secondary jig or template
Link to Charles Neil "The Magic of Routers
were I got this whole process from
http://charlesneilwoodworking.com/dvdplayer.php?id=61
Links to my pie crust table blogs
#1 http://lumberjocks.com/a1Jim/blog/10077
#2 http://lumberjocks.com/topics/9201#reply-94838
#3 http://lumberjocks.com/a1Jim/blog/10086
#4 http://lumberjocks.com/a1Jim/blog/10088
#5 http://lumberjocks.com/a1Jim/blog/10090
#6 http://lumberjocks.com/a1Jim/blog/10096
#7 http://lumberjocks.com/a1Jim/blog/10106
#8 http://lumberjocks.com/a1Jim/blog/10113
#9 http://lumberjocks.com/a1Jim/blog/10124
---