I've been working on this pie crust table for a few months of and on . The techniques are from Charles Neils "The Magic of Routers" video, and Some of GaryK's ideas plus a book called "Making a Piecrust Tea Table by Tom Heller & Ron Clarkson" This is a project that I've never done before and I'm most amazed how Charles and Gary are so innovative In coming up with there own but similar approach to making the tops with routers. An Tom Heller and Ron Clarkson's book was a great step by step approach to making this table and very good details with a couple exceptions, I used their book for the making of the pedestal,legs and bird cage. Although a professional woodworker I have not ever built a tilt top table before or had I'd done any carving. Lastly I'm always in awe of the likes of Garyk,Larry, David and others fine explanation and photos of there Blogs. Since I've only done short blogs in the past please hang in there if I don't have the polish That many of the others have. I'll do the best I can but to see it in video Charles Neils Video is the way to go. Remember this is mostly his technique I'm using.
(I'm highlighting Ideas or choices I would do differently next time or where I have made mistakes
The first thing I had to do is select the type of wood I wanted to use
Given that this was a practice piece and that I wanted to try a new finishing technique I selected Poplar because It was inexpensive also. I feel this was a mistake because I had not carved before and poplar is very fuzzy when carved taking much more time to smooth out, also there has been a good amount of time on this project and a more suitable wood like mahogany would have made a better finished Project.
After ordering six quarter poplar for the pie crust table top and 16 quarter poplar for the Legs and center pedestal . But they sent ¾" material saying the sales man was wrong about having six quarter poplar being available. So now I get to get to resaw some six quarter.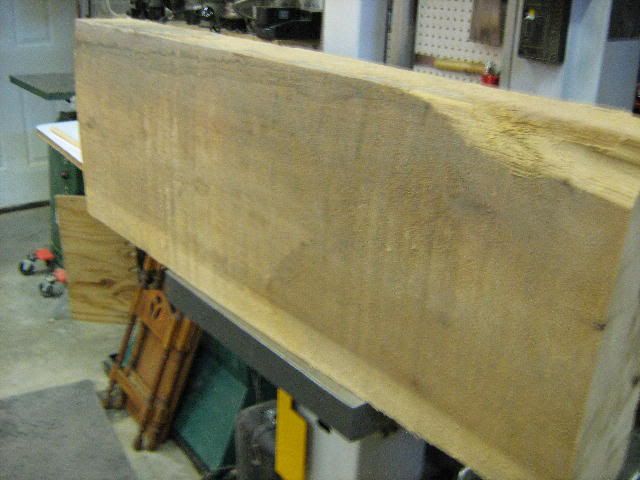 After re sawing I glued three sections of 1 1/8 " poplar together so that I had a panel that was approximately 40"x40" . Mistake I glued this up being careful to make sure it was set on calls so that I would not get in to cupping. problems This was a great idea and i had no problem until I kept moving it around my shop were it eventually ended up stored on edge on the concrete floor for 6 weeks or so. when I was ready to start after working on the legs an pedestal i had cupping issues were I had to saw it into sections and re glue it back together straight
The next installment covers making a jig to make a Jig(s)
Link to Charles Neil "The Magic of Routers
were I got this whole process from
http://charlesneilwoodworking.com/dvdplayer.php?id=61
Links to my pie crust table blogs
#1 http://lumberjocks.com/a1Jim/blog/10077
#2 http://lumberjocks.com/topics/9201#reply-94838
#3 http://lumberjocks.com/a1Jim/blog/10086
#4 http://lumberjocks.com/a1Jim/blog/10088
#5 http://lumberjocks.com/a1Jim/blog/10090
#6 http://lumberjocks.com/a1Jim/blog/10096
#7 http://lumberjocks.com/a1Jim/blog/10106
#8 http://lumberjocks.com/a1Jim/blog/10113
#9 http://lumberjocks.com/a1Jim/blog/10124
-- https://www.artisticwoodstudio.com/videos
---