As I wrote earlier, I'd jointed the box corners using the Lock Mitre Router Bit in the router table. I mentioned that I'd set it up by way of trial and error. That prompted me today to do a Google on the topic & I came up with this helpful website.
Anyhow, with those joints, there should be no need for any reinforcement, but the box itself, before polishing, did seem a bit plain, especially when set against the lid. I wanted a change from the 'slip feathers' / mitre keys that I've frequently used & so I decided to turn some pegs with square heads. In bog oak again, they are long enough to provide some added strength.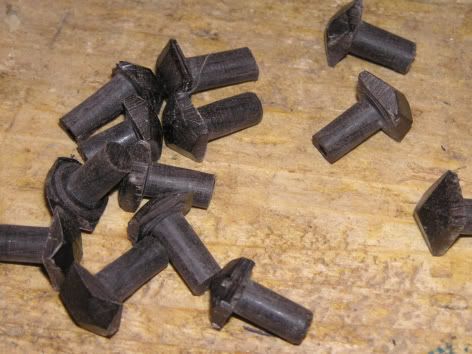 I touched the heads quickly on the belt sander to give a rustic look.
I arranged the oak of the box itself so that two prominent knots fell centrally on the front and back of the box. One of them crumbled away during planing. I'd previously set an ammonite into a burr oak sketch book: and carved out around the knot to do the same here. I'm pleased with the result. To my mind, the ideas of fossils and the passage of time are strongly linked so that relates to my intention of using the box to house some vintage watches.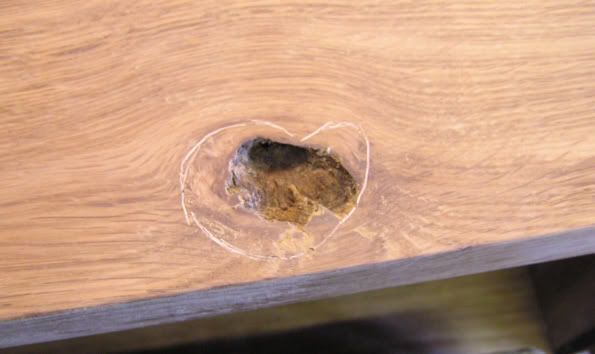 In go the knitting needles for the last time..
I recently read somewhere that we should expect to spend the same length of time finishing a project as we do in constructing it. So – that's another 35 hours in the shop. Mmm we'll see.
The finished box is here
-- Res severa verum gaudium - True pleasure is a serious business. http://www.folksy.com/shops/TreeGems
---