Until recently my lathe experience has been 50 or so pen/pencils, a few miniature goblets, and a couple small 5 inch bowls over the past few years on a Jet mini lathe, enough to want to try other lathe work. This past fall I was fortunate to have the opportunity to acquire a PM 3520B, but due to other work and priorities I've not had a lot of time to use it yet…and that's "killing me".
So this blog documents what I consider my first significant lathe project. Recently a partially segmented bowl caught my eye that I really liked. It was turned by Harm Hazeu and found in a book called Fabulous Turned-Wood Projects. This bowl is fairly closely patterned after Harm's bowl. It incorporates segmenting, face grain plugs, and a turning blank: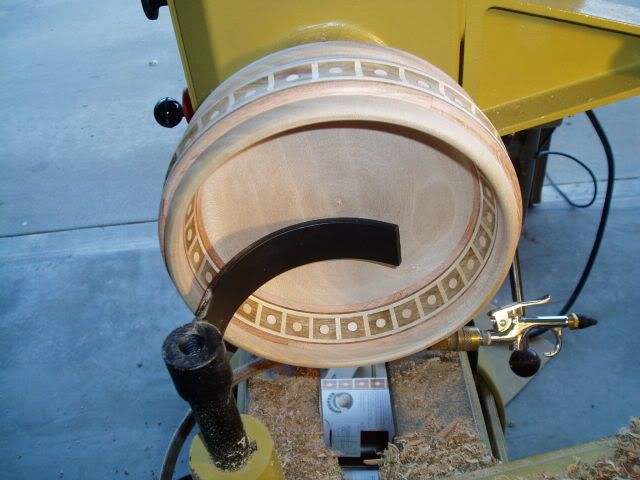 With not a lot of experience on the lathe, I'd appreciate any advice/criticism some of you LJ turners may have regarding this blog/project…I certainly do not pretend to know what I'm doing around a lathe. As someone with limited experience, it is a sobering thought to have a turning gouge in my hands, realizing how much I don't know about turning. For this project the segmenting and glue up took more time/work than the actual turning.
The primary wood is very old stock that was given to me and had two previous owner's. It's very likely well over 50 years old. From the grain, texture, and smell, I'm nearly certain it's maple, but am not sure of the variety. I also used eucalyptus, Caribbean rosewood, bubinga, and some birdseye maple left over from another project.
I started by making a sufficient number of face grain plugs using my drill press: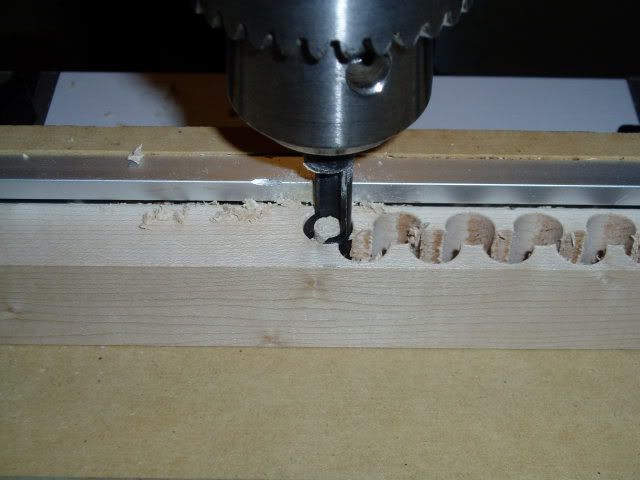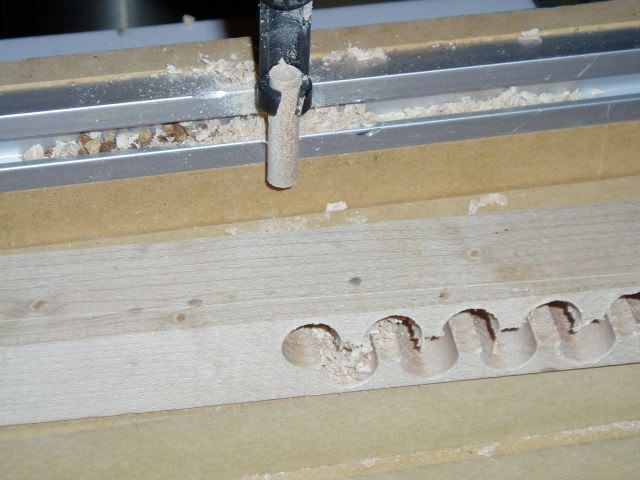 I then drilled a series of holes 1 inch apart in the rosewood, then used a jig to cut these into segments.
Below are a series of pictures showing the jig I made to make the segmented pieces of rosewood on my tablesaw: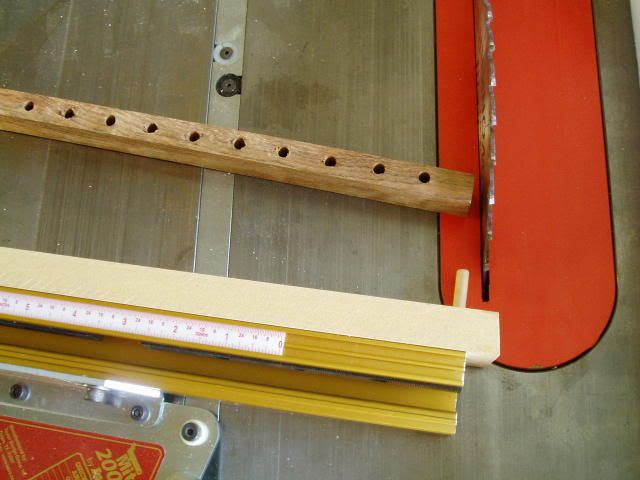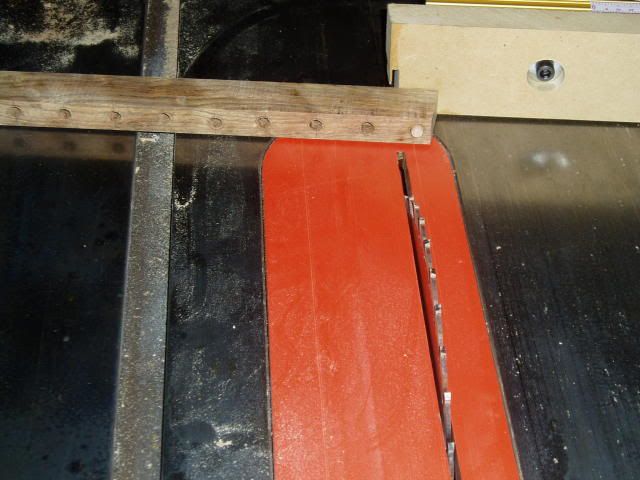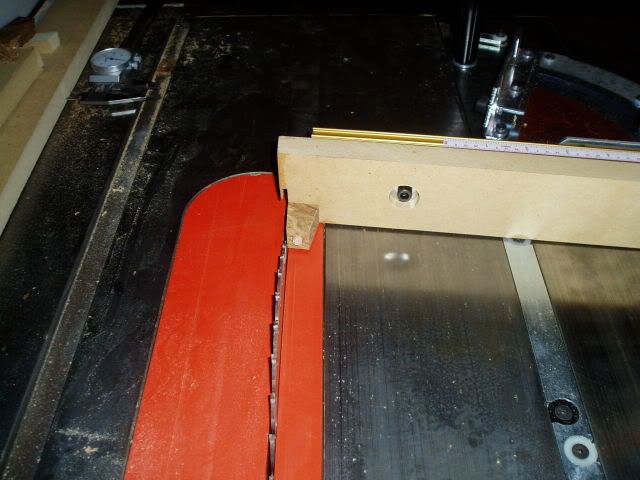 In this picture I'm gluing the face grain plugs into the rosewood segments:

Here the maple separating "segment" slices are being cut: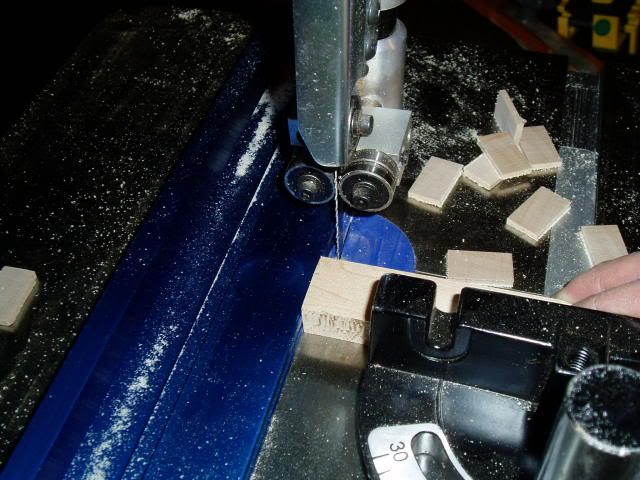 The maple slices were then hand glued to one side of the rosewood segments:

There are 29 segments of rosewood in this turning. Why 29 (you may ask)? I have no idea. The bowl is 8 inches in diameter. The book described the bowl as having 30 segments, yet it advised a 7 degree miter…which didn't make a lot of sense…it seems 6 degrees (per segment side) should be right unless circles now have more than 360 degrees in them like they did back when I took Trigonometry in high school. Nevertheless, I set up my Incra miter for 7 degrees, but for some reason, after cutting and fitting them, 29 segments worked out nearly perfect with very little sanding adjustment. I guess that was beginner's luck. Sometime I'll have to figure out why it turned out this way. I assume it was a small angle error multiplied many times over.
The rosewood segments were glued together using the bowl's blank stock as a working platform, along with rubber bands and a number of small clamps. Once a number or rubber bands were in place the clamps were removed to let the segmented ring close together: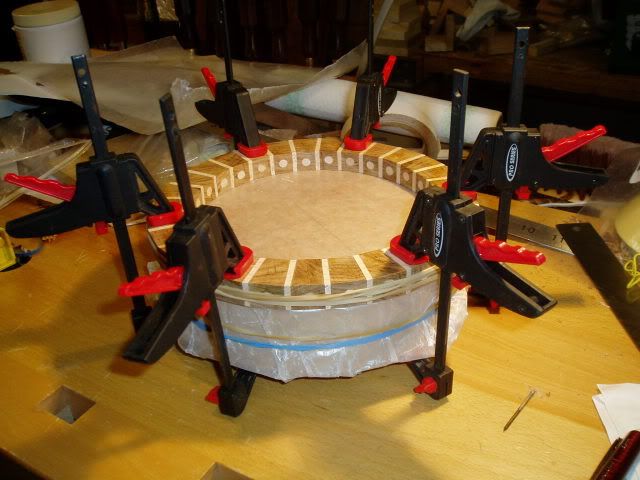 The photos below show a number of pieces of ecalyptus, walnut, maple, and bubinga to be used for the thin contrasting segments that surround the rosewood segments:

This is a layer of maple being glued together. A number of these were made from eucalyptus, maple and bubinga. They were held together with hand pressure until the glue set: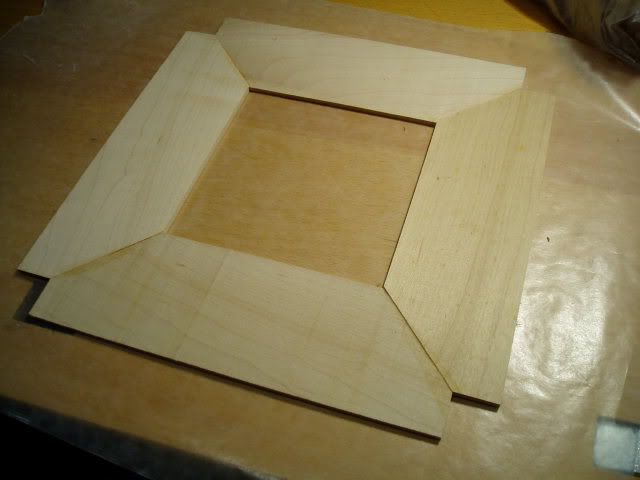 The maple layers are being glued to the rosewood segmented ring: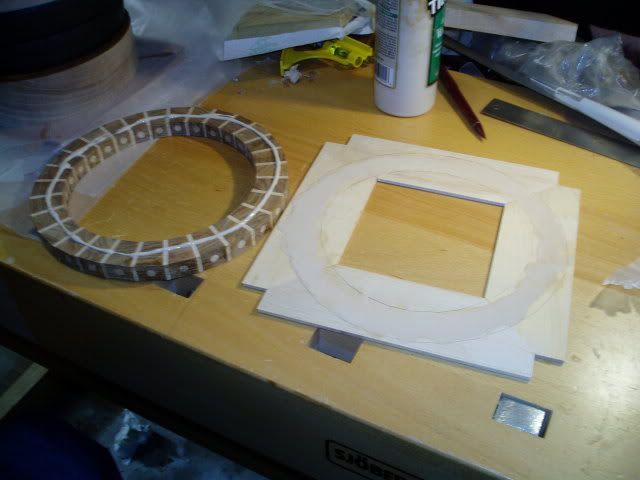 Trimming off the excess maple layer:

Smoothing the segmented ring for additional segment layers: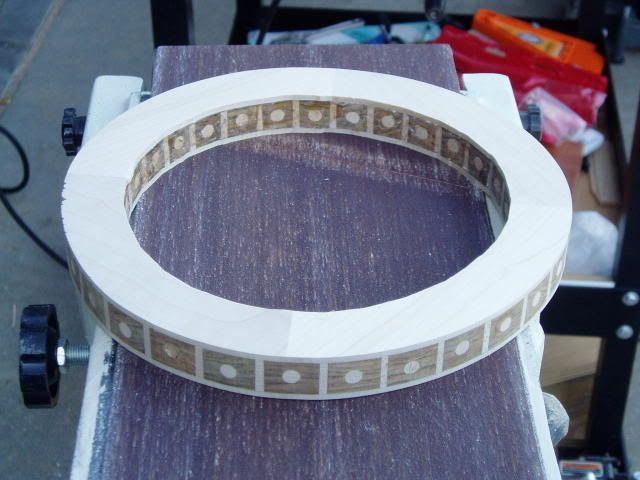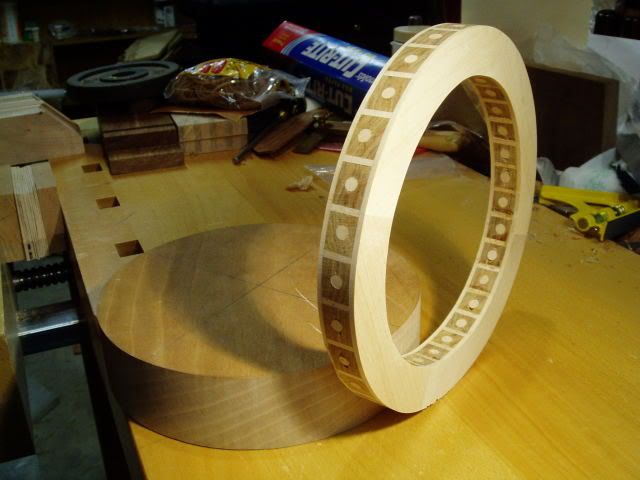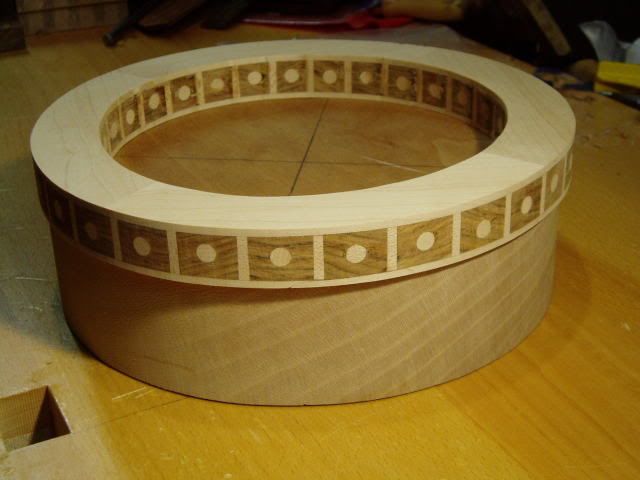 Gluing the additional segmented layers: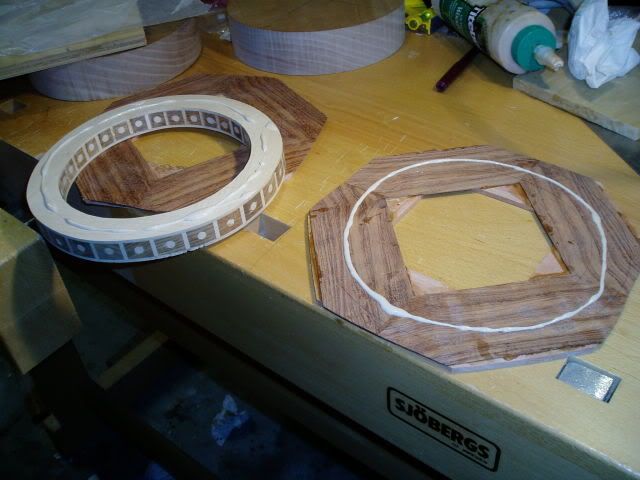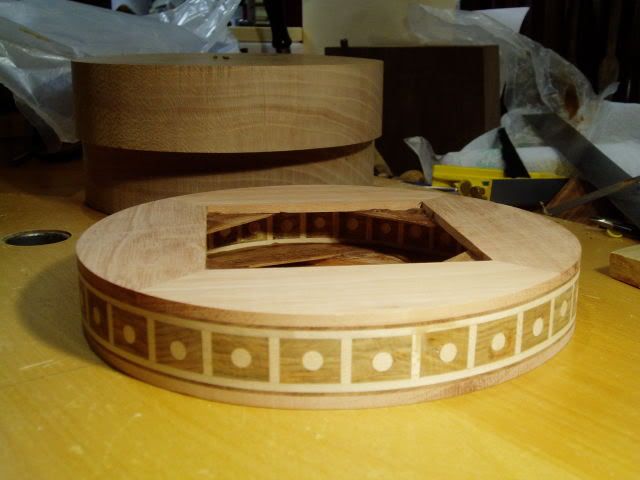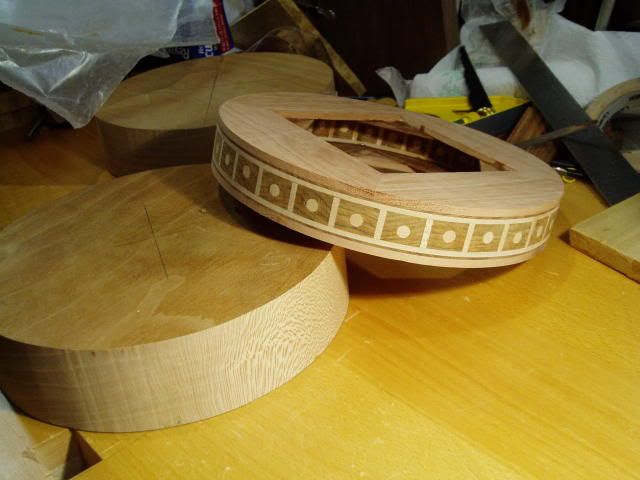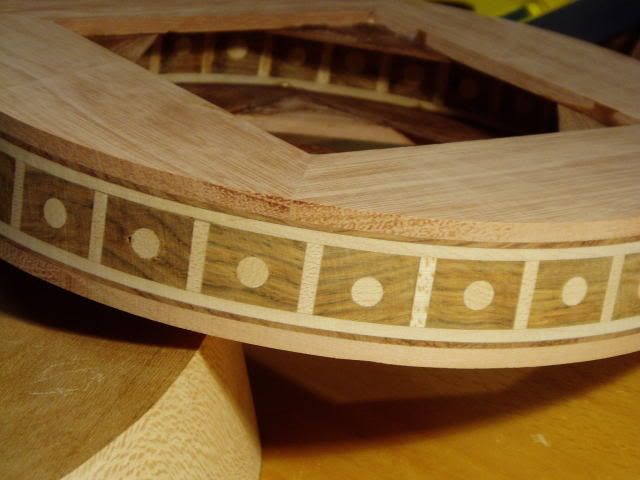 Initial turning of the bowl blank began with a faceplate secured to the top of the bowl blank: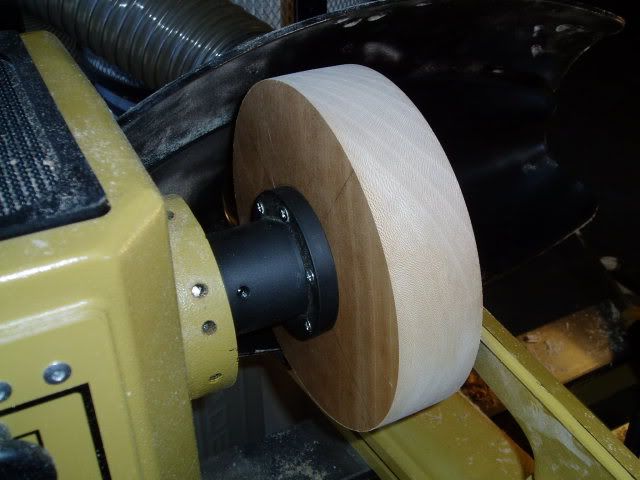 Followed by a dovetail recession to receive the chuck for the bottom of the bowl: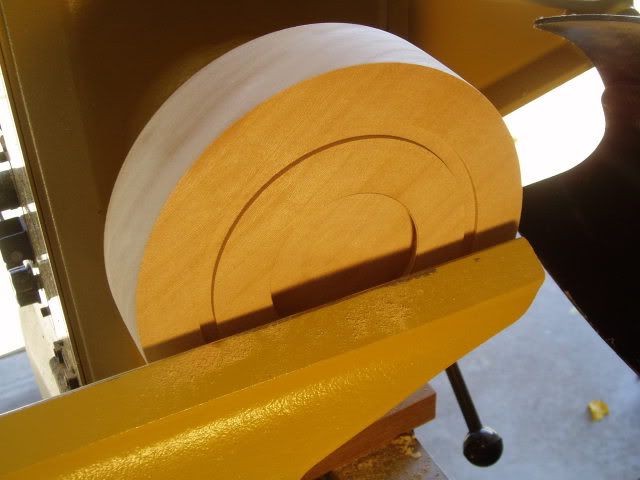 Setting the depth of the inside of the bowl using a drill press/forstner bit: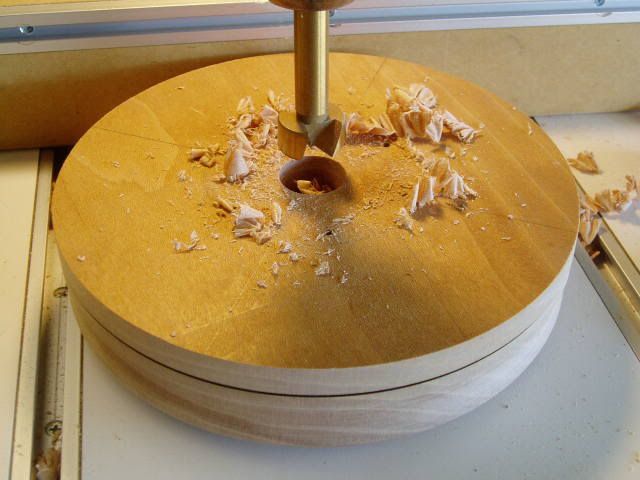 Here I'm parting off a ring that will be re-glued back on once the segmented portion is incorporated: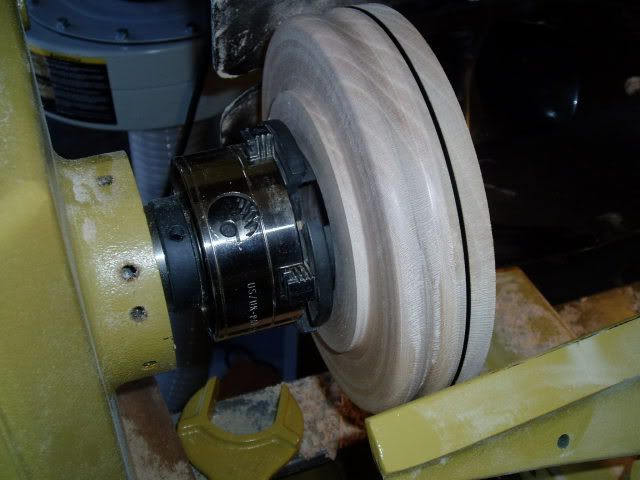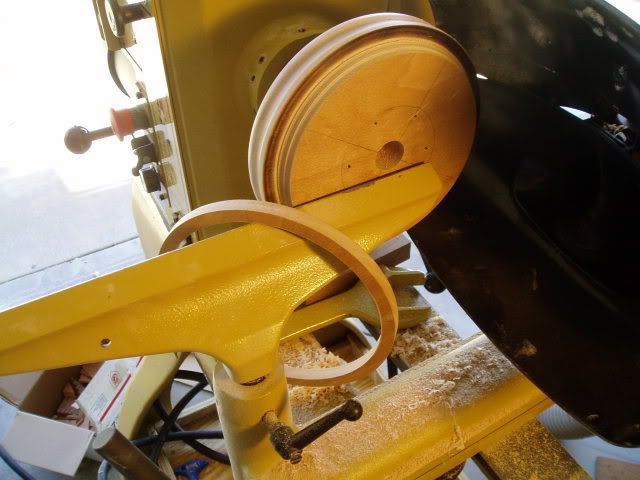 Here I'm gluing the bowl bottom, as well as the parted off ring to the segmented ring. Notice that I left the bowl blank in the chuck and removed the entire assembly from the lathe for this glue up.

This is a picture of the nearly completed bowl, except for finishing. I did most of the contour turning with scrapers, because I'm not yet comfortable with bowl gouges: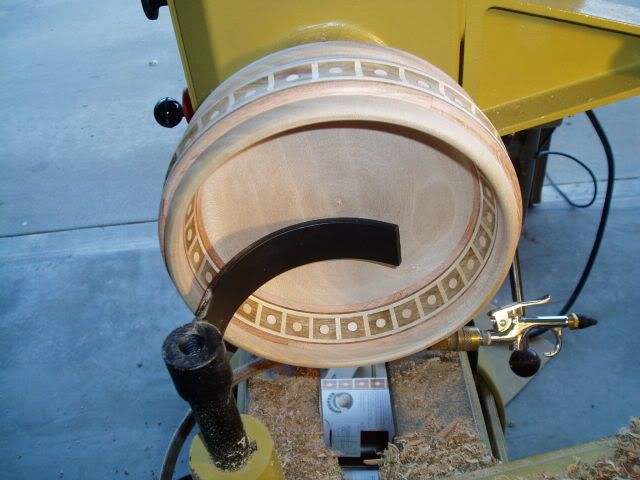 One thing I do know is that I need to re-sharpen my turning tools more often.
I'll post this finished bowl as an LJ project.
Again any comments/suggestions/criticisms are very welcome.
-- Martin, Kansas
---