I'll call this a radial dovetail (for lack of better name). This is a practice handcut joint for a future keepsake box. It's curly maple and Caribbean rosewood.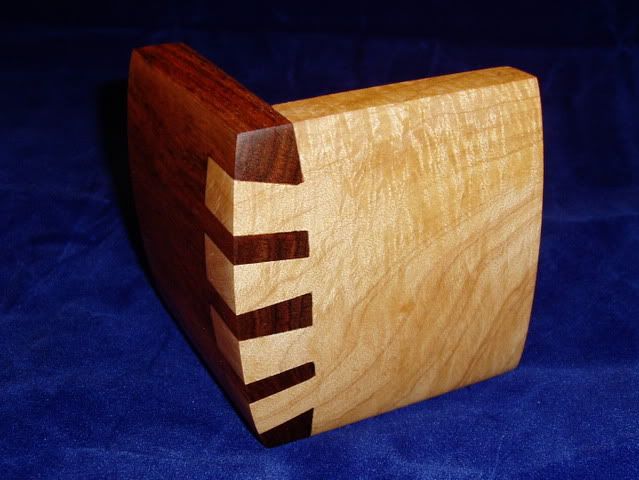 My initial thought was to have all the sides of the dovetails in the maple point to one common perspective. However, during layout I quickly found out some of the angles would be far too severe, putting the integrity of the joinery at risk. Thus I used two perspective points for this joint.
Note there are four tails in the maple. The uniqueness of this joinery is that the angles of the maple tails are not set at a uniform and traditional 1:8 hardwood tail ratio. Rather the angles of the sides of the dovetails are determined and aligned to perspective points refered to above. If you bisect the piece of maple in the direction of the grain (horizontally in the picture directly below), I used a perspective point 3 ½" from the corner edge and 3/8" away from the center line of the maple. Thus in theory each set of tails on either side of the midpoint in the maple should mirror each other. However, because they are handcut they are not precisely mirror images.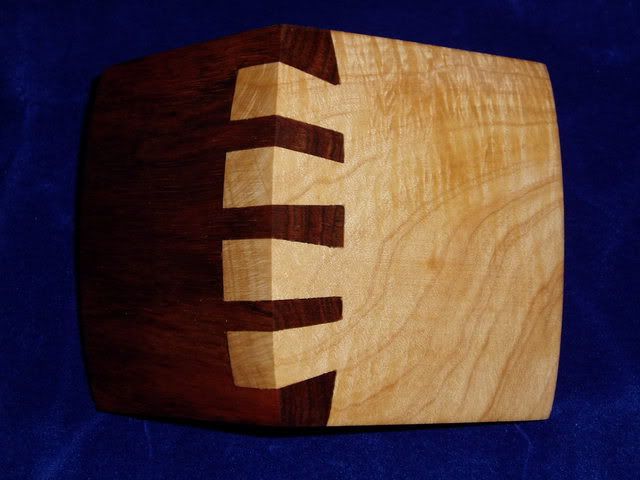 I'm going to play around with this some more before using it in a box, because by moving the perspective points I'm using, I think it might be possible to have the two rosewood pins on either side of the center pin to be similar in shape as the maple tails. In other words these two pins would be wider at the edge than their width at the base of the tails. This is the reverse of normal pins. I slightly achieved that (which can be seen in the pictures above) in the pin just below the center pin. But the one just above the center pin looks more like a box joint…rectangular in appearance.
I rounded the sides on this piece to help accentuate the radial characteristics of the tails. I plan to use this in the actual box construction too, and also plan to add some type of inlay in the sides to further draw attention to the radial shape formed by the dovetails.

I was fairly pleased with how this turned out, but it was much more difficult than the deceptively simple appearance of the final result because the angle of each side of each tail is different than the next. I won't be able to start on this box right away but I'm already anxious to see how it will turn out.
-- Martin, Kansas
---