So, I had every intention of keeping up with this blog, but between my two siblings getting married, a trip to Florida, three family birthdays and getting settled into a new home with the new wife, I sort of dropped the ball. Enough excuses! Back to blogging!
Anywho, the new condo we're in has a detached one-car garage that's part of a strip of eight similar units. While it's small and not fancy , it meets my needs, as the three fixture tools I own are a band saw, which is on a mobile base, a drum sander, which isn't too heavy for me to pick up and move when necessary, and a scroll saw, which is fun to play with and has a tiny footprint. These pictures are a couple weeks old, but still show the general gist of the place.
and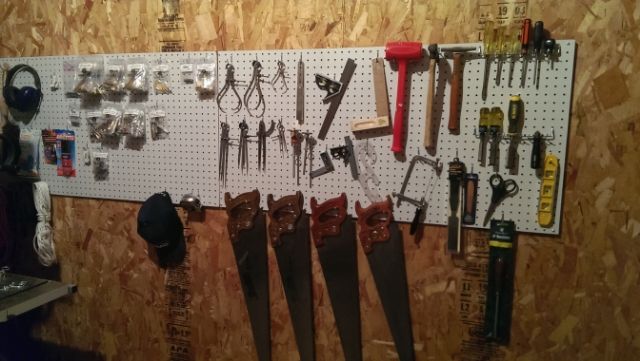 As you can see, I'm do mostly small-scale projects, and a fair amount of pen turning. (project photos coming soon)
When we moved into our condo, one of the things that bothered me was the size of the garage. I couldn't so much as park my truck in the garage with the shelving in the back, and there are only two outlets in the entire room. It really forced me to think about how I wanted to set things up, and I'm still not sure what I have is the right setup. I needed to take a step back, consider my options, and really think about what tools I'd need to have on hand to work on a given day.
As my intro, at least for now, says, I'm a school technology education teacher, and while we do some woodworking in the school these days, it's not really the modern educational focus. I think it's a crying shame. The plus side, however, is I have access to a jointer and a thickness planer when I need it, so my home shop doesn't really need to have those tools. I can plane by hand when I need to, and jointing boards by hand, I feel, is a critical skill, but I really don't mind taking boards with me to work, staying late, and getting some prep done, and when I can't, I can still manage, even if it has a high cost in sweat.
I'm planning to hang some French cleat rails on the walls to give me a little bit of storage capacity where I otherwise wouldn't want to have full shelves, and I plan to upgrade my hard maple slab-on-plastic-saw-horses to have a real base, likely made from construction lumber to save some cost. The thing moves around too much to traverse on, and leaves me frustratedly sliding either the horses or the slab back to their starting positions.
As for what I've been working on, I've been making pens, like these:

Which were gifts, and

Which were a pre-christmas comission.
Next up is a cradle for my brother and sister-in-law. They're expecting their first, and the first of her generation, on the Ides of March. We're eager, but the baby shower is in three weeks, so I'm going to be trying to blitz through a LOT of work in the next week or so, and then take my time finishing.
I plan to make the slats extra wide, so the name of each baby that sleeps in this cradle can be either carved, engraved, or painted on one of the slats.
That's about it for now, so thanks for reading!
-- --Shafe
---