Work has begun!
I have been looking forward to working with my son ever since last Christmas when I complete a bed for my youngest son. Zachary is only 9 at the time and even though we share development of the design and selected the hardware, that was a long time ago. I completed several smaller projects between now and then. My Wife and I completed a mud room that I have yet to add to the my projects postings.
Zachary being 10 now (birthdays happen) we begun our work. Zachary does not yet have the patience to watch me work things out. He likes action. I ensure that I involve him when we are gluing or assembling or using a power tool. He enjoys feeding the machines. Any planning or drawing or measuring or setup, I leave him inside and he can leave if he wants to.
Here is a picture or him feeding the sander.

We worked a few hours each day. I really liked taking my time on the project. It gave us the time to think things through so we made less mistakes. I let Zachary pick out the wood and make a few cuts on the table saw. We are using Birds Eye Maple for the front of the dresser. I have a few boards and he took great pride in selecting just the right ones. He has been asking to using the bird's eye maple on his own projects for years. He was making wands and swords and see saws, so I always had to tell him no.
The few times that I worked on the dresser by myself, I realized how much of a help he actually was. He is knows where the tools are and how to hold things for assembly.

Work completed:
Carcass
Face frame
Veneered top
Work left to complete:
Face frame to Carcass
Drawers
Cabinet doors
Finishing
Hardware install
I will work on the project between now and Christmas. The goal will be to have it completed before the new year.
Lessons learned :) Tenoning jigs do not come square or parallel out of the box
I found on Craigslist a Tenoning jig Delta 34-183. I was very excited to get this because my previous tongue and groves were sloppy which meant weaker joints and more difficult assembly. Also without a proper jig, doing a route produced breakout and the table saw was dangerous.
I looked a few videos of table saw tenoning jigs and looked over the device and asked the previous owner how it worked. I felt like I was ready. I got the thing set up and made my first tenon and the rail was proud on one side and shallow on the other. Normally this means user error. I tried another. I eventually took the tenoning jig apart and figured that both the the T-slot rail and the rod that the jig adjusted on could both be adjusted. I adjusted them as best I could and carried on. I have yet got the device perfect, but I know the next time I have some work to do.
Not all doweling jigs are created equal
When I first got a cordless screw driver set, it came with transfer pins.


I had no idea what these were. They stayed neatly in my set for over 10 years. Once I got into wood working, I learned that dowels were good at locating parts. Upon research I found that these pins had a use and I tried to use them. It was not the best. The holes were not straight and the pins fell out when trying to use them.
I realized that I needed a jig. So for my next project I got this.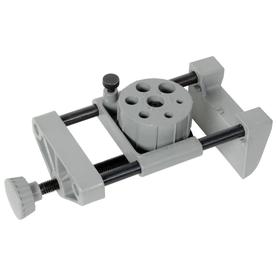 I will not go into details, but it did not work very well. The holes were more accurate than free hand. However, do to the design, the bit could still drift and the holes were oblong.
Then I got a self centering jig from harbor freight.


This was a great leap forward. However the holes were not always in the center and when working on narrow parts, you had to counter balance the other side because the jig would get skewed.
The Grizzly unit has a similar problem. However the unit from General Tool does not have these issues according to reviewers.
I must admit that the Harbor Freight device did not work out of the box. I had to take it apart and lub the components. I am wondering if I did not set something up correctly. I will have to check it out next time I need it.
When using the self centering jig on narrow parts, I wonder why none of them have centering marks. It would be simple to do. I will have to add one once I take the unit apart. I solved the problem using a spacer stick. How do others align the jig with narrow parts.
Anyway, I did use it to finish the face frame and the parts were very close.
-- Weth
---