Well I was finally able to finish my second box yesterday. That is, everything is finished but the finish…
I went to Home Depot to get some clear oil, and for some reason the crappy depot here in our small town does not carry it! I knew I should have bought some when I was at Lowes earlier in the week! Oh and I still need to buy flocking for the inside. That is also impossible to find in this small town. I guess it is time to buy it online! I have also noticed that I need to work on my camera skills, the attached images are a bit "grainy".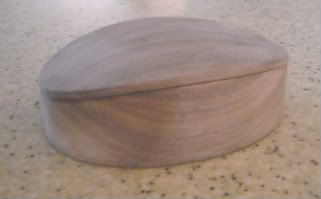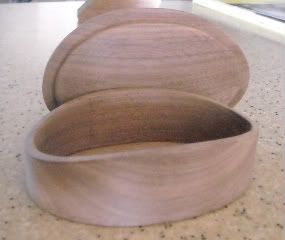 It was an adventurous weekend. My goal this Saturday was to wake up early and get the sanding and final assembly complete on this box. I figured that by the time that was all finished, the morning dew would be burnt off the grass and I could get the mowing finished up before noon and avoid the 90 degree heat. Unfortunately for me, when I went out into our attached garage, shutting the door behind me, I found that my wonderful wife had locked the door. Not to mention she had just left for work and would not be back home until after 1 pm. So, instead of getting the mowing finished early I was forced to keep myself busy in front of the bandsaw! (Sucks eh?) With two of the lid style bandsaw boxes now under my belt I decided to try my hand at a simple drawer style box. This if what I have so far. All that is left is figuring out a way to remove the glue squeeze-out inside the, sanding (lots of it) and finish. One thing I will have to really work out on this box is figuring out a way to sand the drawer to mask the large gap around it left by the saw kerf. Notice I am choosing to not put a drawer pull but instead undercut the back of the box so that the drawer hangs out slightly on the left side. I will post more pictures later. At the rate I am going I will be applying finish to all 3 boxes I have made so far at the same time!
-- James - www.walnutweasel.wordpress.com
---