In my ongoing pursuit of trying to learn how to finish in a manner that doesn't remind me of my 2 year old's coloring, I've done some more experimenting. I bought a few dozen board feet of white oak for no particular project. I decided to play around and use several finishing methods to see the outcome. I cut some corners here and there as didn't sand the way I would if it was a real project, but the results were still a decent representation of the methods.
Finishes Used:
Prep Note: Sanded to 150 and applied wood conditioner for all
~Minwax OB Ebony (as well as – 2:1 Mineral Spirits to Stain Washcoat)
~Minwax OB Sierra (as well as – 2:1 Mineral Spirits to Stain Washcoat)
~General Finish H2O Black Cherry
~Minwax Gel Walnut
~Antique Danish Oil (Watco I think)
~BLO
~Watco Dark Walnut Danish Oil
Impressions:
Both Oil Based Minwax Stains were a little blotchy and seemed to have a dull sheen to them when used in full strength. When I thinned them for a washcoat trial, I really liked the way they looked. It eliminated the blotches and showed off the grain. This was a confirmation on the many tips I've read that state multiple thin coats works better than a few thick ones. However, the results were not as nice as the H2O stain discussed below.
I loved the simplicity and result of the H2O General Stain. The black cherry resembled the Minwax Sierra color. The finish was even and didn't create unwanted contrasts between the grain and wood or the sap and heartwood. Very little odor, amazing recoat time, and not drastically more expensive than the oil based equivalent. It worked well enough that I will definitely give it more trials on other species. Possibly a go-to finish.
The Gel Stain was nice. I didn't care for the Walnut on White Oak, but it was very even and blended well with the wood. I applied it with the board in a vertical position to test the "no drip/run" claims. Worked as claimed. Still not sold, but I am told it works well on some blotch prone species such as pine. (Note – I applied it to construction grade pine glued up panel and still wasn't thrilled)
The BLO, did what BLO always does. Mostly clear, and amplifies the natural wood properties. Much faster cure time than tung oils I've used in the past.
Both Danish Oils worked well. The Walnut colored oil gradually added color with each coat. This allows for better control of the end result. The clear oil slightly darkened the wood which highlights both the wood and any imperfections.
Pics
General H2O Bl Cherry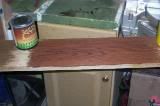 Minwax Ebony OB Wash Coat

Comparing Walnut Gel to Real Thing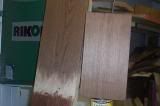 Sierra Wash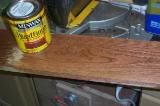 -- Jeff, South Carolina
---