My first real cabinetmaking project started as a simple "Can you make a new frame for the medicine cabinet mirror, dear?", from my wife. "No problem!", I replied. The time I have spent here at LJ has convinced me that I not only CAN do it, but that I SHOULD do it! In fact, I SHOULD make a whole new medicine cabinet – a bigger, better medicine cabinet! [Insert Tim Taylor 'grunt' here.]
I took some measurements, did a little cypherin', spent a few hours in TurboCAD and voila, I had 'The Plan'. Cool! Now I need lumber. After a strangely 'tangential' series of mouse clicks, I found myself at www.tcwoods.com. This is a local sawmill that uses a lot of 'urban lumber' – they are also a tree care company. If you're in the area, check them out. [CAUTION: DO NOT go there in a pickup truck, unless you have an empty woodshed!]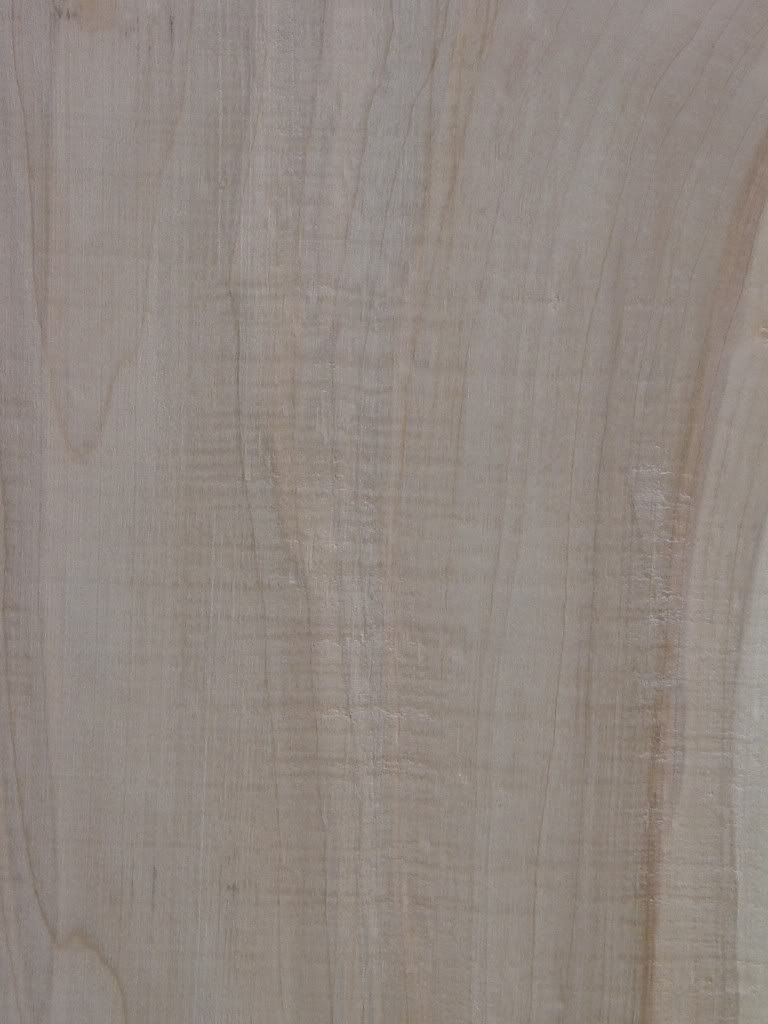 After spending an hour at the sawmill, totally entranced by the wide variety of choices, I selected this nice two-tone slab of silver maple, 11" – 13" wide x 75" long x 15/16" thick. The thing that drew me to this particular slab, was that it was showing some 'curly' figure. Not 'highly figured', but enough to make it interesting.
Step 2, rough milling. I called a friend, who has just what I need (bandsaw and jointer) to turn the slab into stock. Unfortunately, his shop was "closed for remodeling", and I really couldn't wait a couple of months… To make a long story short, I found myself on the phone, with my daughter's boyfriend's father (a fellow woodworker). He didn't have what I needed in his shop either. However, he said that he was taking a woodworking class at the community college, and that if I could bring the slab in on an 'open shop' night, we could get it done. Needless to say, I accepted his gracious offer!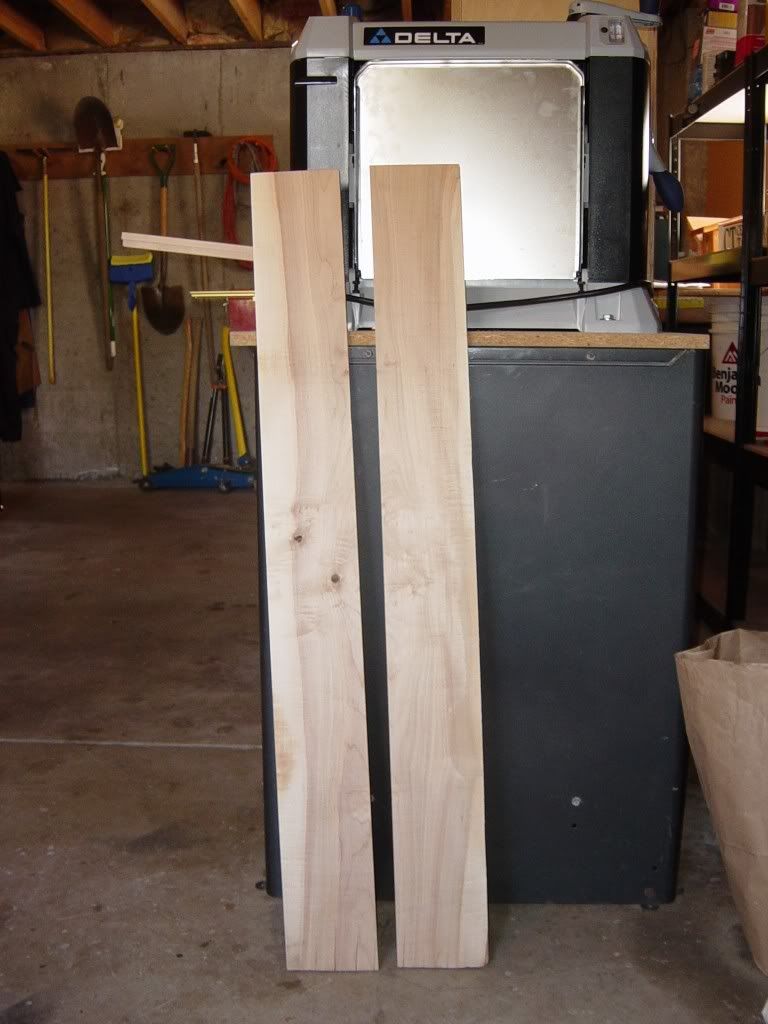 A couple of nights later, I met him at the college's wood shop. Sure enough, they had what we needed, and then some! Nice, well equipped shop, although dust collection could be better. A couple of hours later, after a little sawing and resawing, a bit of jointing, and some drum sanding, I have lumber that I can work with, in my small shop. Way cool! Thanks, Mr. L.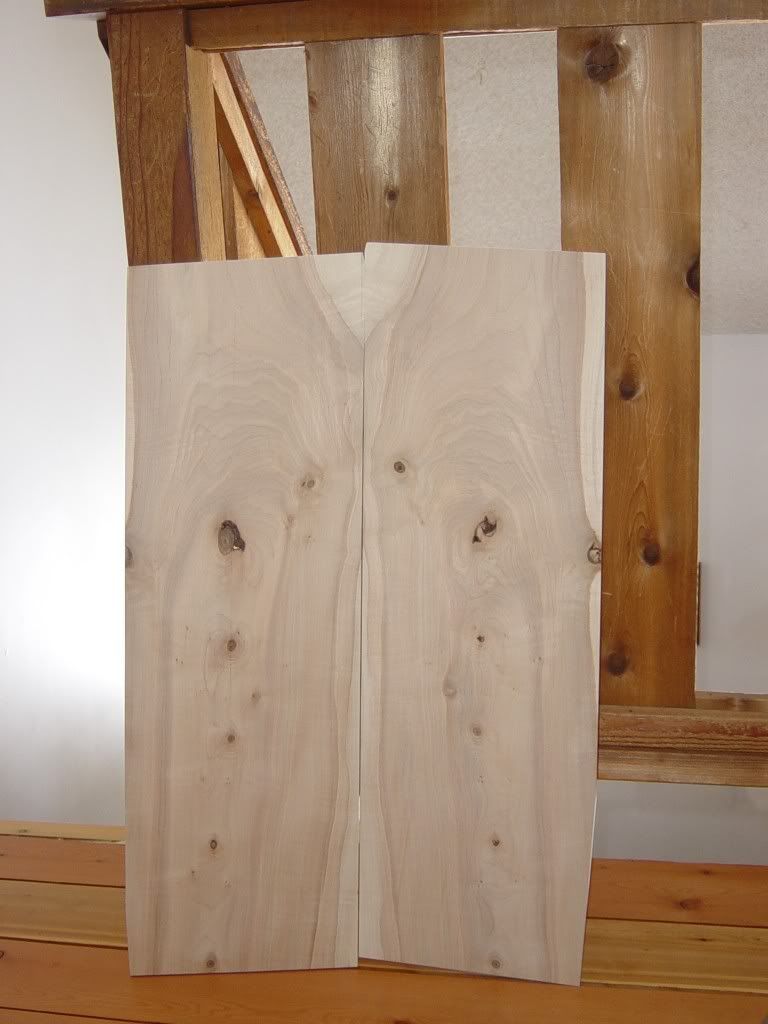 The only problem all evening, was the resawing of the top section. I planned to bookmatch the halves for the back panel of the cabinet. Unfortunately (but not unexpectedly), the halves warped quite a bit after resawing. We ran them through the drum sander (to ~1/4" thick), and it helped, but didn't remove all of the warpage. No way I can use them for the back panel, 'as is'. Uh oh. Back to the drawing board…
For reference, the two halves are ~10" x 30" ea. I need to end up with a panel ~16" x 24". I can adjust the design to work with a panel up to 3/8" thick….MAYBE 1/2".
Help me out here, LJs!
Here's my 'New Plan'.
1) Sand the halves down even thinner (3/16" or less). I'd run them through my planer, but I don't want to blow the knots out.
2) Glue them to a 1/4" MDF or hardboard substrate, as a bookmatched veneer.
3) Re-sand, as needed.
Questions:
1) I've heard that you're supposed to veneer both sides of a panel. Is that still true when the substrate is MDF (i.e.stable)?
2) Would something other than MDF/hardboard make a better substrate?
Thanks in advance, LJ's!
-- There is nothing in the world more dangerous, than a woodworker who knows how to read a micrometer...
---