I've always been fascinated by large trees. I remember as a kid being amazed by them. I was 12 years old when my mother and I went out to visit my brother in Calif. We took a ride up to see the sequoia's. What an amazing feeling to walk amongst them. I still carry it with me to this day.
My daughters think i'm a little weird. My oldest daughter went to Salve Regina in Newport for awhile and during every visit I would walk the campus admiring the extraordinary tree collection including some european beeches 8-10 ft across. We would be walking along and my daughter would say "don't get too excited Dad, there's a big tree around this corner". Newport is filled with grand old trees, many transplanted full size to their current locations when the mansions were built ( they certainly spared no expense).
Then I was reading Frank's blog with his pictures of an "ancient one" and thinking of the grove behind my house and thought about this table design.
Thanks for the picture Frank. I'll be sure to get some of the grove soon.

I think this would be a very heavy table.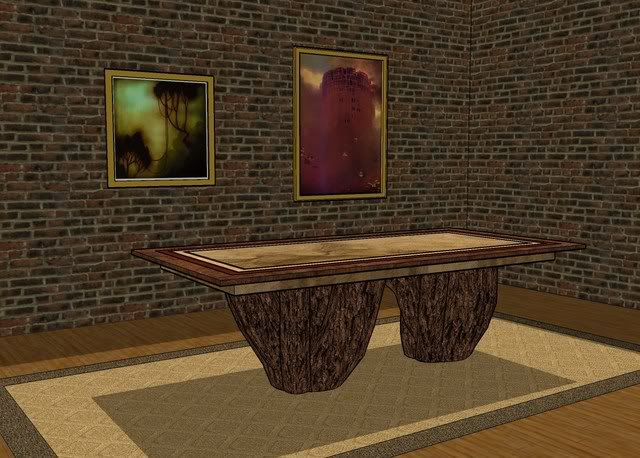 The trunk was created by using the freehand tool to define a path and then using the follow me tool with a circle.

The textures are pine bark, bubinga, ebony, cherry, birch, and olive. The olive is obviously exaggerated but it was so pretty I didn't want to reduce it.

I included some surroundings to illustrate how easy it is to create an overall design feeling in Sketchup. I've also added a view embellishing the surrounding of the Jaws table.
Still more surroundings. You can simulate an outside view adding a landscape photo. It's subtle but it helps add to the reality to match the angle of the sun with the outside picture. By removing the glass from a door or window placed in the wall you create the clearest view or the glass can be left in and tinted any color.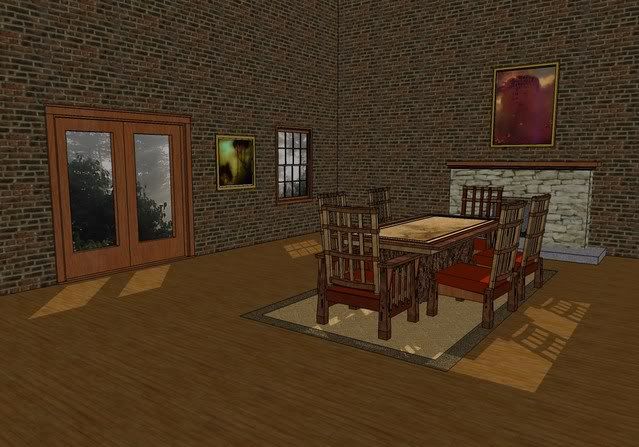 -- Bob
---